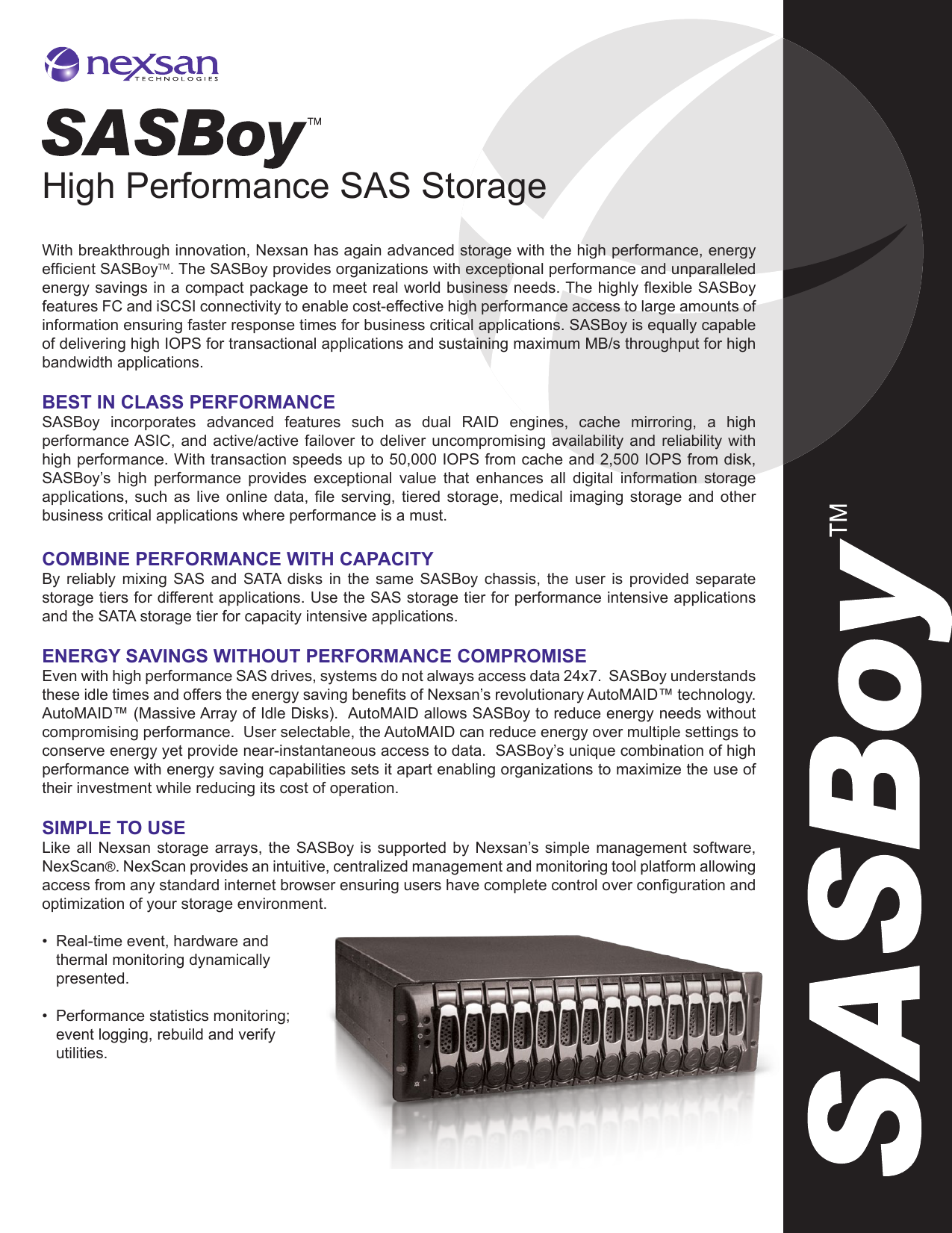 High Performance SAS Storage
With breakthrough innovation, Nexsan has again advanced storage with the high performance, energy
efficient SASBoyTM. The SASBoy provides organizations with exceptional performance and unparalleled
energy savings in a compact package to meet real world business needs. The highly flexible SASBoy
features FC and iSCSI connectivity to enable cost-effective high performance access to large amounts of
information ensuring faster response times for business critical applications. SASBoy is equally capable
of delivering high IOPS for transactional applications and sustaining maximum MB/s throughput for high
bandwidth applications.
BEST IN CLASS PERFORMANCE
SASBoy incorporates advanced features such as dual RAID engines, cache mirroring, a high
performance ASIC, and active/active failover to deliver uncompromising availability and reliability with
high performance. With transaction speeds up to 50,000 IOPS from cache and 2,500 IOPS from disk,
SASBoy's high performance provides exceptional value that enhances all digital information storage
applications, such as live online data, file serving, tiered storage, medical imaging storage and other
business critical applications where performance is a must.
COMBINE PERFORMANCE WITH CAPACITY
By reliably mixing SAS and SATA disks in the same SASBoy chassis, the user is provided sepa­rate
storage tiers for different applications. Use the SAS storage tier for performance intensive applications
and the SATA storage tier for capacity intensive applications.
ENERGY SAVINGS WITHOUT PERFORMANCE COMPROMISE
Even with high performance SAS drives, systems do not always access data 24x7. SASBoy understands
these idle times and offers the energy saving benefits of Nexsan's revolutionary AutoMAID™ technology.
AutoMAID™ (Massive Array of Idle Disks). AutoMAID allows SASBoy to reduce energy needs without
compromising performance. User selectable, the AutoMAID can reduce energy over multiple settings to
conserve energy yet provide near-instantaneous access to data. SASBoy's unique combination of high
performance with energy saving capabilities sets it apart enabling organizations to maximize the use of
their investment while reducing its cost of operation.
SIMPLE TO USE
Like all Nexsan storage arrays, the SASBoy is supported by Nexsan's simple management software,
NexScan®. NexScan provides an intuitive, centralized management and monitoring tool platform allowing
access from any standard internet browser ensuring users have complete control over configuration and
optimization of your storage environment.
• Real-time event, hardware and
thermal monitoring dynamically
presented.
• Performance statistics monitoring;
event logging, rebuild and verify
utilities.
HIGHLIGHTS
ADVANCED FEATURES
• High performance RAID solution built around the latest
high-performance SAS disk drives
• Continual event monitoring with
active user notification
• High availability - All mission critical components, including
RAID controllers, are hot swappable and fully redundant
• All major components hot-swap
supported
• Performance and Capacity - Combine SAS and SATA
drives in the same chassis
• Dynamic spare pooling and
dedicated spares; array verification
• Energy efficient without compromising application
performance, AutoMAID
• Tele-Guard®, Nexsan's phone
home manager, enables preemptive
degradation monitoring and
assigned reporting of all system
conditions.
• Completely OS independent - No special software drivers
required to connect to any host system
• NexScan®, our platform independent Web enabled GUI,
provides simple configuration and monitoring
• Multi-box management - NexScan enables remote
management and configuration of multiple arrays from a
single GUI
• High density - 14 drives in 3U of rack space
• Three Year Warranty - Advance Exchange - Various
Service and Support Options Available
TECHNICAL SPECIFICATIONS
Host Interface / Connectivity: Dual 4Gb Fibre ports
with dual iSCSI ports per controller
Controllers: Single or Dual Controller Active-Active
Failover / Cache Coherency
• Active array status monitoring;
adjustable stripe width; automatic
sector remapping
• Integrated Fibre Channel and
iSCSI connectivity for flexible
implementation
• LUN Masking capability with full
Access Control List (ACL) Read/
Write and Read Only permissions
per initiator, per LUN along with
group policies
• Multi-Box management easily
manages multiple systems with a
single interface
• SNMP traps supported
Drive Type: SAS and SATA
• Multiple RAID sets supported in a
single unit
Cache: Up to 2GB per controller
• System security password protected
Battery Back-up: Yes
• All system settings are stored in
non-volatile flash memory in case of
accidental power loss
RAID Levels: 0, 1, 1+0, 4, 5 and 6
Sustained Data Rates: 820 MB/s throughput with FC
LUNs Supported: 254
Power: Dual PSU - 500W / 286VA Fully redundant –
Load sharing
• Parity Scrub / Array Verify
scheduling - User defined automatic
repair of all configured arrays
14 drives in 3U
Cooling: Speed Controlled, Quad Redundant Blowers
Easy drive
replacement
555 St. Charles Drive • Suite 202 • Thousand Oaks, CA 91360
Telephone: 866.4.NEXSAN • 805.418.2700 • Fax: 805.418.2799
European Office: +44 (0)1332 291 600 • www.nexsan.com
Information subject to change at any time.
Visit www.nexsan.com for the most current version.

* Your assessment is very important for improving the work of artificial intelligence, which forms the content of this project