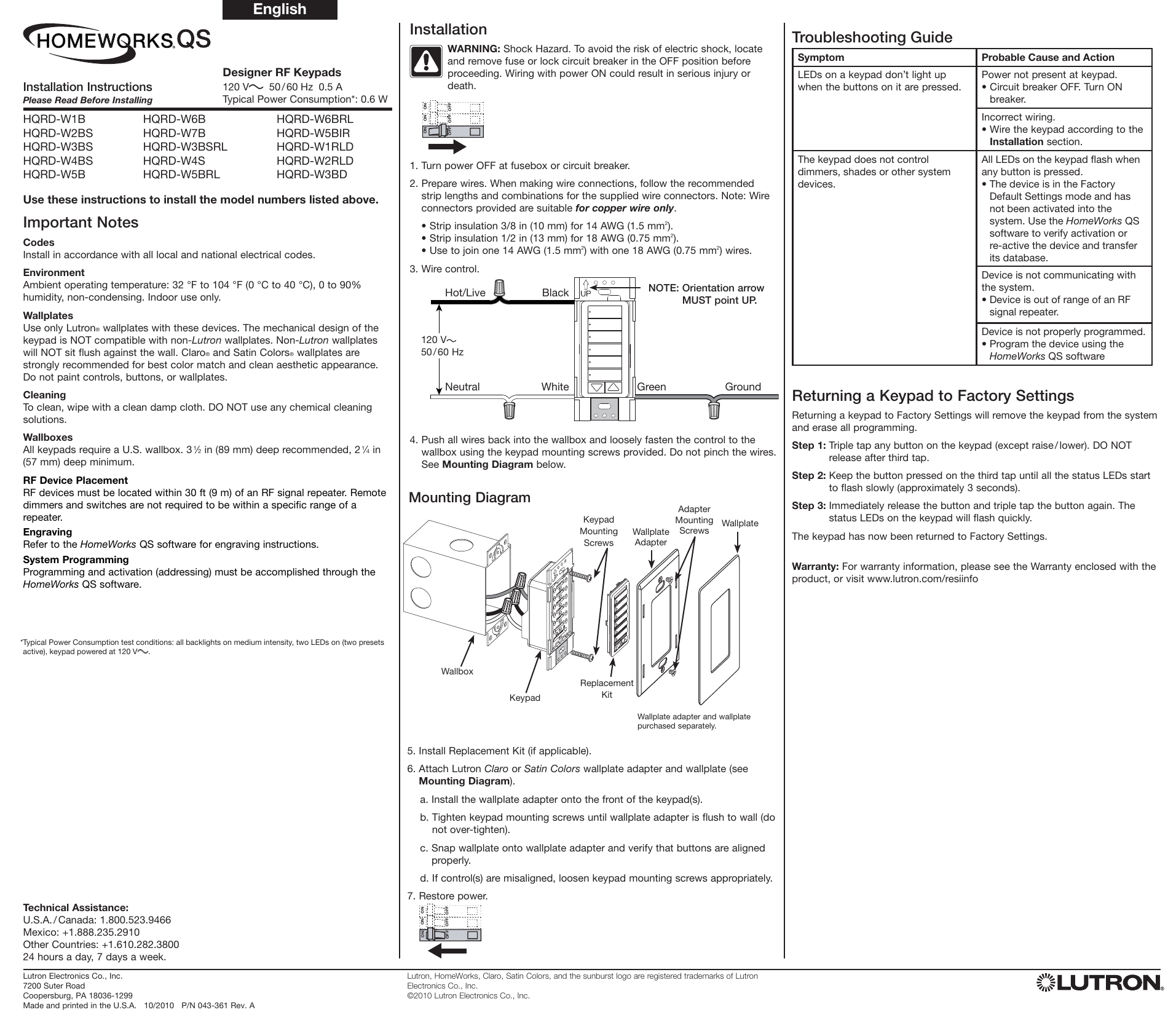 English
Installation
HQRD-W1B
HQRD-W2BS
HQRD-W3BS
HQRD-W4BS
HQRD-W5B
HQRD-W6B
HQRD-W7B
HQRD-W3BSRL
HQRD-W4S
HQRD-W5BRL
HQRD-W6BRL
HQRD-W5BIR
HQRD-W1RLD
HQRD-W2RLD
HQRD-W3BD
Use these instructions to install the model numbers listed above.
Important Notes
Codes
Install in accordance with all local and national electrical codes.
Environment
Ambient operating temperature: 32 °F to 104 °F (0 °C to 40 °C), 0 to 90%
humidity, non-condensing. Indoor use only.
Wallplates
Use only Lutron® wallplates with these devices. The mechanical design of the
keypad is NOT compatible with non-Lutron wallplates. Non-Lutron wallplates
will NOT sit flush against the wall. Claro® and Satin Colors® wallplates are
strongly recommended for best color match and clean aesthetic appearance.
Do not paint controls, buttons, or wallplates.
ON
Please Read Before Installing
120 V
50 / 60 Hz 0.5 A
Typical Power Consumption*: 0.6 W
ON
Installation Instructions
ON
Designer RF Keypads
Wallboxes
All keypads require a U.S. wallbox. 3 1⁄2 in (89 mm) deep recommended, 2 1⁄4 in
(57 mm) deep minimum.
RF Device Placement
RF devices must be located within 30 ft (9 m) of an RF signal repeater. Remote
dimmers and switches are not required to be within a specific range of a
repeater.
Engraving
Refer to the HomeWorks QS software for engraving instructions.
System Programming
Programming and activation (addressing) must be accomplished through the
HomeWorks QS software.
2. Prepare wires. When making wire connections, follow the recommended
strip lengths and combinations for the supplied wire connectors. Note: Wire
connectors provided are suitable for copper wire only.
• Strip insulation 3/8 in (10 mm) for 14 AWG (1.5 mm2).
• Strip insulation 1/2 in (13 mm) for 18 AWG (0.75 mm2).
• Use to join one 14 AWG (1.5 mm2) with one 18 AWG (0.75 mm2) wires.
3. Wire control.
Hot/Live
NOTE: Orientation arrow
MUST point UP.
Black
Neutral
Green
White
Ground
LEDs on a keypad don't light up
when the buttons on it are pressed.
Power not present at keypad.
• Circuit breaker OFF. Turn ON
breaker.
The keypad does not control
dimmers, shades or other system
devices.
All LEDs on the keypad flash when
any button is pressed.
• The device is in the Factory
Default Settings mode and has
not been activated into the
system. Use the HomeWorks QS
software to verify activation or
re-active the device and transfer
its database.
Device is not communicating with
the system.
• Device is out of range of an RF
signal repeater.
Returning a Keypad to Factory Settings
Returning a keypad to Factory Settings will remove the keypad from the system
and erase all programming.
4. Push all wires back into the wallbox and loosely fasten the control to the
wallbox using the keypad mounting screws provided. Do not pinch the wires.
See Mounting Diagram below.
Step 1: Triple tap any button on the keypad (except raise / lower). DO NOT
release after third tap.
Step 2: Keep the button pressed on the third tap until all the status LEDs start
to flash slowly (approximately 3 seconds).
Mounting Diagram
Keypad
Mounting
Screws
Adapter
Mounting Wallplate
Wallplate Screws
Adapter
Step 3: Immediately release the button and triple tap the button again. The
status LEDs on the keypad will flash quickly.
The keypad has now been returned to Factory Settings.
Warranty: For warranty information, please see the Warranty enclosed with the
product, or visit www.lutron.com/resiinfo
Wallbox
Keypad
Replacement
Kit
Wallplate adapter and wallplate
purchased separately.
5. Install Replacement Kit (if applicable).
6. Attach Lutron Claro or Satin Colors wallplate adapter and wallplate (see
Mounting Diagram).
a. Install the wallplate adapter onto the front of the keypad(s).
b. Tighten keypad mounting screws until wallplate adapter is flush to wall (do
not over-tighten).
c. Snap wallplate onto wallplate adapter and verify that buttons are aligned
properly.
d. If control(s) are misaligned, loosen keypad mounting screws appropriately.
OFF OFF
OFF
ON
ON
ON
7. Restore power.
Lutron Electronics Co., Inc.
7200 Suter Road
Coopersburg, PA 18036-1299
Made and printed in the U.S.A. 10/2010 P/N 043-361 Rev. A
Probable Cause and Action
Device is not properly programmed.
• Program the device using the
HomeWorks QS software
120 V
50 / 60 Hz
*Typical Power Consumption test conditions: all backlights on medium intensity, two LEDs on (two presets
active), keypad powered at 120 V .
Technical Assistance:
U.S.A. / Canada: 1.800.523.9466
Mexico: +1.888.235.2910
Other Countries: +1.610.282.3800
24 hours a day, 7 days a week.
Symptom
Incorrect wiring.
• Wire the keypad according to the
Installation section.
1. Turn power OFF at fusebox or circuit breaker.
Cleaning
To clean, wipe with a clean damp cloth. DO NOT use any chemical cleaning
solutions.
Troubleshooting Guide
OFF OFF OFF
WARNING: Shock Hazard. To avoid the risk of electric shock, locate
and remove fuse or lock circuit breaker in the OFF position before
proceeding. Wiring with power ON could result in serious injury or
death.
Lutron, HomeWorks, Claro, Satin Colors, and the sunburst logo are registered trademarks of Lutron
Electronics Co., Inc.
©2010 Lutron Electronics Co., Inc.

* Your assessment is very important for improving the work of artificial intelligence, which forms the content of this project