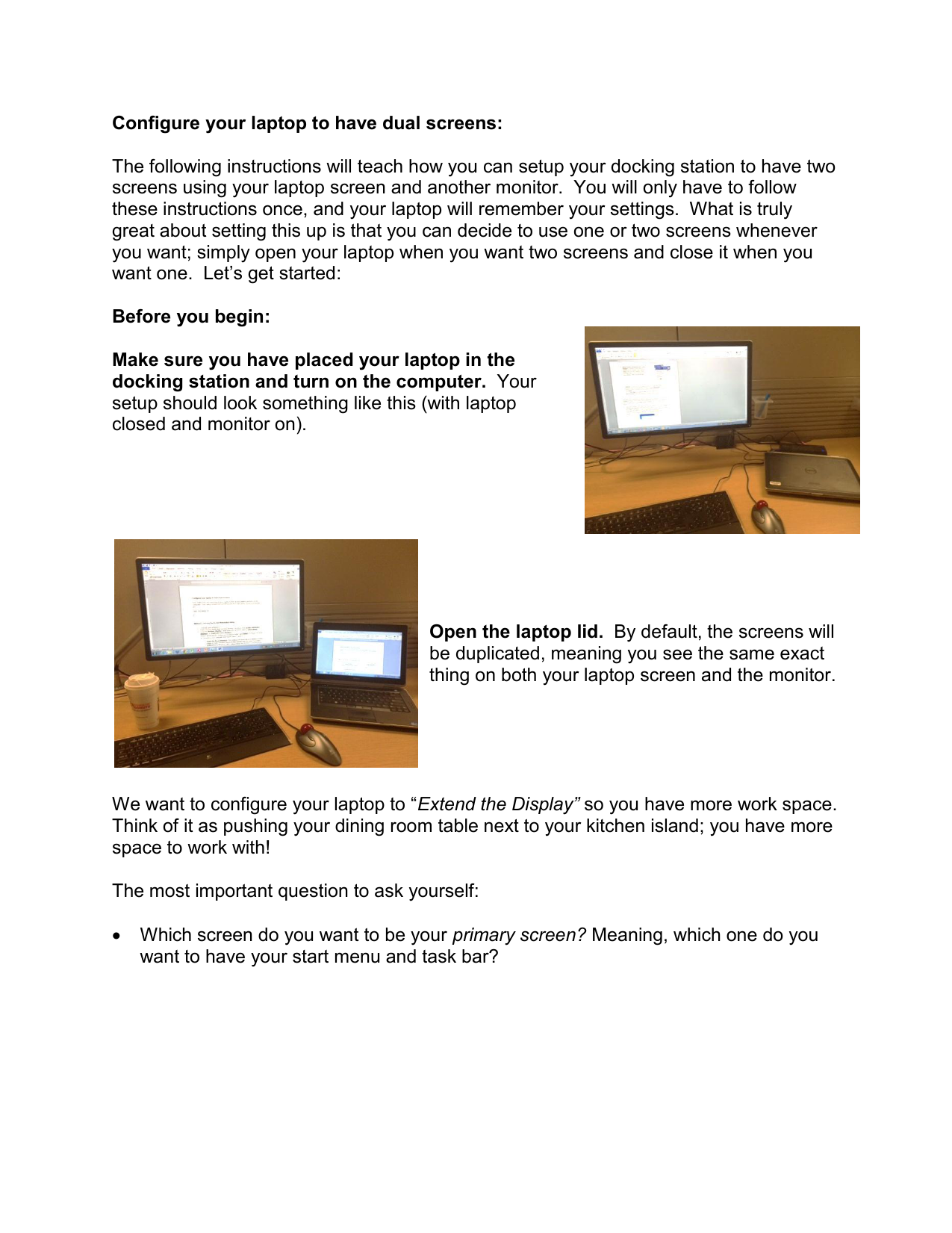 Configure your laptop to have dual screens:
The following instructions will teach how you can setup your docking station to have two
screens using your laptop screen and another monitor. You will only have to follow
these instructions once, and your laptop will remember your settings. What is truly
great about setting this up is that you can decide to use one or two screens whenever
you want; simply open your laptop when you want two screens and close it when you
want one. Let's get started:
Before you begin:
Make sure you have placed your laptop in the
docking station and turn on the computer. Your
setup should look something like this (with laptop
closed and monitor on).
Open the laptop lid. By default, the screens will
be duplicated, meaning you see the same exact
thing on both your laptop screen and the monitor.
We want to configure your laptop to "Extend the Display" so you have more work space.
Think of it as pushing your dining room table next to your kitchen island; you have more
space to work with!
The most important question to ask yourself:

Which screen do you want to be your primary screen? Meaning, which one do you
want to have your start menu and task bar?
Here's how to configure your screens:
1. Close all open programs.
2. Right-click an empty area on your desktop, and then
click Screen resolution.
3. Click the Multiple displays drop-down list, and then
select Extend these displays, or Duplicate these
displays.
o Duplicate these displays: This setting will
duplicate your laptop's screen image on both
monitors based on the monitor with the lower
resolution.
Extend these displays: This
setting allows you to move a
window from one monitor to the
other by clicking the title bar of
the window and dragging the
window to a new location.
o
4. Click APPLY. Your screen will flash and the display will change to "extend". In
the preview window, you will see screens 1 and 2.
5. Click Identify Monitors to see which monitor is number 1 and which is number
2, and then click and drag the monitor icons to reorder their positions to match
the physical setup you have chosen.
*In my example, I have my
laptop screen (monitor 1) to
the right of my monitor.
6. Which screen should be your "main"
display? Click the screen that you
want to be your display, and check off
"Make This my main display". If the
message says "This is currently your
main display", then you are all set!
7. (optional). If your screen resolution needs to be adjusted, select one of the
screens in the preview window and then click the Resolution drop down menu.
Select a screen resolution by moving the slider arrow right or left, then
click Apply.
o Click Yes if you want to keep the new settings.
8. When finished, click "OK" and your changes will be saved.
You have now configured your docking station for two monitors. Now, you can have
multiple programs and windows open between the two screens. For example, I can
have my email open on my laptop screen and have internet explorer open on my
monitor:

Every time you dock your laptop and open the laptop screen, your computer will
automatically remember your dual monitor setting.

If you close your laptop screen, then your monitor will become your primary screen.
If you open the laptop lid, then you will have dual screens.

You can click and drag the title bars open windows to
bring them from one screen to another.

Your laptop will work as it always has when it is
disconnected from the docking station.

* Your assessment is very important for improving the work of artificial intelligence, which forms the content of this project