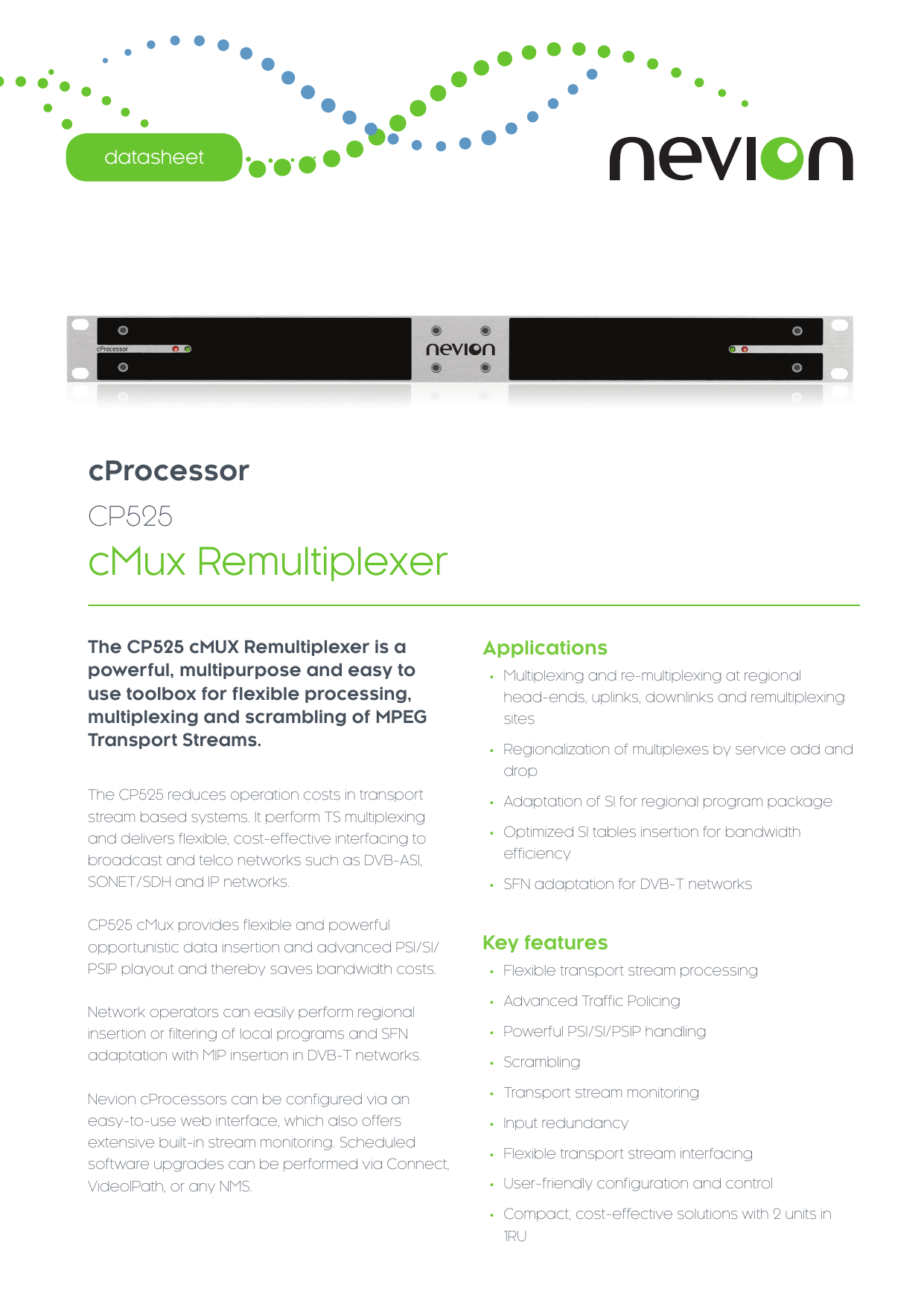 datasheet
cProcessor
CP525
cMux Remultiplexer
The CP525 cMUX Remultiplexer is a
powerful, multipurpose and easy to
use toolbox for flexible processing,
multiplexing and scrambling of MPEG
Transport Streams.
Applications
•• Multiplexing and re-multiplexing at regional
head-ends, uplinks, downlinks and remultiplexing
sites
•• Regionalization of multiplexes by service add and
drop
The CP525 reduces operation costs in transport
stream based systems. It perform TS multiplexing
and delivers flexible, cost-effective interfacing to
broadcast and telco networks such as DVB-ASI,
SONET/SDH and IP networks.
CP525 cMux provides flexible and powerful
opportunistic data insertion and advanced PSI/SI/
PSIP playout and thereby saves bandwidth costs.
Network operators can easily perform regional
•• Adaptation of SI for regional program package
•• Optimized SI tables insertion for bandwidth
efficiency
•• SFN adaptation for DVB-T networks
Key features
•• Flexible transport stream processing
•• Advanced Traffic Policing
insertion or filtering of local programs and SFN
•• Powerful PSI/SI/PSIP handling
adaptation with MIP insertion in DVB-T networks.
•• Scrambling
Nevion cProcessors can be configured via an
•• Transport stream monitoring
easy-to-use web interface, which also offers
•• Input redundancy
extensive built-in stream monitoring. Scheduled
software upgrades can be performed via Connect,
VideoIPath, or any NMS.
•• Flexible transport stream interfacing
•• User-friendly configuration and control
•• Compact, cost-effective solutions with 2 units in
1RU
CP525 cMux Remultiplexer
Inputs
TS processing module
ASI in
(1 - 8)
• Service multiplexing
• Service filtering
• PID filtering/remapping
• PSI/SI/PSIP handling
• Bandwidth policing
• Input stream monitoring
IP in
(1 - 16)
EPG
Management & Alarms
HTML
XML
SNMP
TXP
Alarm
relay
PSI/SI/PSIP
• Download
• Generation
• Ingestion
• Editor
nevion.com
SFN adapter
Outputs
MIP insertion
ASI out
(2 - 8 copies)
Rate control
IP out
(1 - 8 copies)
Clock & time base
Power
Conditional
access
Scrambling
• DVB
Symulcrypt
• BISS-E
Configuration
Alarm logs
Alarm traps
• 1PPS regulator
• UTC time source
SNTP
ASI/IP
SDH
• 230V AC
• 48V DC
1PPS
Transport stream multiplexing
Dynamic PSIP generation
The CP525 performs multiplexing based on services
The built-in PMCP interface allows CP525 to
or components offering full flexibility and ease of use.
download XML based PSIP data and generate the
The operator can define the service line-up with one
corresponding tables automatically.
mouse click. CP525 takes care of the regeneration of
the tables simplifying the operations.
Advanced traffic policing
To avoid bandwidth conflicts between different
Flexible interfacing
Flexible input and output interfaces allows the user to
save equipment by performing interface adaptation
directly on CP525 cMux (ASI/ IP/ SMPTE310).
services or bit rate overflow, the operator can
individually allocate bandwidth to a service or
groups of services. The operator guarantees his
customer full bandwidth usage by protecting their
section of the spectrum.
Automatic PID/SID remapping
Transport stream monitoring
In order to ensure error free processing, CP525
monitors all the input streams according to TR 101 290
priority 1. In case of errors in the input streams, alarms
will be raised to inform the operator and traps are
forwarded to the NMS.
In case of PID and Service IDs conflict the unit can
perform automatic PID and service IDs remapping
according to user defined rules. Simple rules allow
the user to follow internal PID naming conventions.
This feature is very useful when the encoders have
identical configurations.
Conditional access
Input redundancy
The reliability of the system can be increased using
the Automatic Input Switching features that allows
the unit to switch between redundant inputs (ASI
and/or IP) based on TR101 290 pri1 alarms. IP diversity
reception ensures the redundancy of IP inputs
based on RTP monitoring.
CP525 supports DVB CSA Simulcrypt and BISS
scrambling to protect the streams from unauthorized
reception and.
PSI/SI Editor
PSI/SI/PSIP tables can be edited directly using the
built-in PSI/SI editor in the CP525 cMux. The operator
can modify, add or remove tables from the transport
stream and save the costs of an external PSI/SI
editing system.
User-friendly configuration
The user interface of the CP525 is simple and very
intuitive, it is designed to help the operator configure
the unit quickly. Running on any web browser the GUI
can be accessed from any computer.
CP525 cMux Remultiplexer
nevion.com
Transport stream interfaces
Management & control
DVB-ASI
1-10 DVB ASI EN 50083-9, Annex B (1-8 inputs/
outputs)
Bit rate: 0.1 - 213 Mbit/s
188 or 204 byte packet length
Burst and Spread mode
Female BNC connectors 75 Ohm
Management port
1 - 10 SMPTE310M-2004 (1-8 inputs/outputs)
188 bytes packet length
19.39265 Mbit/s, ±2.8 ppm
Female BNC connectors 75 Ohm
Protocols
HTTP, XML, SNMPv2c
Alarm relay
9 pin D-SUB. Two relays supported; one at
configurable alarm level
2 x 100/1000Base-T Ethernet, 1 x SFP
Connectors: 2 x RJ45 (100/1000Base-T), SFP
TS Encapsulation: SMPTE 2022 -1/2
Protocols: IEEE 802.3 Ethernet, VLAN (802.1Q)
ARP, IPv4, UDP, TCP, RTP, IGMPv2/3)
Maintenance port
USB version 1.1
SMPTE310
Gigabit Ethernet:
(option)
Transport stream processing
TS Multiplexing
Service and component based multiplexing
Automatic or manual remapping of PIDs and
service IDs
Insertion of unsignalled PID ("Ghost PID")
10/100 Base-T Ethernet
Connector: RJ45
Element control through HTTP/WEB based GUI
XML Configuration import and export via HTTP
SNMP agent for integration with Network Management System (NMS)
Physical and environmental characteristics
Input voltage 100-240V AC +/- 10%, 50/60 Hz,
optional: -48V DC
Power consumption 35W max
Dimensions 1RU, ½-width 19''
(WxDxH) 210 x 300 x 44.5mm
Operating
temperature
0˚C to 50˚C
Advanced traffic
Individual policing of service and PID
policingbandwidth
Storage temperature -20˚C to 70˚C
Relative humidity
5% to 95% (non condensing)
PSI/SI/PSIP handling
PSI/SI/PSIP editing or regeneration
PSI/SI/PSIP download and playout
Dynamic PSIP generation
Add new component signalling
Compliance
Scrambling
DVB Simulcrypt TS-103-197
BISS Mode 0/1
CE: 73/23/EEC (Low voltage equipment)
89/336/EEC (Electromagnetic compatibility)
CSA: Designed for CSA approval
Safety: IEC60950 and EN60950
EMC: EN55022, EN55024, EN6100-3-2
Product options
SFN adaptation
CP525-DC
- 48V DC power supply
Megaframe Initialization Packet (MIP) insertion according to ETSI TS
101 191
CP525-AC2
Dual 230V power supplies
SFN operational
modes
CP525-SFP + x
SFP modules for interface adaptation
CP525-SFP
Enable SFP socket
CP525-IP
Enable Ethernet interfaces for TSoIP inputs
and outputs
CP525-FEC
Enable Forward Error Correction for the IP
interfaces
CP525-ASI
Enable ASI ports
CP525-TSIx
Additional transport stream inputs
Interface adaptation
CP525-ESI
Enhanced SI playout
IP smallcasting Up to eight TS output copies on IP
CP525-DSI
EPG download and insertion
FEC insertion
Variable matrix size for each output copy
CP525-PSIE
PSI/SI/PSIP editor
Unicast to Multicast conversion
CP525-PMCP
Format adaptation
PMCP interface for dynamic generation of PSIP
EIT
CP525-BISS
BISS 1 scrambling
CP525-CA
DVB Simulcrypt scrambling
CP525-SFN
SFN adaptation for DVB-T networks
CP525-ISW
Automatic input switching for input redundancy
CP525-SFB
Service fallback
CP525-IDR
IP diversity reception for redundancy on IP
inputs
CP525-ESW
Emergency switching through external switch
panel
2k and 8k modes in 8, 7 and 6 MHz bandwidth
Time synchronization
Clock reference
1PPS input (50 Ohm female BNC)
UTC time reference
SNTP over the management interface (RJ45)
ASI to IP, IP to ASI
ASI to SMPTE310, SMPTE310 to ASI
SMPTE310 to IP, IP to SMPTE310
Redundancy and monitoring
Input redundancy
Input switching on TR101 290 pri1 alarms and los
of signal
RTP/IP diversity reception
Input signal monitoring
R1513
TR 101 290 priority 1
cProcessor
Our award-winning cProcessor transport stream processing and
multiplexing products make the complex simple.
Even better, they enable tailoring of regional and local service packages, component filtering,
advanced updating of PSI/SI/PSIP tables, and enhanced quality of service.
User friendly, highly robust and cost effective. It's this simplicity and performance that has secured
our place in some of the world's most advanced terrestrial networks.
CONTACT INFORMATION
The Americas
ussales@nevion.com
+1 (805) 247-8560
Asia Pacific
asiasales@nevion.com
+65 6872 9361
Europe and Africa
sales@nevion.com
+47 33 48 99 99 / +47 22 88 97 50
Middle East
middle-east@nevion.com +971 (0)4 3901018
UK
uksales@nevion.com
+44 118 9735831
nevion.com
Nevion reserves the right to make changes without notice to equipment
specification or design. The information provided in this document is for
guidance purposes only and shall not form part of any contract.
© 2015 Nevion. All rights reserved.