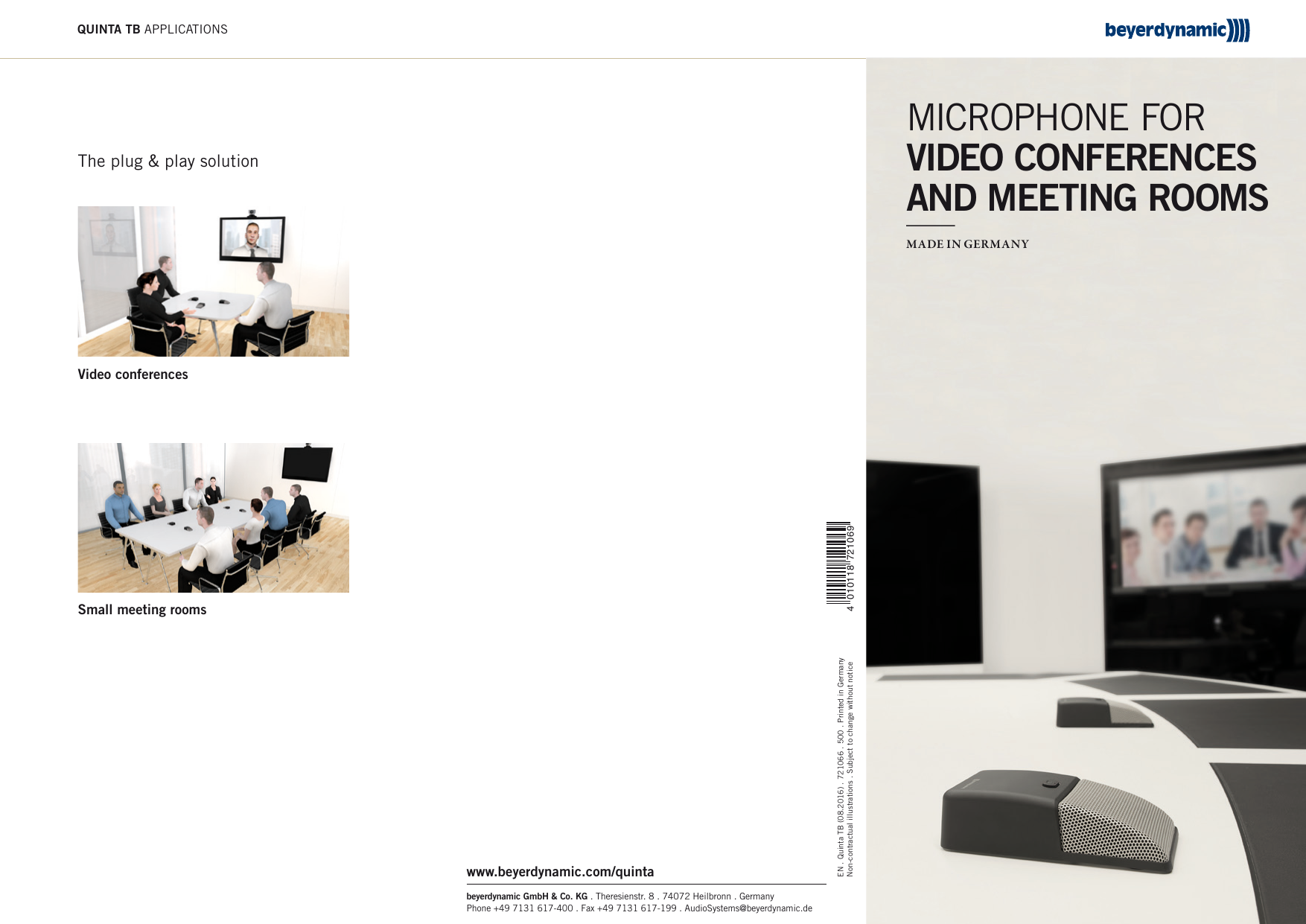 QUINTA TB APPLICATIONS
MICROPHONE FOR
VIDEO CONFERENCES
AND MEETING ROOMS
The plug & play solution
–
MADE IN GERMANY
Small meeting rooms
www.beyerdynamic.com/quinta
beyerdynamic GmbH & Co. KG . Theresienstr. 8 . 74072 Heilbronn . Germany
Phone +49 7131 617-400 . Fax +49 7131 617-199 . AudioSystems@beyerdynamic.de
EN . Quinta TB (08.2016) . 721066 . 500 . Printed in Germany
Non-contractual illustrations . Subject to change without notice
4 010118 721069 >
Video conferences
QUINTA TB WIRELESS BOUNDARY MICROPHONE
QUINTA CU PRODUCT FEATURES
QUINTA TB PRODUCT FEATURES
Triple band
For a reliable wireless transmission there are three frequency bands
(2.4 / 5.2 / 5.8 GHz) available. The switching of the channels is
either automatically or, if you want, manually. In any case,
frequency changes are completely silent during operation. In this
way the wireless Quinta system ensures maximum operational
reliability and optimal transmission quality.
Boundary microphone
Boundary microphones have the advantage of high
sensitivity and prevention of a comb filter effect, thus
ensuring consistent sound quality and great freedom
of movement.
QUINTA TB
–
Flexible use and simple handling
The Quinta boundary microphone offers you highest levels of
flexibility and reliability – for single user application, in small
meeting rooms or for video conferences.
Tried-and-tested Quinta Triple
Band technology ensures wireless transmission, and 128-bit
encryption and a 24-bit PIN
code guarantee protection
against eavesdropping.
Quinta is a trend-setting
system, which considers
new trends and standardised
specifications and ensures a
future-oriented investment
in this way.
Benefit from audio quality
"Made in Germany" and
experience a system that
meets your requirements.
The control unit Quinta CU with wireless boundary microphones
Quinta TB
Quinta TB with charging dock
Maximum audio quality and transmission security
The system operates with highest HD audio quality (48 kHz
sampling rate). HQ (High Quality of Service) ensures highest
wireless transmission, even in rooms with radio reflections
due to materials such as metal or metal-covered surfaces.
Software
Different operating modes can be set using the software. In
microphone mode the Quinta control unit acts as a multichannel receiver, in which case a maximum of four Quinta TBs
can be operated simultaneously. In this mode, the software
can be used to connect up to nine central control units. In
conference mode the Quinta TB acts as a delegate microphone
unit and can be used for any classical conference application.
Audio / Video Bridging
With the AVB interface you can easily integrate Quinta into your
building network according to the IEEE 802.1 network standard.
With this future proof technology you can embed Quinta into
your IT concept and integrate it into the sound reinforcement
network, video conferencing or room-to-room transmission.
Button
The button, backlit in three
different colours, shows the
status of the microphone
and so allows participants to
see immediately whether the
microphone is on or not.
Accessibility
The easy-to-feel microphone
button made from silicone
with tactile feedback and
Braille makes the device
accessible to all participants.
128-bit encryption
The protection against unauthorised listening of your system is
guaranteed by using 128-bit encryption and a 24-bit PIN code.
If there are any microphone units without this authorisation,
they remain silent.
Charging
Quinta TB is operated with
standard NiMH batteries
and offers at least 14 hours
of use. It requires max. two
hours to charge. As an
accessory there is a charging
dock availbale.
RFI proof
The microphone is equipped
with Scudio technology
making it RFI proof so that
no mobile phone interference
will occur.

* Your assessment is very important for improving the work of artificial intelligence, which forms the content of this project