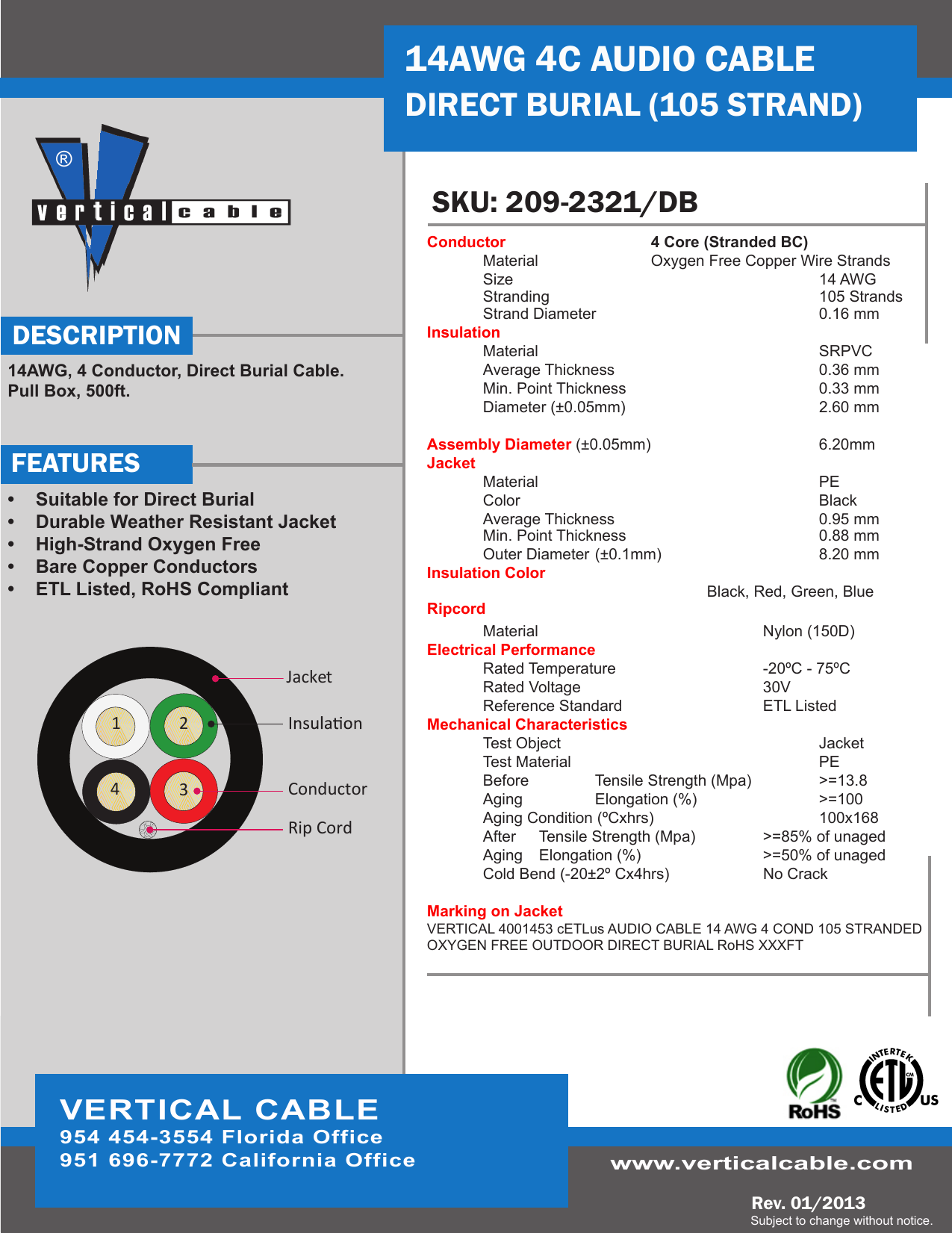 14AWG 4C AUDIO CABLE
DIRECT BURIAL (105 STRAND)
®
SKU: 209-2321/DB
DESCRIPTION
14AWG, 4 Conductor, Direct Burial Cable.
Pull Box, 500ft.
FEATURES
•
•
•
•
•
Suitable for Direct Burial
Durable Weather Resistant Jacket
High-Strand Oxygen Free
Bare Copper Conductors
ETL Listed, RoHS Compliant
Jacket
1
2
4
3
Conductor
Rip Cord
Conductor
4 Core (Stranded BC)
Material Oxygen Free Copper Wire Strands
Size
14 AWG
Stranding
105 Strands
Strand Diameter 0.16 mm
Insulation
Material
SRPVC
Average Thickness
0.36 mm
Min. Point Thickness
0.33 mm
Diameter (±0.05mm)
2.60 mm
Assembly Diameter (±0.05mm)
6.20mm
Jacket
Material
PE
Color
Black
Average Thickness
0.95 mm
Min. Point Thickness
0.88 mm
Outer Diameter(±0.1mm)
8.20 mm
Insulation Color
Black, Red, Green, Blue
Ripcord
Material Nylon (150D)
Electrical Performance
Rated Temperature -20ºC - 75ºC
Rated Voltage 30V
Reference Standard
ETL Listed
Mechanical Characteristics
Test Object
Jacket
Test Material PE
Before
Tensile Strength (Mpa)
>=13.8
Aging
Elongation (%)
>=100
Aging Condition (ºCxhrs)
100x168
After Tensile Strength (Mpa)
>=85% of unaged
Aging Elongation (%)
>=50% of unaged
Cold Bend (-20±2º Cx4hrs)
No Crack
Marking on Jacket
VERTICAL 4001453 cETLus AUDIO CABLE 14 AWG 4 COND 105 STRANDED
OXYGEN FREE OUTDOOR DIRECT BURIAL RoHS XXXFT
VERTICAL CABLE
954 454-3554 Florida Office
951 696-7772 California Office
www.verticalcable.com
Rev. 01/2013
Subject to change without notice.

* Your assessment is very important for improving the work of artificial intelligence, which forms the content of this project