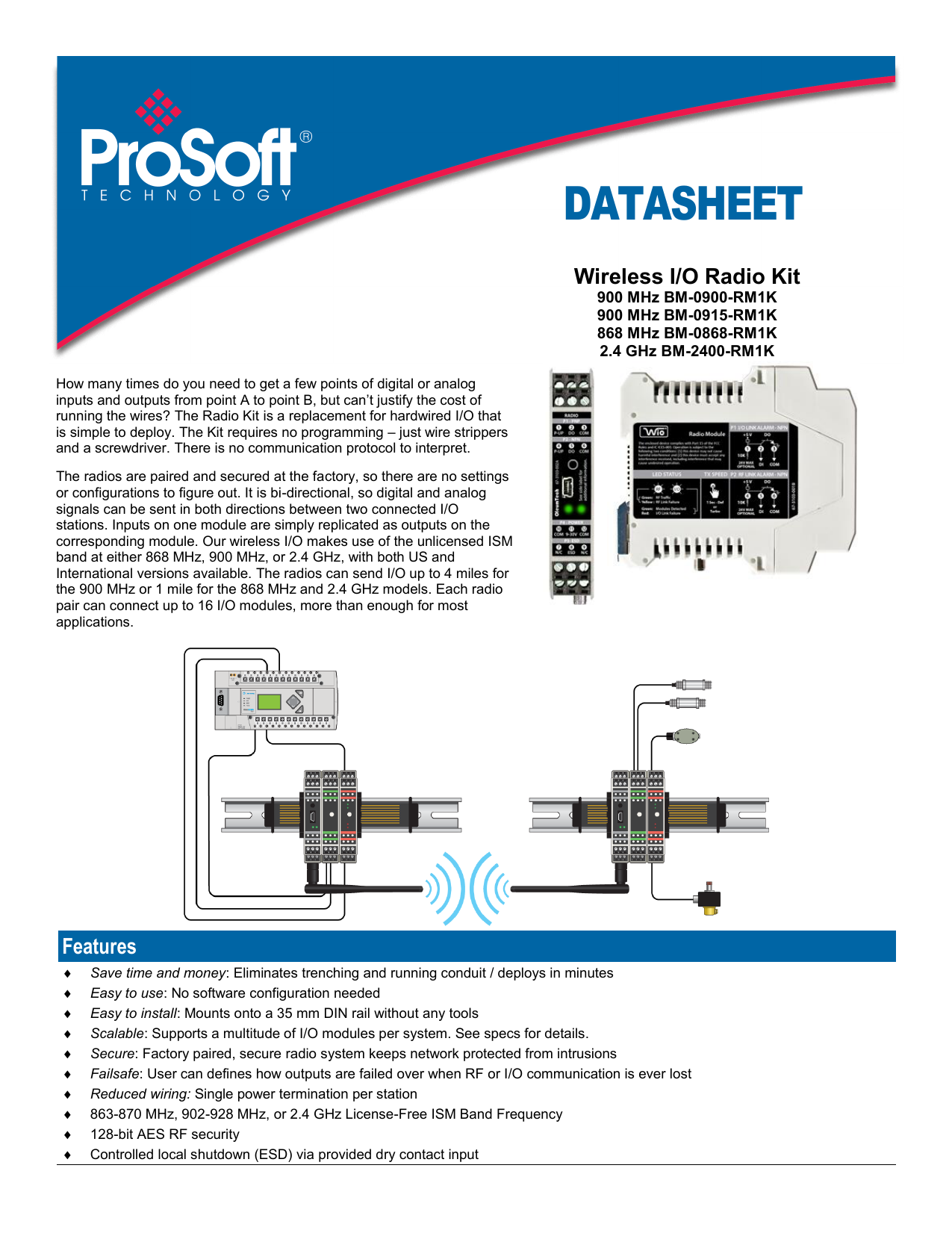 DATASHEET
Wireless I/O Radio Kit
900 MHz BM-0900-RM1K
900 MHz BM-0915-RM1K
868 MHz BM-0868-RM1K
2.4 GHz BM-2400-RM1K
How many times do you need to get a few points of digital or analog
inputs and outputs from point A to point B, but can't justify the cost of
running the wires? The Radio Kit is a replacement for hardwired I/O that
is simple to deploy. The Kit requires no programming – just wire strippers
and a screwdriver. There is no communication protocol to interpret.
The radios are paired and secured at the factory, so there are no settings
or configurations to figure out. It is bi-directional, so digital and analog
signals can be sent in both directions between two connected I/O
stations. Inputs on one module are simply replicated as outputs on the
corresponding module. Our wireless I/O makes use of the unlicensed ISM
band at either 868 MHz, 900 MHz, or 2.4 GHz, with both US and
International versions available. The radios can send I/O up to 4 miles for
the 900 MHz or 1 mile for the 868 MHz and 2.4 GHz models. Each radio
pair can connect up to 16 I/O modules, more than enough for most
applications.
Features










Save time and money: Eliminates trenching and running conduit / deploys in minutes
Easy to use: No software configuration needed
Easy to install: Mounts onto a 35 mm DIN rail without any tools
Scalable: Supports a multitude of I/O modules per system. See specs for details.
Secure: Factory paired, secure radio system keeps network protected from intrusions
Failsafe: User can defines how outputs are failed over when RF or I/O communication is ever lost
Reduced wiring: Single power termination per station
863-870 MHz, 902-928 MHz, or 2.4 GHz License-Free ISM Band Frequency
128-bit AES RF security
Controlled local shutdown (ESD) via provided dry contact input
Specifications
Hardware & System
Specification
Description
Maximum Network Capacity²
Max capacity depends on I/O combination
Power budget calculator: http://psft.com/A5D
35 mm x 7.5 mm DIN Rail
6.1 in / 156 mm - Supports up five (5) I/O modules, other
lengths also available
4-Claw attachment to 35 mm DIN Rail with end bracket
Spring-loaded clip-on system
Solid / Stranded (AWG) 28-12 gauge
UL: 300 V RMS, 80 °C and 300 V, 105 °C
CSA: 300 V RMS, 105 °C
2-Year limited
DIN Rail Mounting Compatibility
DataRail™ (Included with Radio Kit)
DataRail Mounting Hardware
Built-In Mounting Hardware
Wire Gauge
Wire Rating
Warranty
²When using more than a 5-Module Combination per Radio, use the Power Budget Calculator to determine
maximum I/O Module capacity.
Radio
Specification
Description
Frequency
863-870 MHz, 902-928 MHz, or 2.4 GHz License-Free
ISM Band
Antenna Connector Type
Default Transmit Speed / Update
Turbo Tx Speed Based on Number
of I/O Modules
Outdoor / Line of Sight Max Range
(900MHz@250mW/2.4GHz@63mW)
Indoor / Urban Max Range
(900MHz@250mW/2.4GHz@63mW)
Maximum Transmit Power
(Adjustable by Software)
SMA (Female Connector)
1 Second
1=100 ms, 2-3=200 ms, 4=250 ms, 5-6=333 ms, 711=500 ms, 12-16=1 second
900 MHz: 4 Miles (6.4 km)
868 MHz and 2.4 GHz: Up to 3 miles (5 km)
900 MHz: 1000 ft (305 m) / 2.4 GHz: 300 ft (90 m) /
2.4 GHz International: 200 ft (60 m)
868 MHz: 14dBm (25 mW) / 900 MHz: 24 dBm (250 mW)
/ 2.4 GHz:18 dBm (63 mW) / 2.4 GHz International: 10
dBm (10 mW)
868 and 900 MHz: -101 dBm / 2.4 GHz: -100 dBm
868 and 900 MHz: FHSS / 2.4 GHz DSSS
128-bit AES
Receiver Sensitivity
Spread Spectrum
RF Security
Where Automation
Connects™
Global Distribution
ProSoft Technology® products are
distributed and supported worldwide
through a network of over 500
distributors in over 50 countries.
Our knowledgeable distributors are
familiar with your application needs.
For a complete list of distributors,
go to: www.prosoft-technology.com
Ordering Information
To order this product, please use the
following:
Wireless I/O Radio Kit
USA/North America
900 MHz: BM-0900-RM1K
2.4 GHz: BM-2400-RM1K
International
Physical
Specification
Description
Supply Voltage Range
Power Consumption
Kit Packaging Dimensions (WxHxD)
Net Dimensions
Kit Packaging Weight
Net Weight (Single Radio)
RF Link Alarm Digital Output
I/O Link Alarm Digital Output
RF Link Diagnostics (Left LED)
I/O Link Diagnostics (Right LED)
Reverse Polarity Protection
Advanced User Interface Features
9 to 30 VDC (± 5 %)
35 mA @ 12V AVG (10% Duty Cycle)
5.5 x 10.1 x 2.8 in / 140 x 257 x 72 mm
0.7 x 3.9 x 4.5 in / 17.5 x 99 x 114 mm
1.3 lbs / 590 g
0.3 lbs / 136 g
10-Second RF Timeout Trigger (NPN) - User Selectable
I/O Mismatch, Bus or Module Failure (NPN)
Green = RF Traffic / Yellow = RF Link Fail
Green = I/O OK, Modules Detected / Red = I/O Link Fail
Yes
Test RSSI, Tx Power Adjustment, Force Local Output(s),
Set FailSafe Parameters, and Additional Diagnostics
868 MHz: BM-0868-RM1K (Europe)
900 MHz: BM-0915-RM1K (Australia)
2.4 GHz: BM-2400-RM1K
To place an order, please contact
your local ProSoft Technology
distributor. For a list of ProSoft
Technology distributors near you,
go to:
www.prosoft-technology.com
and select Where to Buy from the
menu.
Safety & Compliance
Specification
Description
Operational Temperature
Storage Temperature
Humidity
Degree of Protection / Housing Type
Hazardous Locations Classifications
RF Emissions
-40 °C to 80 °C / -40 °F to 176 °F
-20 °C to 85 °C / -4 °F to 185 °F
0 to 99 %, Non-condensing
IP20 / Plastic
UL Class I; Division 2 (Zone 2), Pending
FCC Part 15/IC
Copyright © 2016 ProSoft Technology, Inc.
All Rights Reserved. 10/17/2016
Specifications subject to change without notice.

* Your assessment is very important for improving the work of artificial intelligence, which forms the content of this project