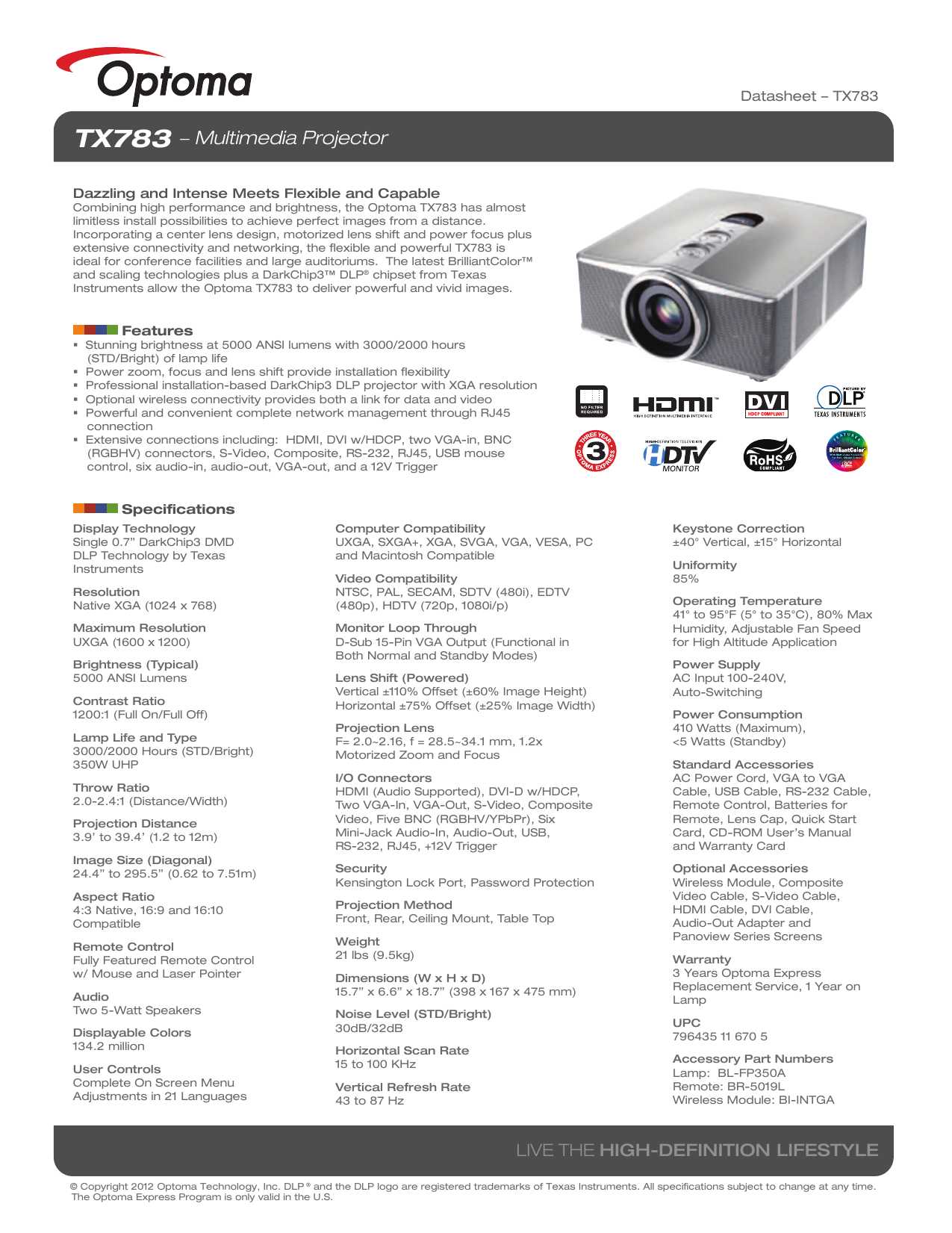 Datasheet – TX783
TX783
− Multimedia Projector
Dazzling and Intense Meets Flexible and Capable
Combining high performance and brightness, the Optoma TX783 has almost
limitless install possibilities to achieve perfect images from a distance.
Incorporating a center lens design, motorized lens shift and power focus plus
extensive connectivity and networking, the flexible and powerful TX783 is
ideal for conference facilities and large auditoriums. The latest BrilliantColor™
and scaling technologies plus a DarkChip3™ DLP® chipset from Texas
Instruments allow the Optoma TX783 to deliver powerful and vivid images.
Features
 Stunning brightness at 5000 ANSI lumens with 3000/2000 hours
(STD/Bright) of lamp life
 Power zoom, focus and lens shift provide installation flexibility
 Professional installation-based DarkChip3 DLP projector with XGA resolution
 Optional wireless connectivity provides both a link for data and video
 Powerful and convenient complete network management through RJ45
connection
 Extensive connections including: HDMI, DVI w/HDCP, two VGA-in, BNC
(RGBHV) connectors, S-Video, Composite, RS-232, RJ45, USB mouse
control, six audio-in, audio-out, VGA-out, and a 12V Trigger
Specifications
Display Technology
Single 0.7" DarkChip3 DMD
DLP Technology by Texas
Instruments
Resolution
Native XGA (1024 x 768)
Maximum Resolution
UXGA (1600 x 1200)
Brightness (Typical)
5000 ANSI Lumens
Contrast Ratio
1200:1 (Full On/Full Off)
Lamp Life and Type
3000/2000 Hours (STD/Bright)
350W UHP
Throw Ratio
2.0-2.4:1 (Distance/Width)
Projection Distance
3.9' to 39.4' (1.2 to 12m)
Image Size (Diagonal)
24.4" to 295.5" (0.62 to 7.51m)
Aspect Ratio
4:3 Native, 16:9 and 16:10
Compatible
Remote Control
Fully Featured Remote Control
w/ Mouse and Laser Pointer
Audio
Two 5-Watt Speakers
Displayable Colors
134.2 million
User Controls
Complete On Screen Menu
Adjustments in 21 Languages
Computer Compatibility
UXGA, SXGA+, XGA, SVGA, VGA, VESA, PC
and Macintosh Compatible
Video Compatibility
NTSC, PAL, SECAM, SDTV (480i), EDTV
(480p), HDTV (720p, 1080i/p)
Monitor Loop Through
D-Sub 15-Pin VGA Output (Functional in
Both Normal and Standby Modes)
Lens Shift (Powered)
Vertical ±110% Offset (±60% Image Height)
Horizontal ±75% Offset (±25% Image Width)
Projection Lens
F= 2.0~2.16, f = 28.5~34.1 mm, 1.2x
Motorized Zoom and Focus
I/O Connectors
HDMI (Audio Supported), DVI-D w/HDCP,
Two VGA-In, VGA-Out, S-Video, Composite
Video, Five BNC (RGBHV/YPbPr), Six
Mini-Jack Audio-In, Audio-Out, USB,
RS-232, RJ45, +12V Trigger
Security
Kensington Lock Port, Password Protection
Projection Method
Front, Rear, Ceiling Mount, Table Top
Weight
21 lbs (9.5kg)
Dimensions (W x H x D)
15.7" x 6.6" x 18.7" (398 x 167 x 475 mm)
Noise Level (STD/Bright)
30dB/32dB
Horizontal Scan Rate
15 to 100 KHz
Vertical Refresh Rate
43 to 87 Hz
Keystone Correction
±40° Vertical, ±15° Horizontal
Uniformity
85%
Operating Temperature
41° to 95°F (5° to 35°C), 80% Max
Humidity, Adjustable Fan Speed
for High Altitude Application
Power Supply
AC Input 100-240V,
Auto-Switching
Power Consumption
410 Watts (Maximum),
<5 Watts (Standby)
Standard Accessories
AC Power Cord, VGA to VGA
Cable, USB Cable, RS-232 Cable,
Remote Control, Batteries for
Remote, Lens Cap, Quick Start
Card, CD-ROM User's Manual
and Warranty Card
Optional Accessories
Wireless Module, Composite
Video Cable, S-Video Cable,
HDMI Cable, DVI Cable,
Audio-Out Adapter and
Panoview Series Screens
Warranty
3 Years Optoma Express
Replacement Service, 1 Year on
Lamp
UPC
796435 11 670 5
Accessory Part Numbers
Lamp: BL-FP350A
Remote: BR-5019L
Wireless Module: BI-INTGA
LIVE THE HIGH-DEFINITION LIFESTYLE
© Copyright 2012 Optoma Technology, Inc. DLP ® and the DLP logo are registered trademarks of Texas Instruments. All specifications subject to change at any time.
The Optoma Express Program is only valid in the U.S.