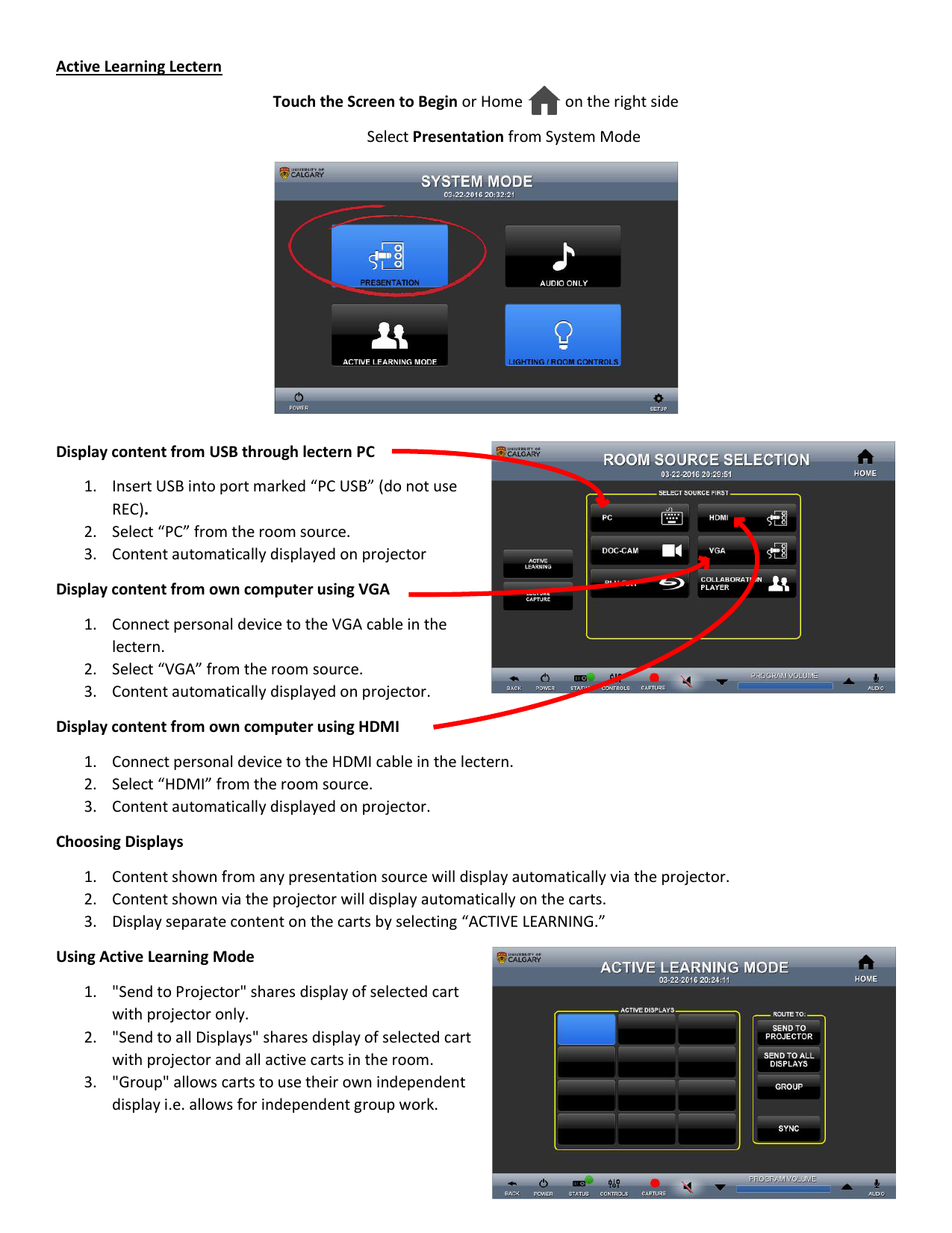 Active Learning Lectern
Touch the Screen to Begin or Home
on the right side
Select Presentation from System Mode
Display content from USB through lectern PC
1. Insert USB into port marked "PC USB" (do not use
REC).
2. Select "PC" from the room source.
3. Content automatically displayed on projector
Display content from own computer using VGA
1. Connect personal device to the VGA cable in the
lectern.
2. Select "VGA" from the room source.
3. Content automatically displayed on projector.
Display content from own computer using HDMI
1. Connect personal device to the HDMI cable in the lectern.
2. Select "HDMI" from the room source.
3. Content automatically displayed on projector.
Choosing Displays
1. Content shown from any presentation source will display automatically via the projector.
2. Content shown via the projector will display automatically on the carts.
3. Display separate content on the carts by selecting "ACTIVE LEARNING."
Using Active Learning Mode
1. "Send to Projector" shares display of selected cart
with projector only.
2. "Send to all Displays" shares display of selected cart
with projector and all active carts in the room.
3. "Group" allows carts to use their own independent
display i.e. allows for independent group work.
Bluray Player
When playing a movie, the yellow button will shuffle the
chapters so the movie doesn't play in order, which is not
recommended.
The blue button will go to the beginning of the movie.
Presenter View in PowerPoint
To use presenter view in PowerPoint with the lectern PC (notes and next slide appear on lectern computer, presentation
projected on screens).
1. In PowerPoint, under "Slideshow" select "Presenter View" and change monitor to "Primary".
2. On the keyboard, press
and 'p' at the same time. Select "Extend". "Extend" allows the user to access
programs on their own personal device but the projector and carts will only display the desktop background
until a PowerPoint is in presentation mode.
3. The lectern monitor will black out, only the large screen and carts will be displayed. Use the scrolling wheel on
the mouse to change slides.
4. To end the presentation, press "Esc" on the keyboard, then press
"Duplicate" to return to default settings.
and 'p' at the same time, select
Collaboration Carts
Using Solstice
1. To sync all the displays in the room to one Solstice
pod:
a. Using the Crestron device on the lectern,
select "Presentation" from System Mode
b. Select "Collaboration Player"
2. To allow each collaboration cart to run Solstice
independently:
a. From the carts, select "Present Media" from
the menu bar
3. Using Solstice on PC and Mac devices: select "Desktop" from Share panel to share screen content from personal
device.
4. For Android and IOS: select "Mirror Screen" to display the screen content of their phone or tablet screen.
Using Video Session
1. Select "Start Video Session" from the Home screen or "Collaborate" from the In-Session menu bar.
2.
3.
4.
5.
Add participant by touching Add Participant button
in top right corner.
Type participant name in the text box to search for participants by name.
Press "Okay" to begin conference.
Press video button to initiate video camera.
Using Limnu
1. Logging in
a. All collaboration carts have been set up with academic Limnu accounts, and should not require any
login. If the login has expired, please let staff know and we can have it re-activated for you.
2. Sharing Content
a. Select ≡ in bottom left corner to open menu.
b. Select "Share Board" for sharing options.
i. "Shared Link" provides access to link or code to the board,
which can be copied and pasted for others to access the
board.
ii. "Individuals" allows for sharing via email.
3. Saving Content
a. Select "Tools" button on toolbar
b. Select "Export"
c. Select "Capture" to save board as a screenshot
d. Save screenshot in desired folder on device
*Note: files cannot be exported directly onto the collaboration carts,
they must be downloaded onto a personal device
*Note: The academic Limnu account should retain the whiteboards for later access, but in order to
access the whiteboard from another cart or from your own computer or tablet, be sure to share your
board(s) with yourself and your team members.

* Your assessment is very important for improving the work of artificial intelligence, which forms the content of this project