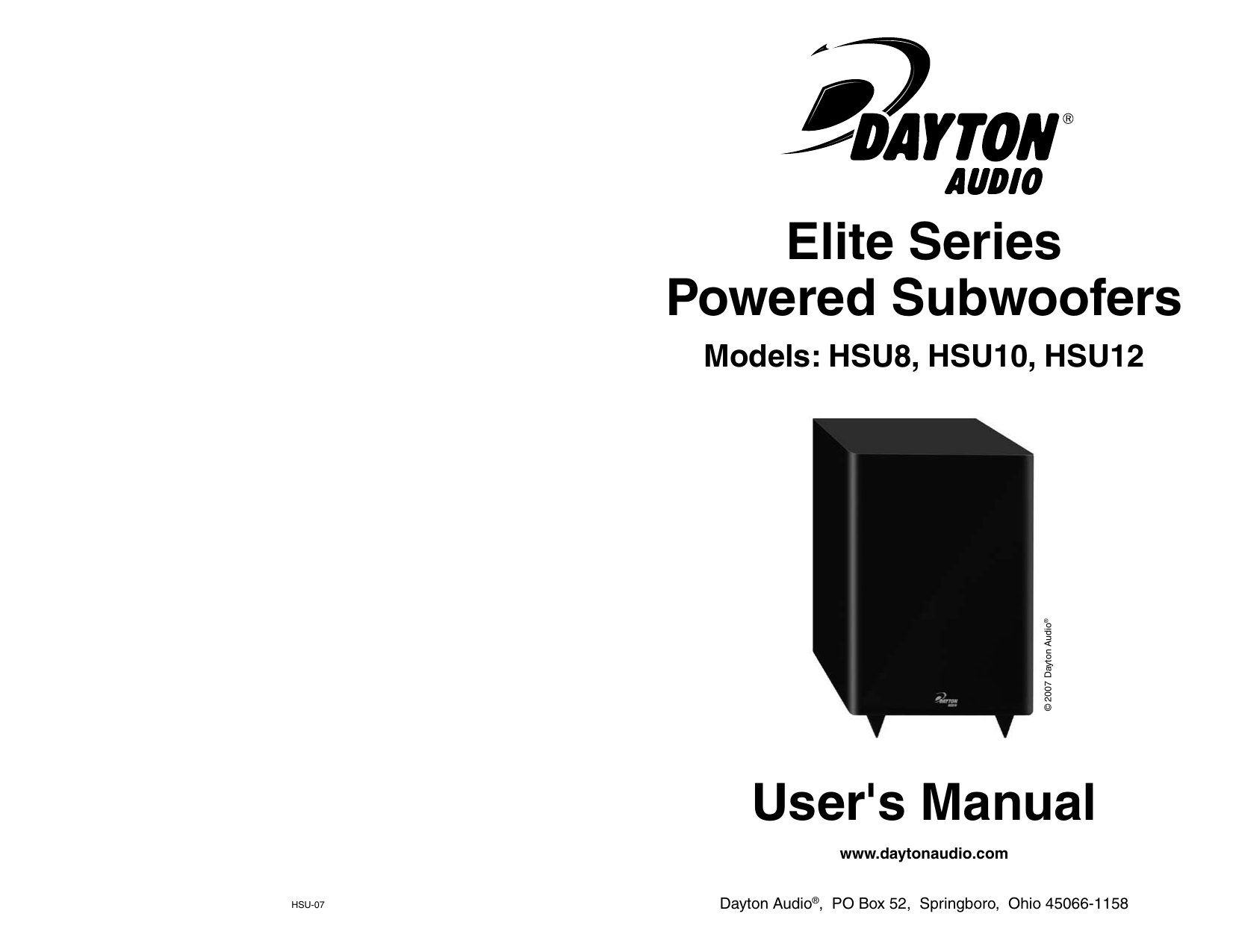 Elite Series
Powered Subwoofers
© 2007 Dayton Audio®
Models: HSU8, HSU10, HSU12
User's Manual
www.daytonaudio.com
HSU-07
Dayton Audio®, PO Box 52, Springboro, Ohio 45066-1158
Thank you for purchasing the Dayton Elite Series Powered Subwoofer,
the perfect addition to any home theater system. Your new subwoofer has
been designed and engineered by world-renowned subwoofer audiophile Dr.
Hsu. This powered sub features a front firing long-throw woofer and powerful
amplifier in a bass reflex design for increased low-end response. Your subwoofer
is finished in a non-obtrusive black veneer that will blend into and complement
any decor. Now that you know a little more about your new subwoofer, let the
Bass begin!
Hookup
Inputs:
Your subwoofer features stereo line-level RCA inputs and full-range outputs for use in 2.1-channel applications or for stereo subwoofer setups.
Left and right channel information is summed to mono for subwoofer output. A pre-filtered LFE signal may be sent to the subwoofer from a home
theater receiver. For this, switch the Crossover Bypass switch from Normal
to Bypass and connect the subwoofer cable to the white Left/Mono input.
Outputs:
The line level RCA outputs provide a full-range output and can be used
to "daisy chain" the line level signal to other amplifiers or subwoofers. The
line out will only provide a signal when supplied with a line in, the amplifier
will not convert from high to low level or vice versa.
Controls
Crossover Frequency Control: Continuously variable from 40 to 140 Hz
at 12 dB/octave. Set the frequency control to the low-end rolloff frequency
of your speakers, or adjust to where they cannot be localized (typically in
the 60 to 80 Hz range).
Phase Control: Adjustable between 0° to 180°. This aids in establishment
the greatest amount of bass output based on location. To correctly set
requires two people. One person should adjust the phase while a second
person sits in the desired seating location and listens for the greatest
amount of bass response.
Power Switch (Auto On/Off): When the power is in the auto position, the
amplifier will automatically turn on when a signal is present. Note: In auto/
off mode, the power on LED is always on (red), even when amp is in rest
mode (off). The power LED will turn green when the unit is activated.
Volume Control: Adjusts the output level of the subwoofer. Set the level
to where the bass frequencies blend with the other speakers. Note: Most
people have a tendency to set the level too high which can make the bass
sound overly "boomy." Make adjustments
Room Placement
Your subwoofer will produce more apparent bass when it is placed in a
corner. Choose a corner that is close to the component area and place it
at the front of the listening area. See diagram.
Specifications:
HSU8:
•8" high-excursion woofer
•100 watt RMS amplifier
•Frequency response: 30-180
Hz (-3 dB) •Dimensions: 151/2" H x 11" W x 16" D.
HSU10:
•10" high-excursion woofer
•150 watt RMS amplifier
•Frequency response: 25-180
Hz (-3 dB) •Dimensions: 19"
H x 14" W x 18" D.
HSU12:
•12" high-excursion woofer
•250 watt RMS amplifier
•Frequency response: 20-180
Hz (-3 dB) •Dimensions: 20"
H x 15" W x 22" D.
One Year
Limited Warranty
Dayton products are warranted for the period of
one year. This warranty is limited to manufacturer
defects, either in materials or workmanship.
Dayton Audio is not responsible for
any consequential or inconsequential
damage to any other unit or component
or the cost for installation or extraction
of any component of the audio system.

* Your assessment is very important for improving the work of artificial intelligence, which forms the content of this project