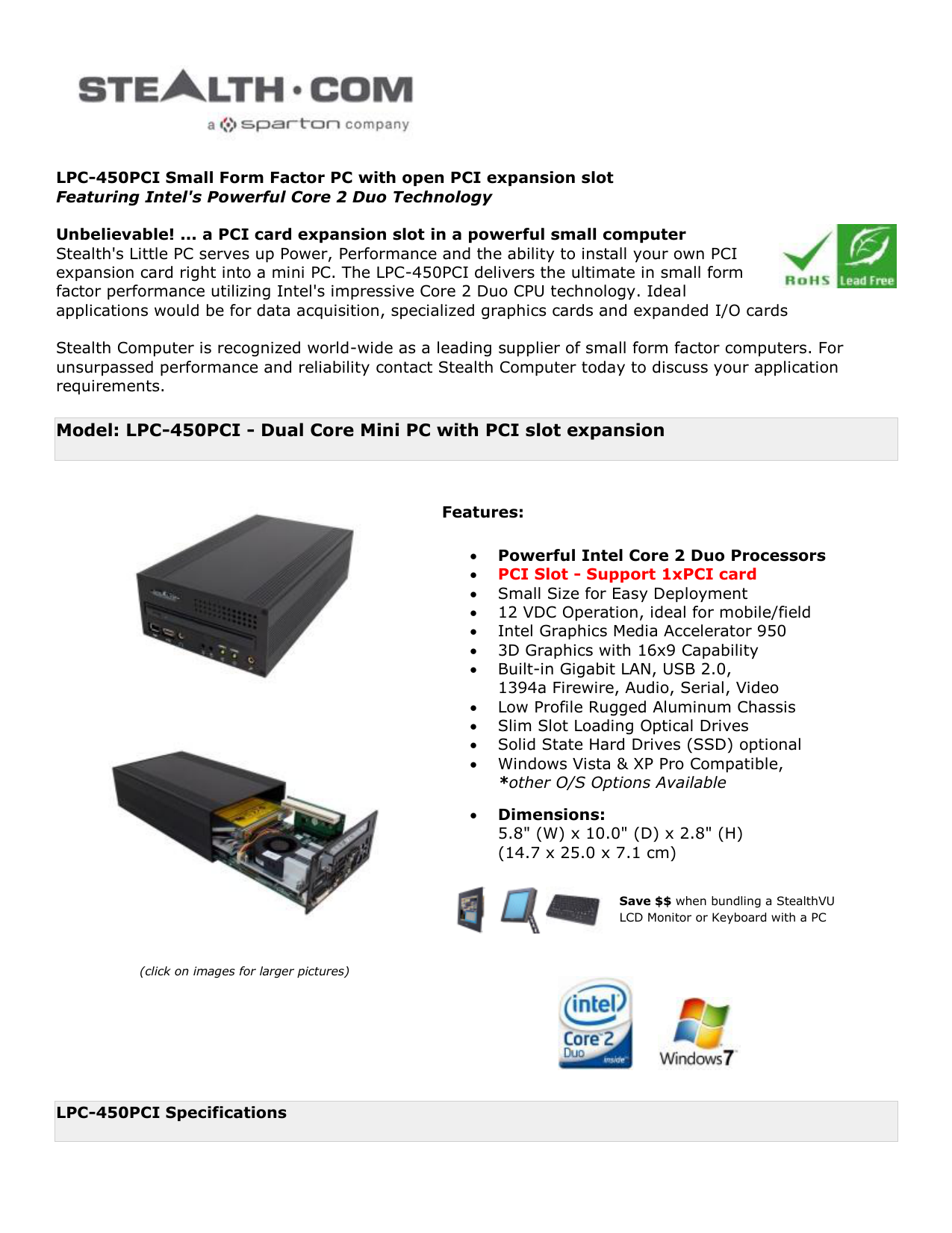 LPC-450PCI Small Form Factor PC with open PCI expansion slot
Featuring Intel's Powerful Core 2 Duo Technology
Unbelievable! ... a PCI card expansion slot in a powerful small computer
Stealth's Little PC serves up Power, Performance and the ability to install your own PCI
expansion card right into a mini PC. The LPC-450PCI delivers the ultimate in small form
factor performance utilizing Intel's impressive Core 2 Duo CPU technology. Ideal
applications would be for data acquisition, specialized graphics cards and expanded I/O cards
Stealth Computer is recognized world-wide as a leading supplier of small form factor computers. For
unsurpassed performance and reliability contact Stealth Computer today to discuss your application
requirements.
Model: LPC-450PCI - Dual Core Mini PC with PCI slot expansion
Features:












Powerful Intel Core 2 Duo Processors
PCI Slot - Support 1xPCI card
Small Size for Easy Deployment
12 VDC Operation, ideal for mobile/field
Intel Graphics Media Accelerator 950
3D Graphics with 16x9 Capability
Built-in Gigabit LAN, USB 2.0,
1394a Firewire, Audio, Serial, Video
Low Profile Rugged Aluminum Chassis
Slim Slot Loading Optical Drives
Solid State Hard Drives (SSD) optional
Windows Vista & XP Pro Compatible,
*other O/S Options Available
Dimensions:
5.8" (W) x 10.0" (D) x 2.8" (H)
(14.7 x 25.0 x 7.1 cm)
Save $$ when bundling a StealthVU
LCD Monitor or Keyboard with a PC
(click on images for larger pictures)
LPC-450PCI Specifications

Processor
Supports Intel's Dual Core Processors using Intel's
Core 2 Duo Technology, offered with Intel's T5500
(1.66Ghz) (Standard offering),
T7400 (2.16Ghz) and T7600 (2.33Ghz)

Chipset
- Intel's 945GM Northbridge
- Intel's ICH7M Southbridge
- Integrated IEEE 1394a Agere
FW232 Firewire chipset

BIOS
4MB Award PnP Flash BIOS

Memory
- 2 DDR2 SO-Dimm memory slots providing
options from 1GB (Standard offering) to
4GB's (MAX) of RAM

Internal Storage
- Offered with 160GB (Standard offering),
Optional: 250-500GB SATA, 2.5" Hard Drives
- SSD (Solid State Drives) optional

PCI Slot
- 1 x 32Bit PCI 2.1 Compliant card up to 24cm
- PCI 2.1 Compliant
- Supports 3.3V and 5V PCI cards

Optical Drives
- Slim Slot Load DVD-Rom/CD-RW (Standard offering)
- Optional upgrade to a Slot Load DVDRW/CD-RW

Video (Video Resolutions Supported)
- Onboard Intel Graphics Media Accelerator 950
- Shared 128MB Video Memory


Chassis Description
- Low Profile Rugged Aluminum Chassis

Power Input
- Rear 12VDC power Jack ideal for mobile applications.
- Input is 12VDC +/-5% @ 7A (84W)
- Includes External AC Adapter,
Input 100~240V AC @ 1.5A 50-60Hz

Options
- Solid State Drives (SSD) SATA
- Wall Mount Bracket
- USB Key (mini-Flash drive) for easy file transfer
- Remote power option Ideal for
OEM or Cabinet manufacturers
- Dual Video Option is Available
(Contact Stealth for further information)

Rear Panel (Click here for layout)
- 1 x 32Bit PCI 2.1 Compliant card up to 24cm
- 2 x RS232 COM port
- 2 PS/2 ports for Keyboard & Mouse
- Gigabit RJ45 Network connection
- Audio Line-Out Jack
- 2 x USB 2.0 Ports
- Digital Video Interface (DVI-I)
- 12VDC Power Input Jack

Front Panel (Click here for layout)
- IEEE 1394a Firewire port
- 1 x USB 2.0 Port
- Microphone Input Jack
- Headphone output Jack
- Power-on button
- Reset button
- Power and Hard Drive notification LED

Dimensions
- 5.8" (W) x 10.0" (D) x 2.8" (H)
(14.7 x 25.0 x 7.1 cm)
- Chassis sectional drawing (PDF)

Environmental
- Operating Temperature: 0-40C
- Non-Operating Temperature: (Storage) -20~60C
- Operating RH (non condensing) 10-80%
- Non Operating RH (non condensing) 0-90%

Shipping Weight
< 10.0 lbs. (4.5kg) (Depending on configuration)

Warranty
- 1 Year limited Warranty, Standard
- Extended Warranty available, contact Stealth for more info.
Ethernet Port
- Integrated 10/100/1000 Base-T Agere ET1310
PCIe Gigabit Ethernet controller, RJ45 connection

Audio
- Integrated Realtek Software AC 97 Audio CODEC

Operating Systems
- Windows VISTA, Windows XP Pro
*Optional: Linux, QNX & embedded.

Power Management
- ACPI 1.0b compliant
- Direct power management
- Wake-on event

Hardware Monitor
- Processor temperature
- Voltage
Note: Specifications are subject to change without notice.
All other trademarks and copyrights are the property of their respective owners.

* Your assessment is very important for improving the work of artificial intelligence, which forms the content of this project