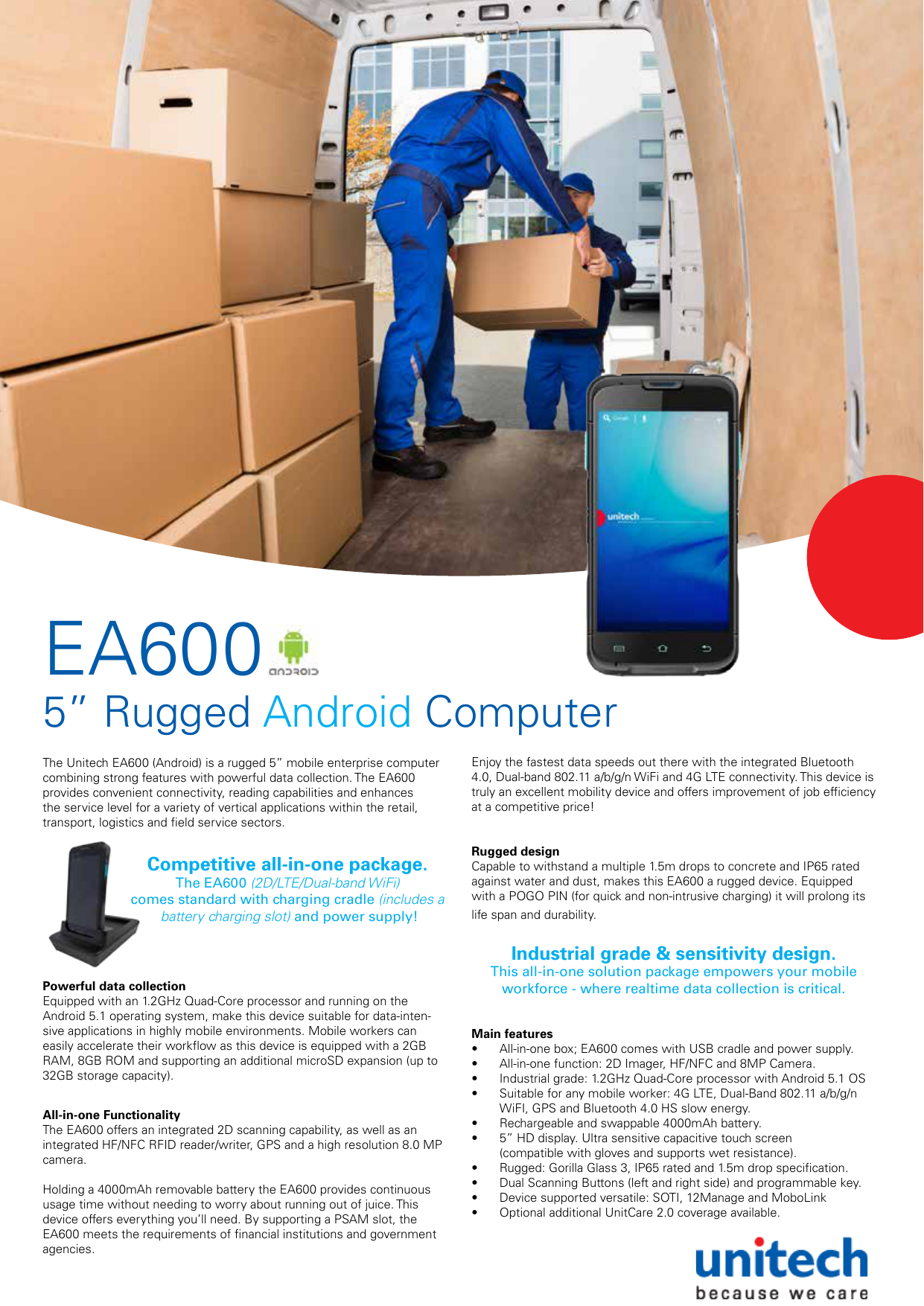 EA600
5" Rugged Android Computer
The Unitech EA600 (Android) is a rugged 5" mobile enterprise computer
combining strong features with powerful data collection. The EA600
provides convenient connectivity, reading capabilities and enhances
the service level for a variety of vertical applications within the retail,
transport, logistics and field service sectors.
Competitive all-in-one package.
The EA600 (2D/LTE/Dual-band WiFi)
comes standard with charging cradle (includes a
battery charging slot) and power supply!
Enjoy the fastest data speeds out there with the integrated Bluetooth
4.0, Dual-band 802.11 a/b/g/n WiFi and 4G LTE connectivity. This device is
truly an excellent mobility device and offers improvement of job efficiency
at a competitive price!
Rugged design
Capable to withstand a multiple 1.5m drops to concrete and IP65 rated
against water and dust, makes this EA600 a rugged device. Equipped
with a POGO PIN (for quick and non-intrusive charging) it will prolong its
life span and durability.
Industrial grade & sensitivity design.
Powerful data collection
Equipped with an 1.2GHz Quad-Core processor and running on the
Android 5.1 operating system, make this device suitable for data-intensive applications in highly mobile environments. Mobile workers can
easily accelerate their workflow as this device is equipped with a 2GB
RAM, 8GB ROM and supporting an additional microSD expansion (up to
32GB storage capacity).
All-in-one Functionality
The EA600 offers an integrated 2D scanning capability, as well as an
integrated HF/NFC RFID reader/writer, GPS and a high resolution 8.0 MP
camera.
Holding a 4000mAh removable battery the EA600 provides continuous
usage time without needing to worry about running out of juice. This
device offers everything you'll need. By supporting a PSAM slot, the
EA600 meets the requirements of financial institutions and government
agencies.
This all-in-one solution package empowers your mobile
workforce - where realtime data collection is critical.
Main features
• All-in-one box; EA600 comes with USB cradle and power supply.
• All-in-one function: 2D Imager, HF/NFC and 8MP Camera.
• Industrial grade: 1.2GHz Quad-Core processor with Android 5.1 OS
• Suitable for any mobile worker: 4G LTE, Dual-Band 802.11 a/b/g/n
WiFI, GPS and Bluetooth 4.0 HS slow energy.
• Rechargeable and swappable 4000mAh battery.
• 5" HD display. Ultra sensitive capacitive touch screen
(compatible with gloves and supports wet resistance).
• Rugged: Gorilla Glass 3, IP65 rated and 1.5m drop specification.
• Dual Scanning Buttons (left and right side) and programmable key.
• Device supported versatile: SOTI, 12Manage and MoboLink
• Optional additional UnitCare 2.0 coverage available.
V1 EA600
Specifications
Operation System
CPU 1.2GHz, Qualcomm 8916 Quad-Core
Memory 2GB DDR RAM
8GB ROM
OS Android 5.1
Languages Multi-language
Others Input Chinese/ English, supports handwriting
and soft keyboard.
Display
5.0 inch TFT-LCD HD (720 x 1280) color screen, Gorilla Glass 3.
Ultra sensitive capacitive touch screen, compatible with gloves and
supports wet resistance.
Buttons
Side SCAN button x 2 (Left / Right), User-defined function button
(programmable key), Volume switch button (+ / -), ON / OFF button.
Camera/Photos/Video
2MP front camera
8MP rear camera with LED flash and auto-focus function
Audio
Microphone, speaker and 3.5mm audio jack
Expansion Slot
Micro SD/TF x 1(maximum of 32 GB), Micro SIM x 1, SAM x 1
Enclosure
Dimension Weight 152 mm x 78 mm x 15 mm
283g
Environmental
Operating temperature -10°C to +50°C
Storage temperature –20°C to +60°C
Charging Temperature
0°C to 40°C
Relative Humidity 5% ~ 95% (non-condensing)
Drop Specification 1.5m to concrete
Sealing IP65
Accessories
Single slot USB cradle Indicator
LEDs, Vibrator
EA600 1-Slot Charging USB Cradle
Symbologies
2D CMOS Imager
1D/2D
All major 1D and 2D codes
Input:
Output:
Led:
1-slot USB cradle with spare battery
charging compartment
RFID
HF/NFC
Frequency 13.56Mhz
Support: ISO14443A/B, ISO15693 standard,
Supports NFC
Communication
USB
Micro USB
OTG
Yes, over Micro USB
POGO PIN
Charging via cradle and USB client
WLAN 802.11 a/b/g/n
Bluetooth Bluetooth 4.0 HS low energy
WWAN
4G TDD/FDD/UMTS/EV-DO/GSM
4G Band
TDD-LTE (B38, B39, B40, B41), FDD_LTE
(B1, B3)
GPS
GPS, AGPS, Glonass
Senors
Proximity sensor, light sensor and G-sensor
Power Source
Main battery
Rechargeable and swappable
3.8 V, 4000mAh Polymer Li-ION pack.
Operation time
10-12 hours (depending on the specific
environment)
RTC battery
Real time clock battery
AC 100V~240V,1A Max,50/60Hz
DC 5.5V,2.6A
Power and Status
Regulatory Approvals
CE, R&TTE
Device supported MDM
SOTI, 12Manage and MoboLink
Warranty
1 Year Terminal and cradle / 3 months battery.
Unitech's service program
UnitCare 2.0 offers customers a high level of security by a reliable,
high-quality and effective program for getting your devices serviced
quickly. It also drives the hidden costs out of your installations.
UnitCare goes beyond the standard warranty with a complete service
offer for different need. More information: unitcare.unitech.eu.
Unitech Europe
Tilburg, The Netherlands
• Tel.: +31 (0)13 460 9292
• Email: Info@eu.ute.com
• Website: http://eu.ute.com
Unitech America
Unitech Asia Pacific
Unitech China
Unitech Europe
Unitech Japan
Unitech Taiwan
Specifications subject to change without notice. Copyright 2011 Unitech Electronics Co., Ltd. All rights reserved. Unitech is a registered trademark of Unitech Electronics
Co., Ltd. All product and company names are trademarks, service marks, or registered trademarks of their respective owners.