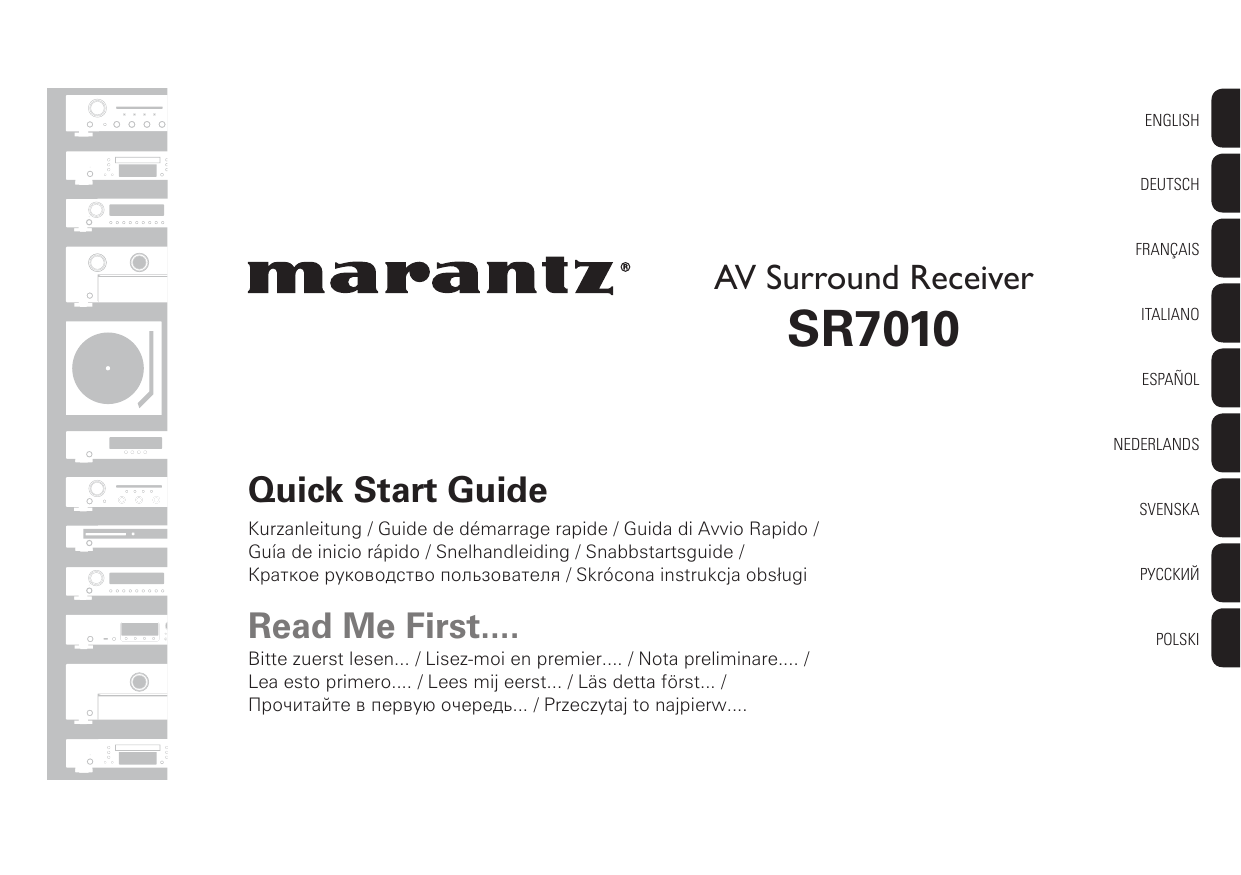 ENGLISH
DEUTSCH
AV Surround Receiver
SR7010
FRANÇAIS
ITALIANO
ESPAÑOL
NEDERLANDS
Quick Start Guide
Kurzanleitung / Guide de démarrage rapide / Guida di Avvio Rapido /
Guía de inicio rápido / Snelhandleiding / Snabbstartsguide /
Краткое руководство пользователя / Skrócona instrukcja obsługi
Read Me First....
Bitte zuerst lesen... / Lisez-moi en premier.... / Nota preliminare.... /
Lea esto primero.... / Lees mij eerst... / Läs detta först... /
Прочитайте в первую очередь... / Przeczytaj to najpierw....
SVENSKA
РУССКИЙ
POLSKI
Welcome
Before You Begin
Required for Setup
Thank you for choosing a Marantz AV
receiver. This guide provides step-bystep instructions for setting up your AV
receiver.
Please do not return this unit to the
store – call for assistance.
If you need help… :
If you need additional help in solving
problems, contact Marantz customer
service in your area.
www.marantz.com
TV
Speaker cables
HDMI cable
Subwoofer cable
Speaker systems
Optional
or
LAN cable
Wi-Fi router
• When connecting this unit to a device that is compatible with the Deep Color, 4K and ARC
functions, use a "High Speed HDMI cable with Ethernet" that displays the HDMI logo.
•These drawings are for illustrative purposes only and may not represent the actual product(s).
1
What's In the Box
Quick Start Guide
FM indoor antenna
Owner's Manual
AM loop antenna
Safety Instructions
Sound calibration
microphone
Notes on radio
Cable labels
Sound calibration
microphone stand
Remote control unit
Receiver
R03/AAA batteries
Power cord
External antennas
for Bluetooth/
wireless connectivity
The supplied Sound calibration microphone stand is convenient for use when
performing Speaker Calibration. Using your own tripod or the supplied Sound
calibration microphone stand enables settings to be automatically configured to
the optimum listening environment, providing exceptionally high performance.
2
Important: External Antennas
The removable external antennas are required for both
Bluetooth and Wireless network connectivity. Please make
sure to connect the antennas before attempting to use the
Bluetooth or Wi-Fi features of the SR7010.
nn Connecting the external antennas for
Bluetooth/Wireless connectivity
For each of the two antennas:
qPlace the antenna evenly over the antenna terminal
located at the upper left or right corner of the rear panel.
wTurn the antenna clockwise until it is fully connected. Do
not over tighten.
eRotate the antenna upwards for the best possible reception.
q
3
w
e
Setup
There are three steps to the setup
process.
1
Installing batteries in the remote control unit
2
Connecting the receiver
3
Following the On-Screen Setup Assistant
Installing batteries in the
1 remote control unit
R03/AAA batteries
4
2
Connecting the receiver
2.1)Place the receiver near your TV and
connect the power cord.
TV
Receiver
Power cord
(supplied)
Connect to household
power outlet
(AC 230 V, 50/60 Hz)
5
2.2)Connect to the network.
Wired LAN
Wireless LAN
When connecting cables (wired connection), connect a LAN
cable between your receiver and your network router.
Internet
Modem
To WAN side
When connecting to wireless LAN (Wi-Fi), follow the
instructions in "Connecting the external antennas for
Bluetooth/Wireless connectivity" and connect the antennas.
Internet
Router with
access point
Modem
To WAN side
To LAN port
Router
6
2.3)
Connect the receiver to your TV
with an HDMI cable.
2.4)Turn on the TV.
HDMI IN
(ARC)
HDMI cable
TV remote control unit
1
OR
NIT
C
AR
MO
HDMI OUT
MONITOR1
(ARC)
2.5)Select the appropriate HDMI input
on your TV.
HDMI
INPUT
or
TV/
VIDEO
Receiver (Rear panel)
ARC (Audio Return Channel) :
If your TV supports ARC, your TV can send audio back to the AV receiver
when you are using your TV's built-in video sources (TV tuner, Smart TV
streaming services, etc…) ARC requires that you enable HDMI CEC on
your TV. Please refer to your TV's Owner's Manual for instructions on how
to setup HDMI CEC. Note that some TV manufacturers use other names
for the HDMI CEC function.
7
TV remote control unit
2.6)Turn on the receiver.
•Press X to turn on the receiver.
2.7)Verify the connection.
•Verify that you can see this screen on your TV.
AV Reciever Setup Assistant
P l e a s e s e l e c t a l a ng ua ge . . .
English
Deutsch
Français
Italiano
Español
Nederlands
Svenska
Pусский
Polski
If this screen is not displayed, please go back and
retry the steps again in the recommended sequence.
8
3
Following the On-Screen Setup Assistant
The Setup Assistant will walk you through connecting and
configuring your speakers and components to your Marantz
receiver. Please use the remote control and follow the
on-screen instructions.
AV Reciever Setup Assistant
Please select a language...
English
Deutsch
Français
Italiano
Español
Nederlands
Svenska
Pусский
Polski
9
Owner's Manual
Please reference to the Owner's Manual for more details about the setup and operation of the receiver and its features.
nnOnline Version
Enter the following URL into your web browser:
manuals.marantz.com/SR7010/EU/EN/
nnPrintable Version
Access
the print version of the owner's manual from the
included CD-ROM or select the "PDF Download" link
from the Online Version.
1
Insert the disc into
your PC.
Online Manual
English
Overview
Connections
Playback
WEB Manual
AV Surround Receiver
SR7010
Settings
Tips
Appendix
PDF
Contents
2
Follow the screen or double click on
the PDF file.
PDF Download
AV Surround Receiver
Copyright © 2015 D&M Holdings Inc. All Rights Reserved.
10
Printed in China 5410 11321 01AM
Copyright © 2015 D&M Holdings Inc. All Rights Reserved.

* Your assessment is very important for improving the work of artificial intelligence, which forms the content of this project