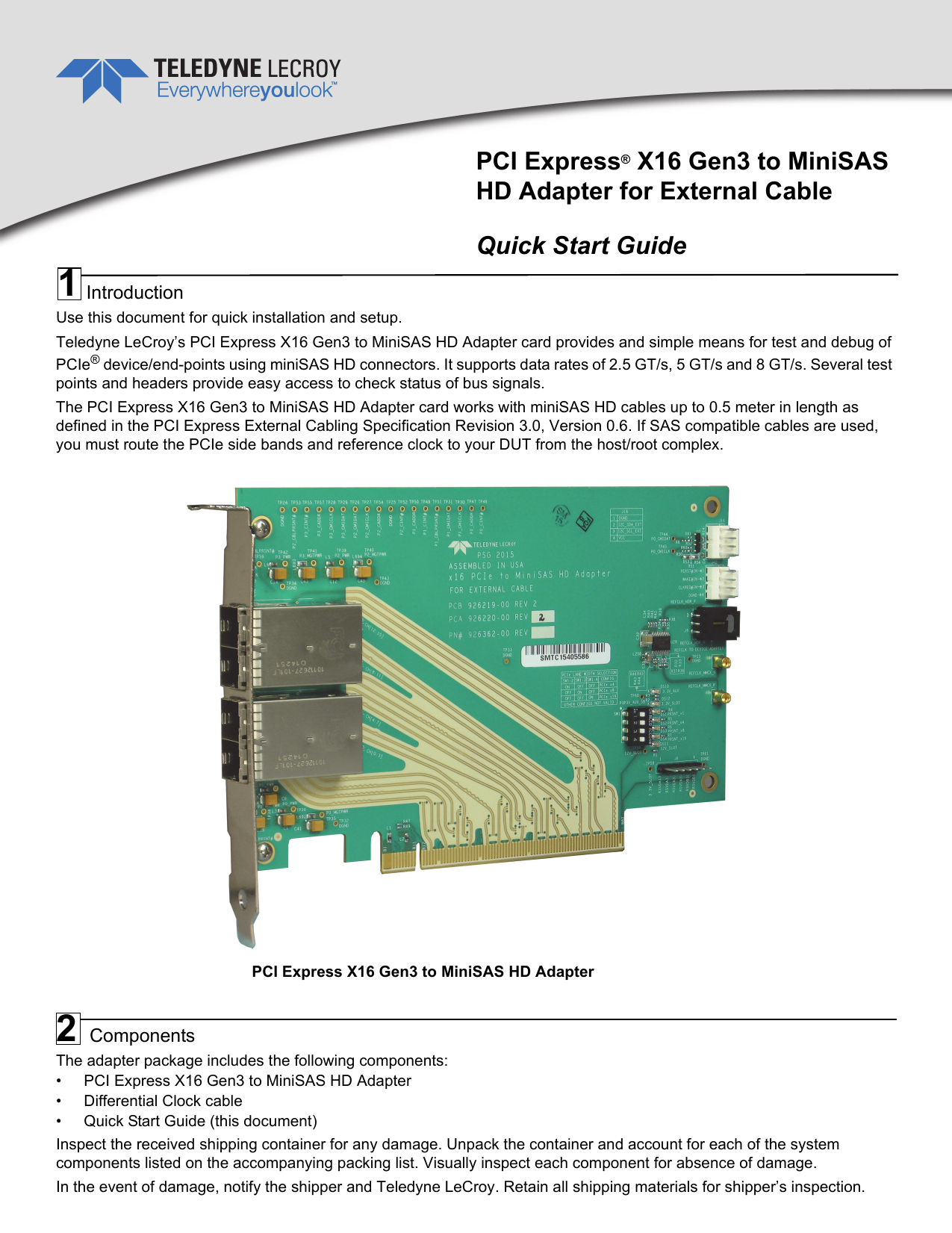 PCI Express® X16 Gen3 to MiniSAS
HD Adapter for External Cable
Quick Start Guide
1 Introduction
Use this document for quick installation and setup.
Teledyne LeCroy's PCI Express X16 Gen3 to MiniSAS HD Adapter card provides and simple means for test and debug of
PCIe® device/end-points using miniSAS HD connectors. It supports data rates of 2.5 GT/s, 5 GT/s and 8 GT/s. Several test
points and headers provide easy access to check status of bus signals.
The PCI Express X16 Gen3 to MiniSAS HD Adapter card works with miniSAS HD cables up to 0.5 meter in length as
defined in the PCI Express External Cabling Specification Revision 3.0, Version 0.6. If SAS compatible cables are used,
you must route the PCIe side bands and reference clock to your DUT from the host/root complex.
PCI Express X16 Gen3 to MiniSAS HD Adapter
2
Components
The adapter package includes the following components:
• PCI Express X16 Gen3 to MiniSAS HD Adapter
• Differential Clock cable
• Quick Start Guide (this document)
Inspect the received shipping container for any damage. Unpack the container and account for each of the system
components listed on the accompanying packing list. Visually inspect each component for absence of damage.
In the event of damage, notify the shipper and Teledyne LeCroy. Retain all shipping materials for shipper's inspection.
3 Connections
.
PCI Express X16 Gen3 to MiniSAS HD Adapter: Interconnection Overview
J16: I2C Interface
See Table 2 below.
Test Points:
MiniSAS HD test points.
See Table 5 below.
J42: See PCIe
Bus Side band
signals see
Table 3 below.
J24: Port 3
CH[12-15]
J24: Port 2
CH[8-11]
J6: PCIe
RefClk to DUT*
miniSAS
J3/J4: PCIe
RefClk to DUT.
MMCX Differential
Output.*
HD
Cables
J22: Port 1
SW1: PCIe Link
Width Selection.
See settings
Table 1 below.
CH[4-7]
J22: Port 0
CH[0-3]
J8: PCIe Bus
Reserved signals.
See Table 4 below.
PCIe Card Slot
* Note: For J6 and J3/J4: PCIe Reference Clock is not forwarded though the miniSAS HD cable. Outputs are provided in
the adapter for debug purposes.
Access to I2C Bus
The I2C bus is connected from the PCIe Bus card slot to the MiniSAS HD connector J22: Port 0 and J16.
J16 provides access to I2C/SMBus signals from the PCIe slot for other I2C analysis equipment. See Table 2 below,
for the I2C connections on J16.
4 Switch Configuration: SW1
Table 1: PCIe Link Width Configurations
SW1-1
SW1-2
SW1-3
SW1-4
PCIe Bus Link Width
ON
OFF
OFF
OFF
x1
OFF
ON
OFF
OFF
x4 (default setting)
OFF
OFF
ON
OFF
x8
OFF
OFF
OFF
ON
x16
Note 1: This switch sets the PRNST# bus pins so the card can be appropriately identified by the root
complex.
Note 2: Other switch configurations not valid.
Note 3: Factory settings for all SW1 are: SW1-1 OFF, SW1-2 ON, SW1-3 OFF, SW1-4 OFF.
5
Connector Signals
Connector signals are provided primarily as test points but they can be driven for debug purposes as long as the supplied
signals meet the PCIe electrical specification.
Table 2: J16 Connections
PIN
1
2
3
4
DESCRIPTION
DGND
I2C_SDA_EXT
I2C_SCL_EXT
VCC (+3.3V to +5.0V)
Note: VCC required only if I2C signals are not pulled
up on the I2C analysis equipment.
Table 3: J42 Connections
PIN
1
2
3
4
DESCRIPTION
PERST# IN
WAKE# IN
CLKREQ# IN
DGND
Table 4: J8 Connections
PIN
1
2
3
4
5
6
DESCRIPTION
RSVDA19
RSVDA32
RSVDA33
RSVDA50
RSVDB30
RSVDB82
6
Test Points
Table 5: Mini SAS HD Test Points and Functions
Test Point Number
Function
TP24
DGND
TP53
P2_CBLPRSNT#
TP55
P3_CINT#
TP57
P3_CADDR
TP28
P3_CMICLK
TP29
P3_CMIDAT
TP26
P2_CMIDAT
TP27
P2_CMICLK
TP54
P2_CADDR
TP25
DGND
TP52
P2_CINT#
TP50
P1_CADDR
TP49
P1_CINT#
TP51
P1_CBLPRSNT#
TP31
P1_CMIDAT
TP30
P1_CMICLK
TP47
P0_CADDR
TP46
P0_CINT#
7 Environmental Conditions
•
Temperature: Operating 32° F to 122° F (0° C to 50° C)
•
Temperature: Non-Operating 14° F to 176° F (-10° C to 80° C)
•
Humidity: Operating 10% to 90% RH (non-condensing)
Teledyne LeCroy Customer Support
Online Download
Periodically check the Teledyne LeCroy Protocol Solutions Group
web site for software updates and other support related to this
product. Software updates are available to users with a current
Maintenance Agreement.
Mail:
Web:
E-mail:
Tel:
Tel:
Fax:
Trademarks and Servicemarks
Changes
Teledyne LeCroy is a trademark of Teledyne LeCroy. All other
trademarks are property of their respective companies.
3385 Scott Blvd., Santa Clara, CA 95054-3115
teledynelecroy.com/Support/SoftwareDownload/
psgsupport@teledynelecroy.com
(800) 909-7112 (USA and Canada)
(408) 653-1260 (worldwide)
(408) 727-6622 (worldwide)
Product specifications are subject to change without notice.
Teledyne LeCroy reserves the right to revise the information in this
document without notice or penalty.
© 2015 Teledyne LeCroy, Inc. All rights reserved.
Part Number: 926475-00 Rev A
This document may be printed and reproduced without additional permission, but all copies should contain this copyright notice.

* Your assessment is very important for improving the work of artificial intelligence, which forms the content of this project