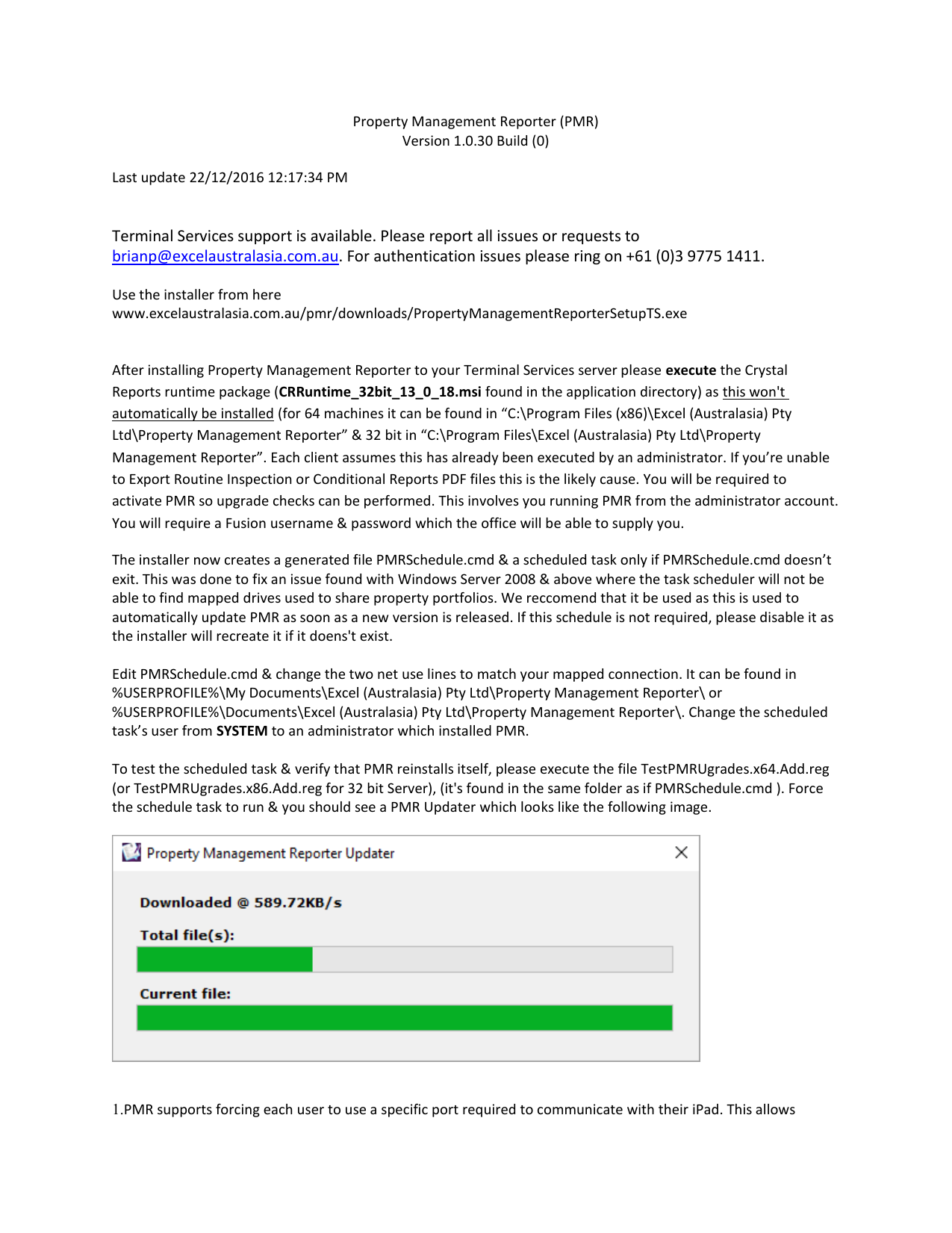 Property Management Reporter (PMR)
Version 1.0.30 Build (0)
Last update 22/12/2016 12:17:34 PM
Terminal Services support is available. Please report all issues or requests to
brianp@excelaustralasia.com.au. For authentication issues please ring on +61 (0)3 9775 1411.
Use the installer from here
www.excelaustralasia.com.au/pmr/downloads/PropertyManagementReporterSetupTS.exe
After installing Property Management Reporter to your Terminal Services server please execute the Crystal
Reports runtime package (CRRuntime_32bit_13_0_18.msi found in the application directory) as this won't
automatically be installed (for 64 machines it can be found in "C:\Program Files (x86)\Excel (Australasia) Pty
Ltd\Property Management Reporter" & 32 bit in "C:\Program Files\Excel (Australasia) Pty Ltd\Property
Management Reporter". Each client assumes this has already been executed by an administrator. If you're unable
to Export Routine Inspection or Conditional Reports PDF files this is the likely cause. You will be required to
activate PMR so upgrade checks can be performed. This involves you running PMR from the administrator account.
You will require a Fusion username & password which the office will be able to supply you.
The installer now creates a generated file PMRSchedule.cmd & a scheduled task only if PMRSchedule.cmd doesn't
exit. This was done to fix an issue found with Windows Server 2008 & above where the task scheduler will not be
able to find mapped drives used to share property portfolios. We reccomend that it be used as this is used to
automatically update PMR as soon as a new version is released. If this schedule is not required, please disable it as
the installer will recreate it if it doens't exist.
Edit PMRSchedule.cmd & change the two net use lines to match your mapped connection. It can be found in
%USERPROFILE%\My Documents\Excel (Australasia) Pty Ltd\Property Management Reporter\ or
%USERPROFILE%\Documents\Excel (Australasia) Pty Ltd\Property Management Reporter\. Change the scheduled
task's user from SYSTEM to an administrator which installed PMR.
To test the scheduled task & verify that PMR reinstalls itself, please execute the file TestPMRUgrades.x64.Add.reg
(or TestPMRUgrades.x86.Add.reg for 32 bit Server), (it's found in the same folder as if PMRSchedule.cmd ). Force
the schedule task to run & you should see a PMR Updater which looks like the following image.
1.PMR supports forcing each user to use a specific port required to communicate with their iPad. This allows
multiple users to synchronize at the same time without interference. For each terminal services' user do the
following by logging into their accounts. Make sure that your Terminal Server's LAN connection is not set to
"Public network" otherwise the iPad can't connect to server.
I.
II.
Start PMR & activate it with their Fusion username & password.
Go to the preferences page & setup their specific port & optionally a shared Property Portfolio Data
directory. Tell the user to open the PC preferences screen & use the assigned port to set their iPad PMR
FN port. Get them to assign the assign the Terminal Server name to their iPad PMR FN computer name.
Please make sure your DNS allows using the machine name with the iPad, otherwise you they will need to
use the server's IP address. For single user per iPad use My Computer. Multiple users sharing a single iPad
we recommend creating a new network connection for each user & naming each connection as the user's
name with the terminal server name & specific port.
a. The ports we use are the following & we recommend changing the last digit:
65172, 55172, 45172, 35172, 25172, 15172, 5172, 60172, 50172, 40172,
30172, 20172, 10172. Otherwise you could choose your own port range.
III. Allow Firewall access to PropertyManagementReporter.exe with one of the following.
a. Full access to all ports on your local / private network.
b. Specify the port range for both TCP/IP & UDP.
c. Allow the application to add this exception for the specific port. This will happen by opening
PMR's Synchronization screen (Cancelling this request blocks PMR's communication ability). This
requires the firewall to notify the user when it blocks a new program & is why most users are
unable to connect to the iPad.
IV. Make sure that the Terminal Server & the iPad use the same IP subnet, as iPads will not communicate
with different IP subnets. If they're in different IP subnet, update their iPad with your VPN details & make
sure that they enable this when syncing their iPad to Terminal Server.
For trouble shooting communication to PMR on Terminal Server we have included an application PMRLanTest. Run
PMRLanTest on Terminal Server & select "Listen" button. On a client machine run PMRLanTest.exe by opening the
application dir from PMR's preference page. Change the server IP address to that of the Terminal Server or specify
its machine name & select "Test" button.
The following details the behaviour implemented running PMR for Terminal Services support.
i.Local administrator attached directly to console (Keyboard & Mouse). Upgrades are detected if one is
available; they are asked if they want to perform an upgrade. It warns them they must be the only user
running PMR before they continue. It will loop indefinitely informing them how many instances are running.
Crystal Reports runtime installation is executed if the application hasn't previously been activated.
ii.Local administrator attached directly to console (Keyboard & Mouse) with command line switch
-tsupgradecheck. Upgrades are detected if one is available & automatically installed. If there isn't, the
application is aborted. There is no user check when this happens.
iii.Normal terminal user. Upgrades are ignored. Crystal Reports runtime installation is ignored.
iv.Admin terminal user. Upgrades are detected. They are prompted if they would like it to be installed.
Please make sure you're the only user running PMR before continuing otherwise a reboot with be
required. Crystal Reports runtime installation is ignored.

* Your assessment is very important for improving the work of artificial intelligence, which forms the content of this project