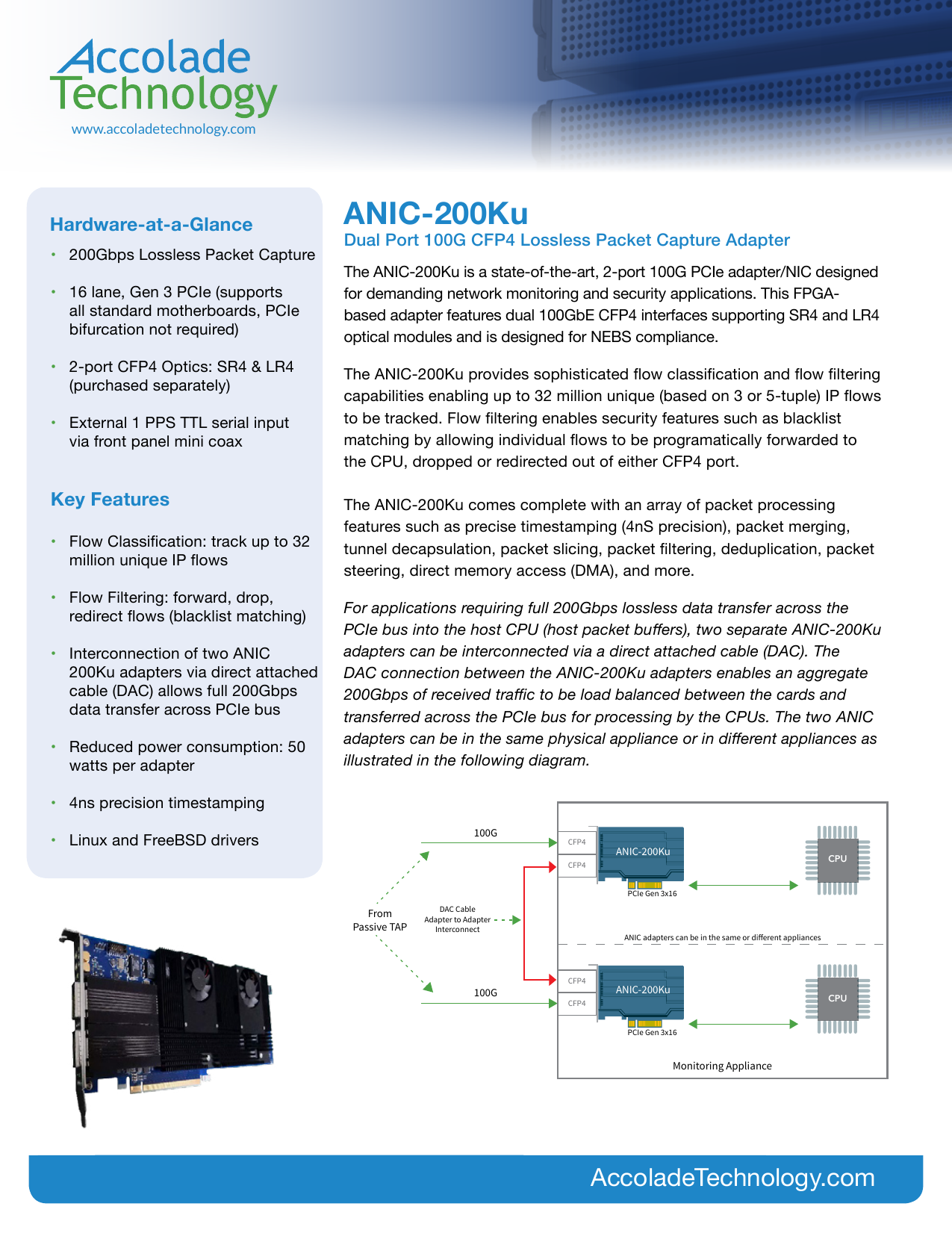 www.accoladetechnology.com
Hardware-at-a-Glance
• 200Gbps Lossless Packet Capture
• 16 lane, Gen 3 PCIe (supports
all standard motherboards, PCIe
bifurcation not required)
• 2-port CFP4 Optics: SR4 & LR4
(purchased separately)
• External 1 PPS TTL serial input
via front panel mini coax
Key Features
• Flow Classification: track up to 32
million unique IP flows
• Flow Filtering: forward, drop,
redirect flows (blacklist matching)
•
Interconnection of two ANIC
200Ku adapters via direct attached
cable (DAC) allows full 200Gbps
data transfer across PCIe bus
• Reduced power consumption: 50
watts per adapter
ANIC-200Ku
Dual Port 100G CFP4 Lossless Packet Capture Adapter
The ANIC-200Ku is a state-of-the-art, 2-port 100G PCIe adapter/NIC designed
for demanding network monitoring and security applications. This FPGAbased adapter features dual 100GbE CFP4 interfaces supporting SR4 and LR4
optical modules and is designed for NEBS compliance.
The ANIC-200Ku provides sophisticated flow classification and flow filtering
capabilities enabling up to 32 million unique (based on 3 or 5-tuple) IP flows
to be tracked. Flow filtering enables security features such as blacklist
matching by allowing individual flows to be programatically forwarded to
the CPU, dropped or redirected out of either CFP4 port.
The ANIC-200Ku comes complete with an array of packet processing
features such as precise timestamping (4nS precision), packet merging,
tunnel decapsulation, packet slicing, packet filtering, deduplication, packet
steering, direct memory access (DMA), and more.
For applications requiring full 200Gbps lossless data transfer across the
PCIe bus into the host CPU (host packet buffers), two separate ANIC-200Ku
adapters can be interconnected via a direct attached cable (DAC). The
DAC connection between the ANIC-200Ku adapters enables an aggregate
200Gbps of received traffic to be load balanced between the cards and
transferred across the PCIe bus for processing by the CPUs. The two ANIC
adapters can be in the same physical appliance or in different appliances as
illustrated in the following diagram.
• 4ns precision timestamping
100G
• Linux and FreeBSD drivers
CFP4
ANIC-200Ku
CPU
CFP4
PCIe Gen 3x16
From
Passive TAP
DAC Cable
Adapter to Adapter
Interconnect
100G
ANIC adapters can be in the same or different appliances
CFP4
ANIC-200Ku
CPU
CFP4
PCIe Gen 3x16
Monitoring Appliance
AccoladeTechnology.com
www.accoladetechnology.com
Applications
Software Support
• Passive and Inline Network
Monitoring
The ANIC-200Ku comes with a software
development guide and world class
technical support.
•
Network Security and Forensics
•
In-Line Deep Packet Inspection
(DPI)
•
Network Test and Measurement
•
Network Probes
•
Video Stream Monitoring
•
High Frequency Trading (HFT)
•
Application Performance Monitoring
(APM)
•
High Performance Computing
(HPC)
A lightweight, C language API is linked
to the network monitoring or security
application as a shared library. Various
API calls are then made to communicate
with and control the ANIC-200Ku.
A Linux or FreeBSD device driver is
loaded into the network appliance as
an extension to the host kernel. As with
conventional device drivers the ANIC
driver facilitates communication to the
ANIC adapter (via the host kernel) for
common operations such as adapter
setup, turning ports on and off or
reading port status.
Networking or
Security Application
User
Space
C Language
Shared Library
ANIC API
Operating System
(OS)
Kernel
Space
ANIC Device Driver
Linux or FreeBSD
PCIe
PCIe
Slot
Hardware that plugs
into PCIe Slot
ANIC Adapter
Components supplied
by Accolade Technology
Components supplied
by OEM customer
Specifications
Hardware
• PCI Interface: 16 lanes Gen 3 PCI Express
• 100G Connector: CFP4 per CFP MSA specifications
CFP4 optical supporting SR4 & LR4 modules
• Timing Interface: TTL external 1 PPS input via minicoax and repeater output
Memory
• Packet Memory: 12GB
• Flash Memory: 512MB
Environmental
• Operating Temperature: 0° to 50°C (32° to 122°F)
• Operating Humidity: 0 to 95%, non-condensing
Power
• 50 watts (without optics)
• Each CFP4 optic adds ~4 watts
• Auxiliary 12v connector provided
Non-NEBS Dimensions
• 4.25 (H) x 9.5 (L) inches (107 x 241 mm)
• Full Height, 3/4 Length
Designed for NEBS Dimensions
• 4.25 (H) x 12.28 (L) inches (107 x 312 mm)
• Full Height, Full Length
Compliance
• EMI per FCC Part 15/EN 55022/VCCI/AS/NZS
Immunity per EN 55024
• Ethernet: IEEE 802.ba 100GBASE-SR4 & LR4
• NEBS level 3 per GR-63 & GR-1089
• PCI-SIG®, RoHS, REACH
ID:161020
Accolade Technology, Inc.
124 Grove Street, Suite 315
Franklin, MA 02038
e-mail: inquire@accoladetechnology.com
Phone: 877-653-1261 © 2016 Accolade Technology, Inc.
All trademarks and logos are the property of their respective owners.

* Your assessment is very important for improving the work of artificial intelligence, which forms the content of this project