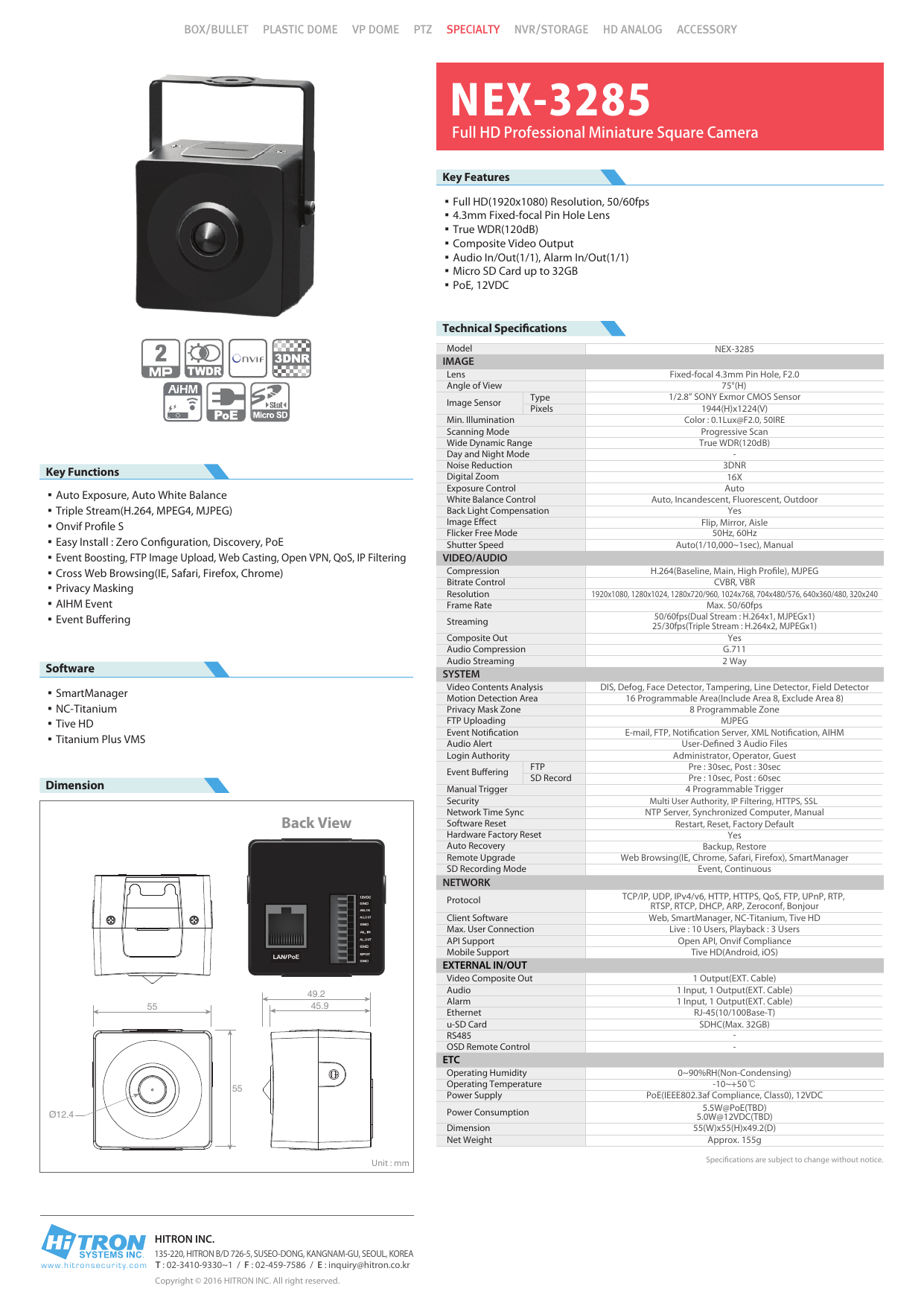 BOX/BULLET
PLASTIC DOME
VP DOME
PTZ
SPECIALTY
NVR/STORAGE
HD ANALOG
ACCESSORY
NEX-3285
Full HD Professional Miniature Square Camera
Key Features
▪
▪
▪
▪
▪
▪
▪
Full HD(1920x1080) Resolution, 50/60fps
4.3mm Fixed-focal Pin Hole Lens
True WDR(120dB)
Composite Video Output
Audio In/Out(1/1), Alarm In/Out(1/1)
Micro SD Card up to 32GB
PoE, 12VDC
Technical Specifications
Model
NEX-3285
IMAGE
Lens
Angle of View
Image Sensor
Key Functions
▪
▪
▪
▪
▪
▪
▪
▪
▪
Auto Exposure, Auto White Balance
Triple Stream(H.264, MPEG4, MJPEG)
Onvif Profile S
Easy Install : Zero Configuration, Discovery, PoE
Event Boosting, FTP Image Upload, Web Casting, Open VPN, QoS, IP Filtering
Cross Web Browsing(IE, Safari, Firefox, Chrome)
Privacy Masking
AIHM Event
Event Buffering
Min. Illumination
Scanning Mode
Wide Dynamic Range
Day and Night Mode
Noise Reduction
Digital Zoom
Exposure Control
White Balance Control
Back Light Compensation
Image Effect
Flicker Free Mode
Shutter Speed
VIDEO/AUDIO
Compression
Bitrate Control
Resolution
Frame Rate
Streaming
Composite Out
Audio Compression
Audio Streaming
Software
▪
▪
▪
▪
Type
Pixels
Fixed-focal 4.3mm Pin Hole, F2.0
75°(H)
1/2.8" SONY Exmor CMOS Sensor
1944(H)x1224(V)
Color : 0.1Lux@F2.0, 50IRE
Progressive Scan
True WDR(120dB)
3DNR
16X
Auto
Auto, Incandescent, Fluorescent, Outdoor
Yes
Flip, Mirror, Aisle
50Hz, 60Hz
Auto(1/10,000~1sec), Manual
H.264(Baseline, Main, High Profile), MJPEG
CVBR, VBR
1920x1080, 1280x1024, 1280x720/960, 1024x768, 704x480/576, 640x360/480, 320x240
Max. 50/60fps
50/60fps(Dual Stream : H.264x1, MJPEGx1)
25/30fps(Triple Stream : H.264x2, MJPEGx1)
Yes
G.711
2 Way
SYSTEM
Video Contents Analysis
Motion Detection Area
Privacy Mask Zone
FTP Uploading
Event Notification
Audio Alert
Login Authority
FTP
Event Buffering
SD Record
Manual Trigger
Security
Network Time Sync
Software Reset
Hardware Factory Reset
Auto Recovery
Remote Upgrade
SD Recording Mode
SmartManager
NC-Titanium
Tive HD
Titanium Plus VMS
Dimension
Back View
DIS, Defog, Face Detector, Tampering, Line Detector, Field Detector
16 Programmable Area(Include Area 8, Exclude Area 8)
8 Programmable Zone
MJPEG
E-mail, FTP, Notification Server, XML Notification, AIHM
User-Defined 3 Audio Files
Administrator, Operator, Guest
Pre : 30sec, Post : 30sec
Pre : 10sec, Post : 60sec
4 Programmable Trigger
Multi User Authority, IP Filtering, HTTPS, SSL
NTP Server, Synchronized Computer, Manual
Restart, Reset, Factory Default
Yes
Backup, Restore
Web Browsing(IE, Chrome, Safari, Firefox), SmartManager
Event, Continuous
NETWORK
Protocol
Client Software
Max. User Connection
API Support
Mobile Support
TCP/IP, UDP, IPv4/v6, HTTP, HTTPS, QoS, FTP, UPnP, RTP,
RTSP, RTCP, DHCP, ARP, Zeroconf, Bonjour
Web, SmartManager, NC-Titanium, Tive HD
Live : 10 Users, Playback : 3 Users
Open API, Onvif Compliance
Tive HD(Android, iOS)
EXTERNAL IN/OUT
Video Composite Out
Audio
Alarm
Ethernet
u-SD Card
RS485
OSD Remote Control
49.2
45.9
55
1 Output(EXT. Cable)
1 Input, 1 Output(EXT. Cable)
1 Input, 1 Output(EXT. Cable)
RJ-45(10/100Base-T)
SDHC(Max. 32GB)
-
ETC
Operating Humidity
Operating Temperature
Power Supply
55
Power Consumption
Ø12.4
Dimension
Net Weight
Unit : mm
HITRON INC.
135-220, HITRON B/D 726-5, SUSEO-DONG, KANGNAM-GU, SEOUL, KOREA
w w w . h i t r o n s e c u r i t y . c o m T : 02-3410-9330~1 / F : 02-459-7586 / E : inquiry@hitron.co.kr
Copyright © 2016 HITRON INC. All right reserved.
0~90%RH(Non-Condensing)
-10~+50℃
PoE(IEEE802.3af Compliance, Class0), 12VDC
5.5W@PoE(TBD)
5.0W@12VDC(TBD)
55(W)x55(H)x49.2(D)
Approx. 155g
Specifications are subject to change without notice.