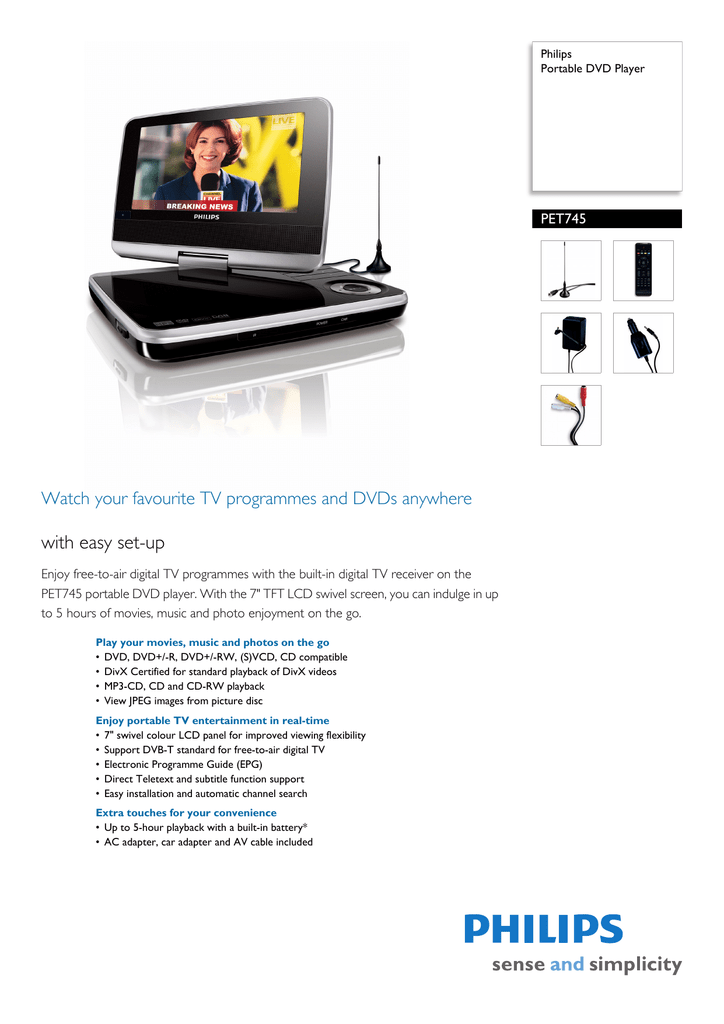 Philips
Portable DVD Player
PET745
Watch your favourite TV programmes and DVDs anywhere
with easy set-up
Enjoy free-to-air digital TV programmes with the built-in digital TV receiver on the
PET745 portable DVD player. With the 7" TFT LCD swivel screen, you can indulge in up
to 5 hours of movies, music and photo enjoyment on the go.
Play your movies, music and photos on the go
• DVD, DVD+/-R, DVD+/-RW, (S)VCD, CD compatible
• DivX Certified for standard playback of DivX videos
• MP3-CD, CD and CD-RW playback
• View JPEG images from picture disc
Enjoy portable TV entertainment in real-time
• 7" swivel colour LCD panel for improved viewing flexibility
• Support DVB-T standard for free-to-air digital TV
• Electronic Programme Guide (EPG)
• Direct Teletext and subtitle function support
• Easy installation and automatic channel search
Extra touches for your convenience
• Up to 5-hour playback with a built-in battery*
• AC adapter, car adapter and AV cable included
PET745/12
Portable DVD Player
Specifications
Picture/Display
•
•
•
•
•
•
•
•
Diagonal screen size (inch): 7 inch
Resolution: 480(w) x 234(H) x 3(RGB)
Display screen type: LCD TFT
Brightness: 150 cd/m²
Contrast ratio (typical): 250:1
Effective viewing area: 154.1 x 86.6 mm
LCD panel type: Anti-glare polariser
Response time (typical): 30 ms
Sound
• Output Power: 250 mW RMS (built-in speakers)
• Output power (RMS): 5 mW RMS (earphone)
• Signal to noise ratio: >80 dB (line out), >76 dB
(earphone), >62 dB (built-in speakers)
Video Playback
• Playback Media: DVD, Picture CD, SVCD, Video
CD, DVD-R/-RW, MP3-CD, CD-R/CD-RW,
DVD+R/+RW, CD
• Disc Playback Modes: Disc Menu, Fast Reverse,
Fast Forward, OSD, Repeat, Shuffle Play, Zoom,
Slow Reverse, Slow Forward
• Video disc playback system: PAL, NTSC
• Compression formats: Divx, MPEG4
Audio Playback
•
•
•
•
Compression format: Dolby Digital, MP3
MP3 bit rates: 32 - 320 kbps
Playback Media: CD, CD-RW, MP3-CD, CD-R
File systems supported: ISO-9660, Jolliet
Connectivity
•
•
•
•
DC in: 9 V, 1 A
Headphone jack: 3.5 mm Stereo Headphone
TV connection: Antenna jack
AV output: Composite (CVBS) x 1
Convenience
• Battery charging indication
• Shock proof
Tuner/Reception/Transmission
• DVB: DVB Terrestrial*
Video Decoding
• Aspect Ratio: 16:9, 4:3
• Reception-Demodulation: COFDM 2K/8K, MPEG2 DVB compliant, Network: MFN/SFN, QPSK
Accessories
•
•
•
•
•
•
AC/DC Adapter: DC 9 V, 1 A, 110-240 v, 50/60 Hz
Cables: 1 x AV Cables
Remote control: AY5518 slim remote
User Manual: 16 languages
Car kit: cigarette outlet adapter, 12vDC
Included Accessories: Aerial antenna
Power
• Battery Type: Built-in battery
• Battery lifetime: Up to 5 hrs*
Dimensions
•
•
•
•
Master carton dimensions: 225 x 270 x 245 mm
Master carton quantity: 3
Master carton weight: 4.12 kg
Packaging dimensions (W x H x D):
235 x 255 x 70 mm
• Product dimensions (W x H x D):
199 x 41 x 159 mm
• Product weight: 0.71 kg
• Packaging type: D-box
•
Issue date 2009-08-27
© 2009 Koninklijke Philips Electronics N.V.
All Rights reserved.
Version: 2.0.3
Specifications are subject to change without notice.
Trademarks are the property of Koninklijke Philips
Electronics N.V. or their respective owners.
12 NC: 8670 000 49633
EAN: 87 12581 46462 2
www.philips.com
* DivX, DivX Certified and associated logos are trademarks of
DivXNetworks, Inc. and are used under licence.
* Rechargeable batteries have a limited number of charge cycles and
may eventually need to be replaced. Battery life and number of
charge cycles vary by use and settings.
* Battery life varies by use and settings.
* Battery life of playtime is approximate and may vary depending on
application condition. To optimise battery life, user should turn LCD
backlight to minimum, connect to headphones (not built-in speakers)
and listen at medium volume level and use the product at room
temperature.