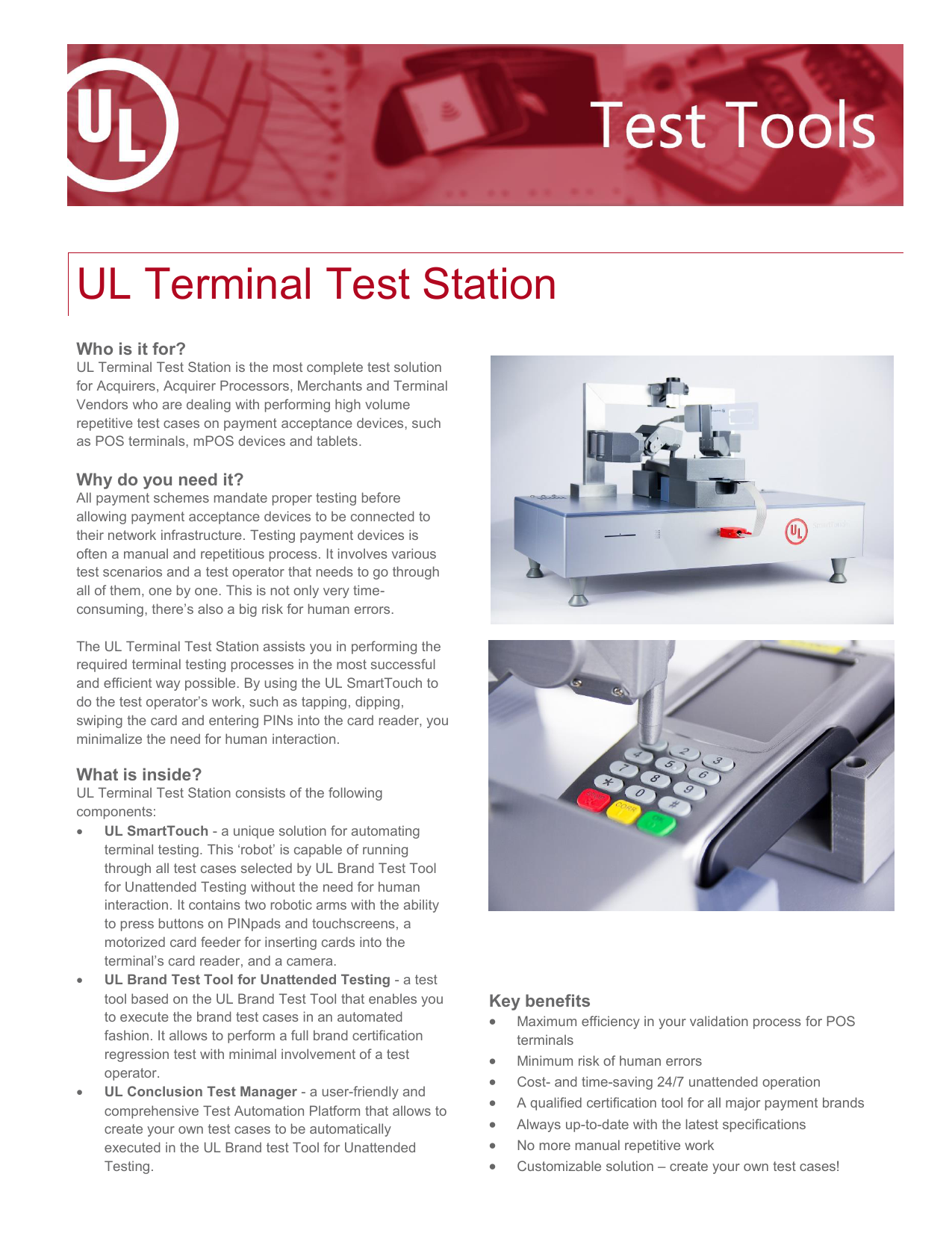 UL Terminal Test Station
Who is it for?
UL Terminal Test Station is the most complete test solution
for Acquirers, Acquirer Processors, Merchants and Terminal
Vendors who are dealing with performing high volume
repetitive test cases on payment acceptance devices, such
as POS terminals, mPOS devices and tablets.
Why do you need it?
All payment schemes mandate proper testing before
allowing payment acceptance devices to be connected to
their network infrastructure. Testing payment devices is
often a manual and repetitious process. It involves various
test scenarios and a test operator that needs to go through
all of them, one by one. This is not only very timeconsuming, there's also a big risk for human errors.
The UL Terminal Test Station assists you in performing the
required terminal testing processes in the most successful
and efficient way possible. By using the UL SmartTouch to
do the test operator's work, such as tapping, dipping,
swiping the card and entering PINs into the card reader, you
minimalize the need for human interaction.
What is inside?
UL Terminal Test Station consists of the following
components:

UL SmartTouch - a unique solution for automating
terminal testing. This 'robot' is capable of running
through all test cases selected by UL Brand Test Tool
for Unattended Testing without the need for human
interaction. It contains two robotic arms with the ability
to press buttons on PINpads and touchscreens, a
motorized card feeder for inserting cards into the
terminal's card reader, and a camera.

UL Brand Test Tool for Unattended Testing - a test
tool based on the UL Brand Test Tool that enables you
to execute the brand test cases in an automated
fashion. It allows to perform a full brand certification
regression test with minimal involvement of a test
operator.

UL Conclusion Test Manager - a user-friendly and
comprehensive Test Automation Platform that allows to
create your own test cases to be automatically
executed in the UL Brand test Tool for Unattended
Testing.
Key benefits







Maximum efficiency in your validation process for POS
terminals
Minimum risk of human errors
Cost- and time-saving 24/7 unattended operation
A qualified certification tool for all major payment brands
Always up-to-date with the latest specifications
No more manual repetitive work
Customizable solution – create your own test cases!
Terminal Test Station
Specifications
UL SmartTouch





Equipped with a 4-degree of freedom robotic arm
UL SmartTouch is capable of operating keyboards
of terminals, PINpads and touchscreens.
Motorized card feeder inserts UL SmartLink Box'
probe into the terminal's card reader.
A second robotic arm taps the UL SmartWave
Box's probe on the contactless reader.
The UL SmartStripe device simulates magnetic
cards.
A built-in camera makes screenshots of the
terminal screen.
UL Conclusion Test Manager
Proprietary Tests

Create your own proprietary test cases for testing of
domestic brands or additional terminal
functionalities such as specific configuration
management and non-payment functionalities.
Script Editor

Prepare your test scripts for automated test
execution.

Test scripts can be coded in a comprehensible way
by using a scripting language.

Combine your test scripts and test specifications in
a single script.

Define the expected result and let your script give a
verdict – passed, failed, inconclusive or not
applicable.
Test Management

Create Test Scenarios, in which you can collect a
specific set of test scripts in a preferred order.
UL Brand Test Tool for Unattended Testing
Test automation for payment brands
Includes test cases for:
 Mastercard M-TIP, and contactless PayPass M-TIP










Visa ADVT, ADVT-qVSDC, and CDET
American Express ICC Payment specification (AEIPS)
for contact and expresspay for contactless
UnionPay IC Card Test Guide for Acquirers
JCB Terminal Check for Implementation (TCI)
Diners Club International Acquirer E2E
Discover Network Acquirer E2E
Interac Terminal FTT
DNA Terminal Certification POS Pin Debit E2E
PULSE POS Pin Debit End-to-End
PULSE ATM End-to-End
The latest specification versions are always supported.
UL SmartCare Program
To ensure that you can effectively use the tool and gain the maximum benefits, UL offers for the UL Terminal Test Station the UL
SmartCare Program. This program includes technical support, a hardware service and the possibility to download new software
releases. Our experienced technical team is available to provide support, advice and guidance.
The following services are covered

New releases

Helpdesk support

Bug fixes

Hardware repair and replacement service
You can access these services through the service portal at www.ul-ts.com.
UL Test Tools are developed by UL's Transaction Security division. For your sales enquiries, please contact us at info@ul-ts.com,
visit www.ul-ts.com, or contact one of our resellers.

* Your assessment is very important for improving the work of artificial intelligence, which forms the content of this project