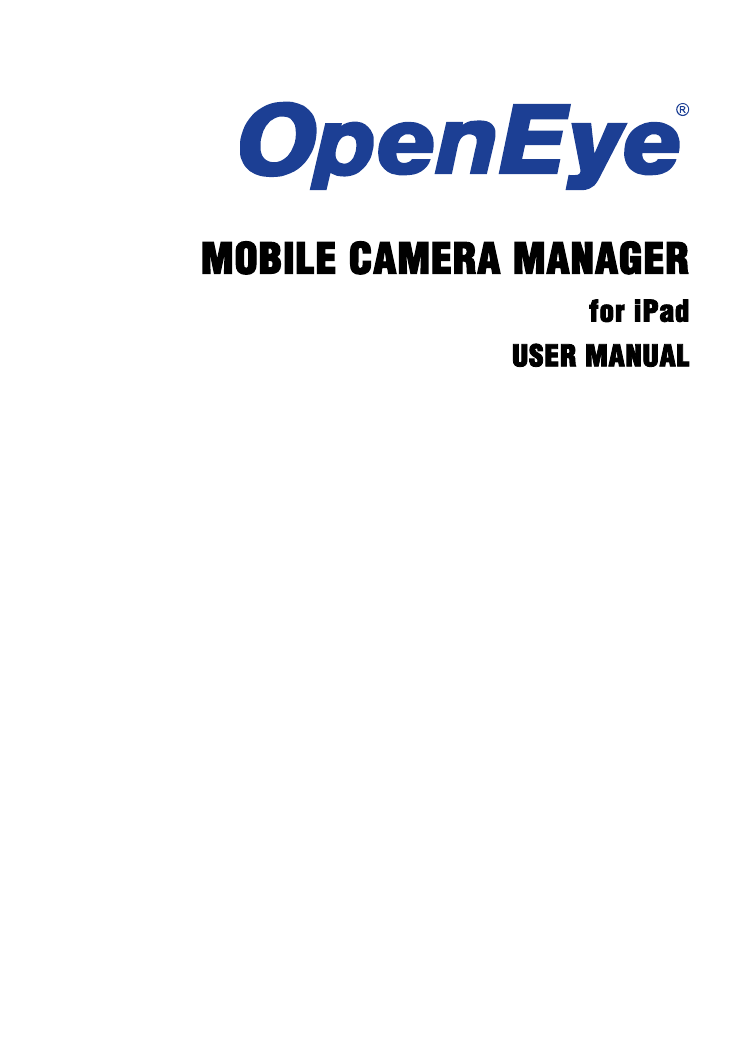 MOBILE CAMERA MANAGER
for iPad
USER MANUAL
OpenEye® iPad Mobile Camera Manager
Software Manual (v1.4.3.06)
Manual Edition 32262AB – NOVEMBER 2013
©2013, OPENEYE
All Rights Reserved.
No part of this documentation may be reproduced in any means, electronic
or mechanical, for any purpose, except as expressed in the Software
License Agreement. OpenEye shall not be liable for technical or editorial
errors or omissions contained herein. The information in this document is
subject to change without notice.
The information in this publication is provided "as is" without warranty of any
kind. The entire risk arising out of the use of this information remains with
recipient. In no event shall OPENEYE be liable for any direct,
consequential, incidental, special, punitive, or other damages whatsoever
(including without limitation, damages for loss of business profits, business
interruption or loss of business information), even if OPENEYE has been
advised of the possibility of such damages and whether in an action or
contract or tort, including negligence.
This documentation is copyrighted. All other rights are reserved to
OPENEYE. OPENEYE, and OpenEye, are registered trademarks of
OPENEYE in the United States and elsewhere; Windows, and Windows XP
Embedded are registered trademarks of Microsoft Corporation. All other
brand and product names are trademarks or registered trademarks of the
respective owners.
OPENEYE
Liberty Lake, WA ● U.S.A.
MOBILE CAMERA MANAGER
OVERVIEW
The OpenEye Mobile Camera Manager application allows you use
your iPad as a service monitor to view video from your IP
cameras. The OpenEye Mobile Camera Manager greatly benefits
installers by providing a platform for testing and adjusting IP
cameras with an easy-to-use iPad app.
Minimum Requirements
•
OpenEye IP Cameras
o
•
CM-611, CM-711, CM-650, CM-716, CM-716I, CM-722
OpenEye IP PTZ Cameras
o
CM-816, CM-L812, CM-M806
•
Supported models:
•
WiFi Local Area Network (LAN) connection for each camera
o
Note
Apple iPad (Gen2 to Gen4), iPad Mini
Each camera must be on the same WiFi network as your
iPad.
Application Features
•
Direct camera connection
•
IP address configuration
•
Pan, Tilt, Zoom control
•
Auto and Manual focus control
•
Video rotation
•
Switch between low and high resolution streams
•
View and freeze live video
IP CAMERA CONNECTION
Install your IP cameras according to the instructions included with
the cameras. Make sure your cameras are properly connected to
your network, and that all network switches and cables are in
proper working order.
Your network must have a wireless router or other WiFi access
point, and your iPad must have access to connect to the network,
via the router or access point.
DOWNLOADING THE APP
1.
Note
On your Apple iPad, tap the App Store icon.
To install an application from the App Store, you must
have a valid Apple iTunes account.
2.
Tap Search and type OpenEye Mobile Camera Manager.
3.
Follow the instructions to download and install the
application.
4.
When the application is successfully installed, the
OpenEye Mobile Camera Manager icon will appear on
the device.
QUICK CONNECT
Use the Quick Connect function to connect to your camera using
the default User Name and Password.
If the Username and Password have been changed, edit the
information appropriately. Once disconnected, Mobile Camera
Manager will not save the connection information for your camera.
1.
Launch the iPad app.
2.
Tap Find Devices. All of the cameras connected to your
network will appear on the Find Devices list.
3.
Tap the name of the camera you want to connect to.
4.
Tap Quick Connect.
5.
You can change the Name, IP address, Port number,
Username, and Password by tapping the field and then
typing your desired name, value, or password.
Note
The default Username for OpenEye cameras is Admin,
and the default Password is 1234.
6.
Tap Connect.
7.
Your camera will appear in the Live View section of your
screen.
BOOKMARK
You can place a camera in the bookmark list to have quick and
easy access any time you launch the Mobile Camera Manager
app.
1.
Launch the iPad
app.
2.
Tap Find
Devices. All of
the cameras
connected to your
network will
appear on the
Find Devices list.
3.
Tap the name of
the camera you
want to add to the
Bookmark list.
4.
Tap Add
Bookmark, and
then type the
correct User
name and
Password.
5.
Tap Save, and
then close Find
Devices.
6.
Your camera is now in the Bookmarks list. To view the
camera, tap the camera name.
VIEW LIVE VIDEO
Once connected, your iPad screen will display up to 4 channels.
Double-tap a single channel to open full screen. To return to the
multi-camera view, double-tap the screen again.
Rotate – Rotate the image of the selected camera channel.
Switch Stream – Switch the IP stream being used to view the
video. Stream 1 displays full resolution, but at a rate of 1 frame per
second. Stream 2 displays lower resolution but at the full frame
rate. Stream 2 is displayed by default.
PTZ – Control the Pan Tilt and Zoom functions of a selected PTZ
camera, as well as autofocus and manual focus of non PTZ
autofocus cameras.
Audio – Turn on the audio for the selected camera channels.
Snapshot – Save a still image of the selected camera channel.
Info – View the Name, IP Address, frame rate, Resolution, codec,
and firmware for the selected camera.
Freeze – Pause video for all channels.
Full screen – Expand the selected camera channel to full screen.
DIGITAL ZOOM
Digital Zoom allows you to zoom in or out of Live and Search
video.
Zooming Live Video
1.
Double tap a channel to view it in full screen.
2.
Pinch your thumb and index finger apart to zoom in, pinch
them together to zoom out.
CONTROL PTZ CAMERAS
On PTZ-enabled cameras, you can pan, tilt, and zoom the camera
and move to preset positions. For cameras with autofocus lenses,
you can use the autofocus or manual focus controls to adjust the
focus.
•
Use the directional buttons to pan and tilt the camera.
•
Use the zoom buttons to zoom the camera
•
Use the preset number buttons to move to predefined preset
locations.
Note
Iris control is not supported.
www.openeye.net
1-888-542-1103
© 2013 OpenEye
All rights reserved. No part of this publication may be reproduced by any
means without written permission from OpenEye. The information in this
publication is believed to be accurate in all respects. However, OpenEye
cannot assume responsibility for any consequences resulting from the use
thereof. The information contained herein is subject to change without
notice. Revisions or new editions to this publication may be issued to
incorporate such changes.