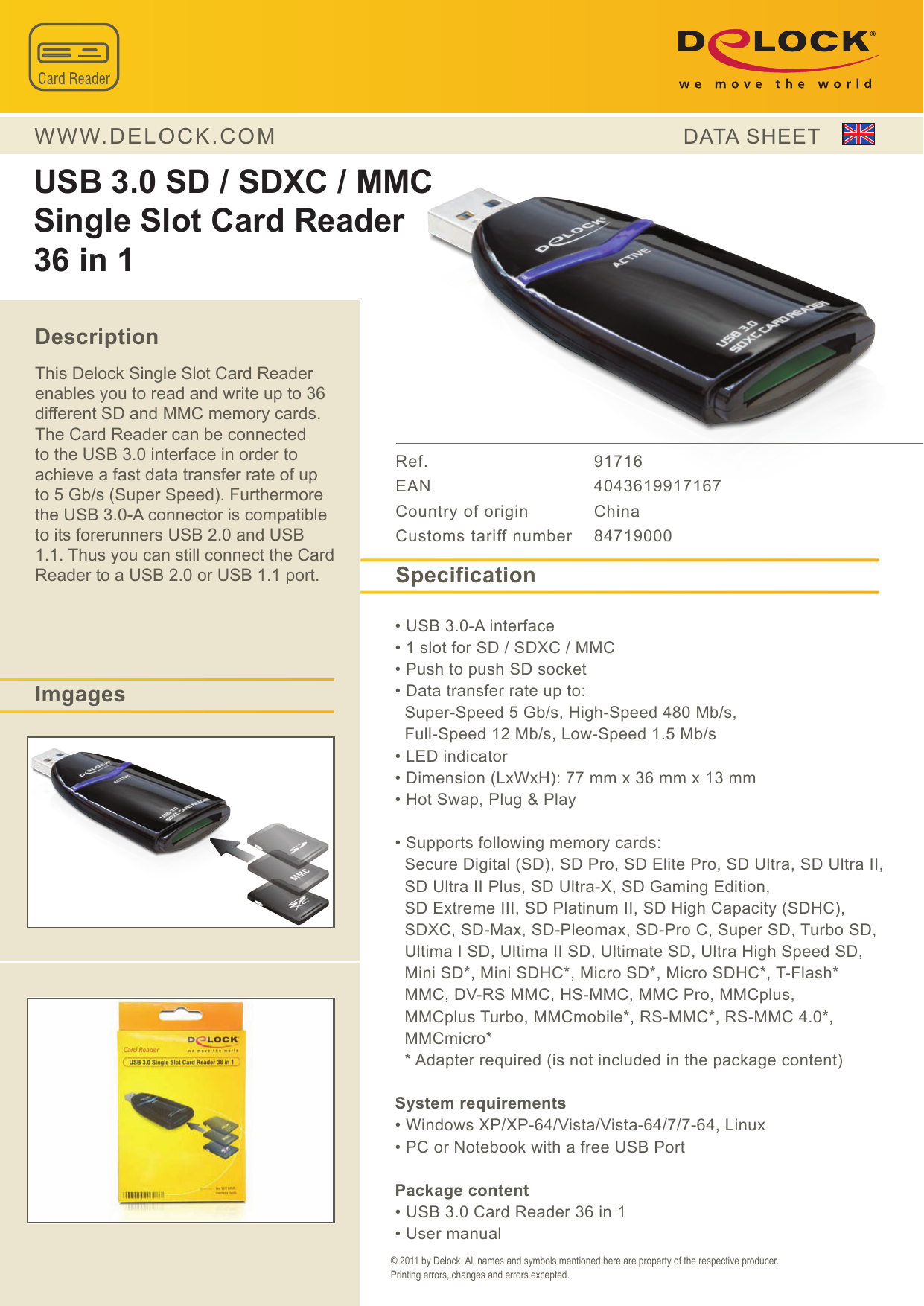 DATA SHEET
WWW. D E L O C K . C O M
USB 3.0 SD / SDXC / MMC
Single Slot Card Reader
36 in 1
Description
This Delock Single Slot Card Reader
enables you to read and write up to 36
different SD and MMC memory cards.
The Card Reader can be connected
to the USB 3.0 interface in order to
achieve a fast data transfer rate of up
to 5 Gb/s (Super Speed). Furthermore
the USB 3.0-A connector is compatible
to its forerunners USB 2.0 and USB
1.1. Thus you can still connect the Card
Reader to a USB 2.0 or USB 1.1 port.
Imgages
Ref.
91716
EAN
4043619917167
Country of origin
China
Customs tariff number
84719000
Specification
•
•
•
•
USB 3.0-A interface
1 slot for SD / SDXC / MMC
Push to push SD socket
Data transfer rate up to: Super-Speed 5 Gb/s, High-Speed 480 Mb/s,
Full-Speed 12 Mb/s, Low-Speed 1.5 Mb/s
• LED indicator
• Dimension (LxWxH): 77 mm x 36 mm x 13 mm
• Hot Swap, Plug & Play
• Supports following memory cards:
Secure Digital (SD), SD Pro, SD Elite Pro, SD Ultra, SD Ultra II,
SD Ultra II Plus, SD Ultra-X, SD Gaming Edition,
SD Extreme III, SD Platinum II, SD High Capacity (SDHC),
SDXC, SD-Max, SD-Pleomax, SD-Pro C, Super SD, Turbo SD,
Ultima I SD, Ultima II SD, Ultimate SD, Ultra High Speed SD,
Mini SD*, Mini SDHC*, Micro SD*, Micro SDHC*, T-Flash*
MMC, DV-RS MMC, HS-MMC, MMC Pro, MMCplus,
MMCplus Turbo, MMCmobile*, RS-MMC*, RS-MMC 4.0*,
MMCmicro*
* Adapter required (is not included in the package content)
System requirements
• Windows XP/XP-64/Vista/Vista-64/7/7-64, Linux
• PC or Notebook with a free USB Port
Package content
• USB 3.0 Card Reader 36 in 1
• User manual
© 2011 by Delock. All names and symbols mentioned here are property of the respective producer.
Printing errors, changes and errors excepted.

* Your assessment is very important for improving the work of artificial intelligence, which forms the content of this project