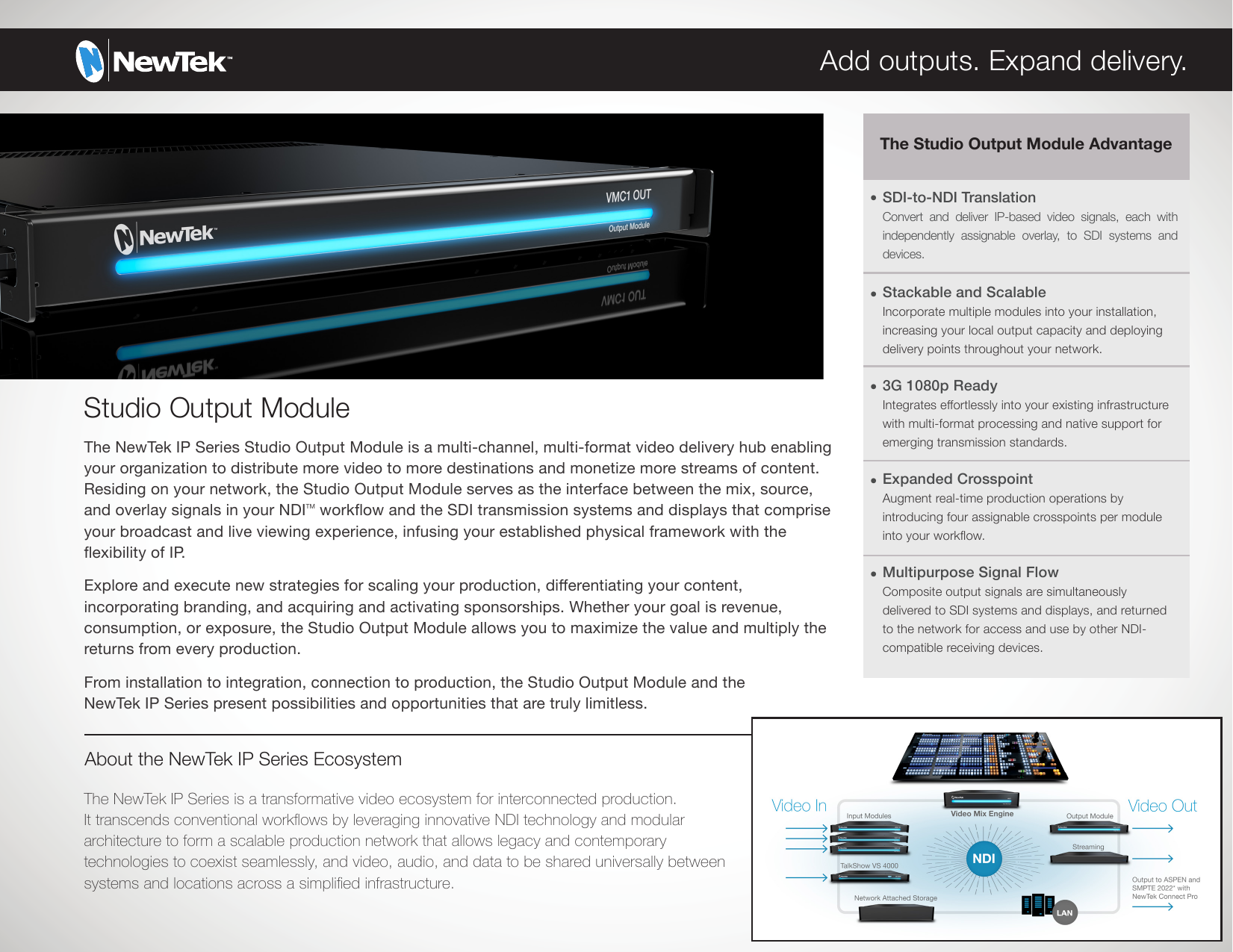 Add outputs. Expand delivery.
The Studio Output Module Advantage
• SDI-to-NDI Translation
Convert and deliver IP-based video signals, each with
independently assignable overlay, to SDI systems and
devices.
• Stackable and Scalable
Incorporate multiple modules into your installation,
increasing your local output capacity and deploying
delivery points throughout your network.
Studio Output Module
The NewTek IP Series Studio Output Module is a multi-channel, multi-format video delivery hub enabling
your organization to distribute more video to more destinations and monetize more streams of content.
Residing on your network, the Studio Output Module serves as the interface between the mix, source,
and overlay signals in your NDITM workflow and the SDI transmission systems and displays that comprise
your broadcast and live viewing experience, infusing your established physical framework with the
flexibility of IP.
Explore and execute new strategies for scaling your production, differentiating your content,
incorporating branding, and acquiring and activating sponsorships. Whether your goal is revenue,
consumption, or exposure, the Studio Output Module allows you to maximize the value and multiply the
returns from every production.
From installation to integration, connection to production, the Studio Output Module and the
NewTek IP Series present possibilities and opportunities that are truly limitless.
About the NewTek IP Series Ecosystem
The NewTek IP Series is a transformative video ecosystem for interconnected production.
It transcends conventional workflows by leveraging innovative NDI technology and modular
architecture to form a scalable production network that allows legacy and contemporary
technologies to coexist seamlessly, and video, audio, and data to be shared universally between
systems and locations across a simplified infrastructure.
• 3G 1080p Ready
Integrates effortlessly into your existing infrastructure
with multi-format processing and native support for
emerging transmission standards.
• Expanded Crosspoint
Augment real-time production operations by
introducing four assignable crosspoints per module
into your workflow.
• Multipurpose Signal Flow
Composite output signals are simultaneously
delivered to SDI systems and displays, and returned
to the network for access and use by other NDIcompatible receiving devices.
VMC1 OUT Studio Output Module Technical Specifications
Local Video Output
4 x 3G/HD/SD-SDI outputs
1 x DVI or HDMI user interface with multiviewer
Network Video Output
4 x NDI outputs
Network Video Input
4 x NDI inputs
4 x NDI DSK channel inputs
DSK Channels
4 x DSK channels (1 channel per output)
Media
Media player mode available per channel supporting playback of
multimedia files
Local Audio Output
4 x SDI Embedded
1 x 2 Balanced XLR
3 x 2 Balanced 1/4"
Network Audio
Supported SDI Output
Formats
Recording
• Native support for network audio input and output via NDI
• Embedded audio supported for all NDI input and output video signals
• Integrated support for Dante* networking protocol from Audinate
* Requires Dante Virtual Soundcard license from Audinate (sold separately)
•
•
•
•
•
1080p 59.94, 1080p 50, 1080p 29.97, 1080p 25, 1080p 24, 1080p 23.98
1080i 59.94, 1080i 50
720p 59.94, 720p 50, 720p 29.97, 720p 25, 720p 24, 720p 23.98
576i 25
480i 59.94
Grab
Grab full resolution, de-fielded still images from outputs
Monitoring
Integrated multiviewer display with configurable workspace and viewports
Signal Monitoring
Integrated Waveform and Vectorscope, full field rate with digital
calibration, color preview and support for ITU-R Rec. 709
Processing
Video: Floating Point, YCbCr +A 4:4:4:4
Audio: Floating Point, 96 kHz
A/V Standards
•
•
•
•
Genlock
Genlock input supporting SD (Bi-level) or HD (Tri-level) reference signals
Timecode
External LTC source or internal system clock
NIC
2 x 1 Gigabit NIC
System Physical
1RU chassis with 180W PSU
• 19.0 x 1.75 x 16.75 in (48.3 x 4.5 x 42.5 cm) with rack ears attached
• 15 lbs (6.8 kg)
3G-SDI video conforms to SMPTE 424M (Level A)
HD-SDI video conforms to SMPTE 292M
SD video conforms to SMPTE 259M and ITU-R BT.656
Analog audio levels conform to SMPTE RP-155
Subject to change without notice.
For complete technical specifications, please visit the IP Series page at www.newtek.com.
International pricing and availability may vary. Please email sales@newtek.com for details.
4 x recording channels via IsoCorder™ technology
• QuickTime®* (XDCAM HD compatible, 4:2:2 encoding, 24-bit audio,
with timecode)
• Supports recording to external storage via USB 3.0
• Supports shared storage integration and third-party partner solutions
* QuickTime Player not required for playback in common NLE applications
NX-001911-0001, Rev.03
© 2016 NewTek, Inc. All rights reserved.
TriCaster, 3Play, TalkShow and LightWave 3D are registered trademarks of NewTek, Inc.
NDI, MDS, Media Distribution System, LightWave, ProTek, and Broadcast Minds are trademarks and/or service marks of NewTek, Inc.