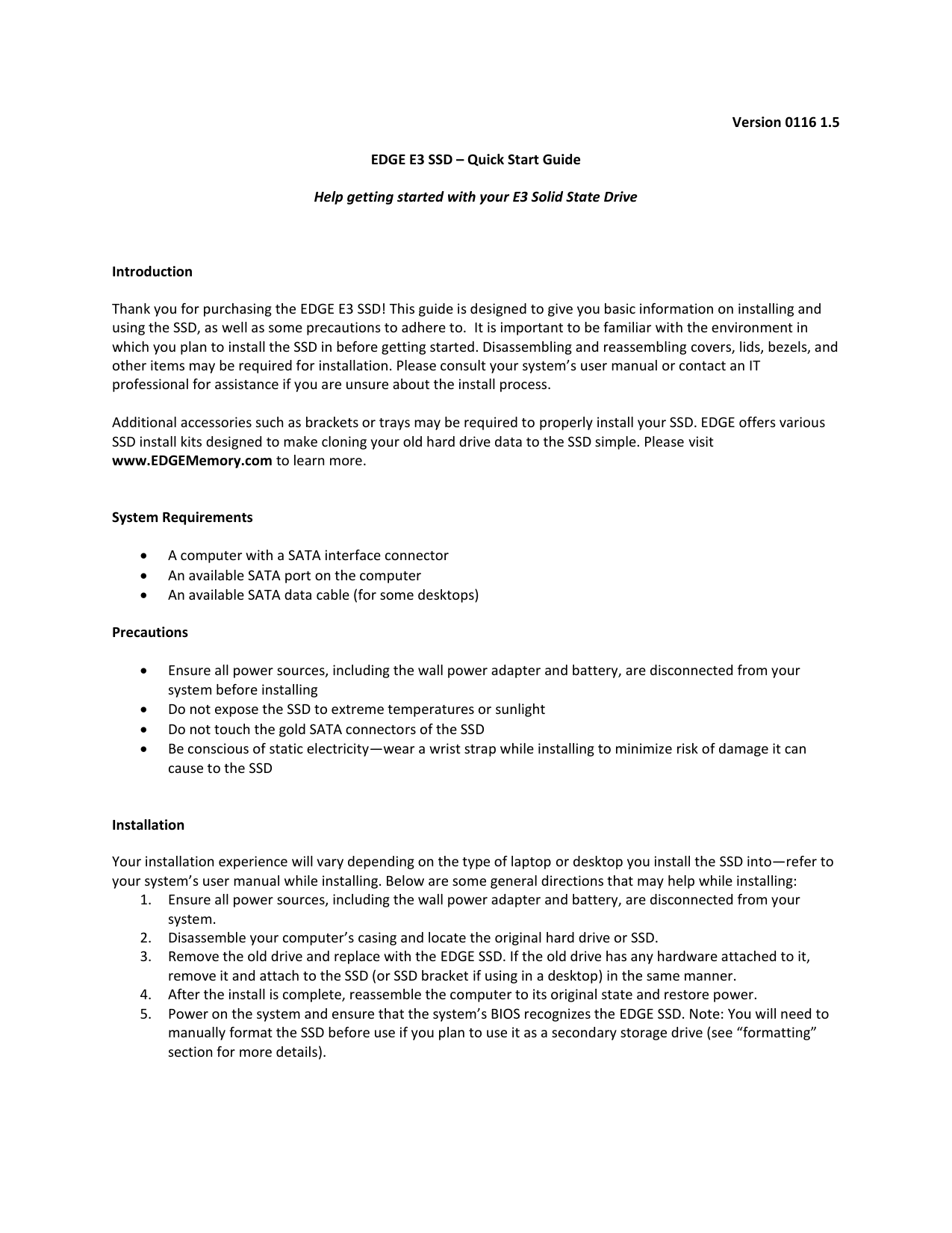 Version 0116 1.5
EDGE E3 SSD – Quick Start Guide
Help getting started with your E3 Solid State Drive
Introduction
Thank you for purchasing the EDGE E3 SSD! This guide is designed to give you basic information on installing and
using the SSD, as well as some precautions to adhere to. It is important to be familiar with the environment in
which you plan to install the SSD in before getting started. Disassembling and reassembling covers, lids, bezels, and
other items may be required for installation. Please consult your system's user manual or contact an IT
professional for assistance if you are unsure about the install process.
Additional accessories such as brackets or trays may be required to properly install your SSD. EDGE offers various
SSD install kits designed to make cloning your old hard drive data to the SSD simple. Please visit
www.EDGEMemory.com to learn more.
System Requirements



A computer with a SATA interface connector
An available SATA port on the computer
An available SATA data cable (for some desktops)
Precautions




Ensure all power sources, including the wall power adapter and battery, are disconnected from your
system before installing
Do not expose the SSD to extreme temperatures or sunlight
Do not touch the gold SATA connectors of the SSD
Be conscious of static electricity—wear a wrist strap while installing to minimize risk of damage it can
cause to the SSD
Installation
Your installation experience will vary depending on the type of laptop or desktop you install the SSD into—refer to
your system's user manual while installing. Below are some general directions that may help while installing:
1. Ensure all power sources, including the wall power adapter and battery, are disconnected from your
system.
2. Disassemble your computer's casing and locate the original hard drive or SSD.
3. Remove the old drive and replace with the EDGE SSD. If the old drive has any hardware attached to it,
remove it and attach to the SSD (or SSD bracket if using in a desktop) in the same manner.
4. After the install is complete, reassemble the computer to its original state and restore power.
5. Power on the system and ensure that the system's BIOS recognizes the EDGE SSD. Note: You will need to
manually format the SSD before use if you plan to use it as a secondary storage drive (see "formatting"
section for more details).
Formatting
The EDGE E3 SSD comes unformatted — you must format the SSD before using. If you are using this SSD as a
primary drive with Windows or another operating system installed, a manual format is not necessary (the SSD will
be formatted correctly during installation of that operating system). The following instructions are designed for
formatting as a secondary drive in Windows 7. Other versions of Windows will be similar, but may vary. If using a
Mac, please access Utilities -> Disk Utility -> Partition to initiate a format. If doing a clean install of the SSD (as a
primary drive), please install and follow the instructions provided on the operating system install disc.
1.
2.
3.
4.
5.
6.
7.
8.
9.
Right click on Computer (or My Computer) and select Manage.
Select Disk Management in the left pane.
You will receive an Initialize Disk prompt—this will only apply to any unformatted devices you have
installed (i.e. – the SSD). Choose MBR, note the Disk number (ex Disk 1, Disk 2, etc) and select OK.
In the bottom pane of Disk Management, find the disk number from step 3. Right-click on the unallocated
box and select New Simple Volume.
The New Simple Volume/Partition wizard will appear. Select Next on the first screen.
On the Specify Volume Size screen, ensure the Simple Volume size number matches the maximum disk
space (default). Select Next.
Assign a drive letter not already in use to the SSD. Select Next.
Choose a file system format (NTFS recommended for Windows) with a default allocation unit size and
give the SSD a Volume Label name. Check perform a quick format and uncheck enable file and folder
compression. Click Next.
Review the wizard summary and select Finish. The SSD will be formatted. Once complete, you can close
Computer Management.
Warranty
The EDGE E3 SSD is backed by a 5-year warranty. When properly installed, EDGE Memory warrants that this
product will be free from substantial defects in material and workmanship for the aforementioned warranty
period. For complete warranty details, please visit www.EDGEMemory.com.

* Your assessment is very important for improving the work of artificial intelligence, which forms the content of this project