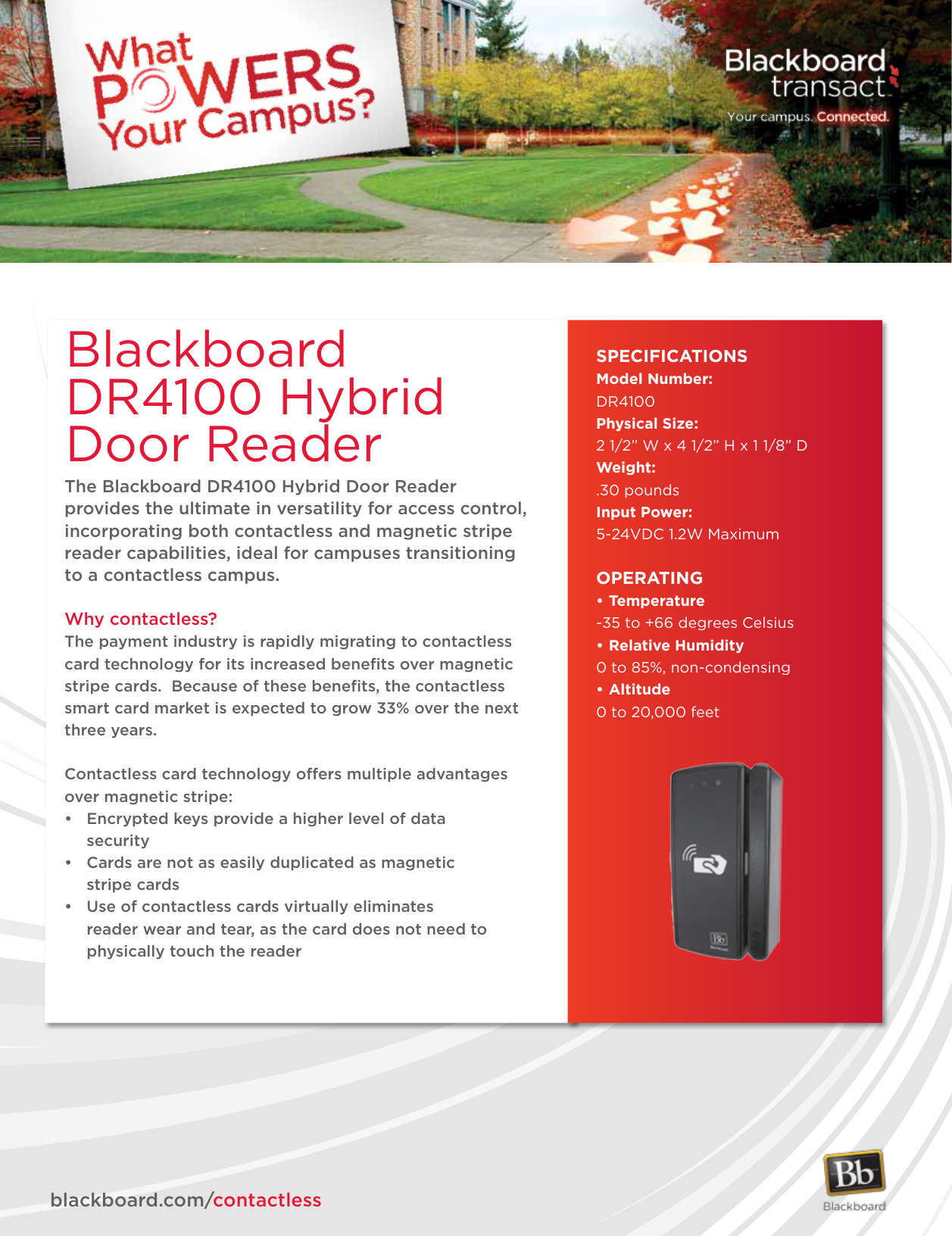 Blackboard
DR4100 Hybrid
Door Reader
The Blackboard DR4100 Hybrid Door Reader
provides the ultimate in versatility for access control,
incorporating both contactless and magnetic stripe
reader capabilities, ideal for campuses transitioning
to a contactless campus.
Why contactless?
The payment industry is rapidly migrating to contactless
card technology for its increased benefits over magnetic
stripe cards. Because of these benefits, the contactless
smart card market is expected to grow 33% over the next
three years.
Contactless card technology offers multiple advantages
over magnetic stripe:
• Encrypted keys provide a higher level of data security
• Cards are not as easily duplicated as magnetic stripe cards
• Use of contactless cards virtually eliminates reader wear and tear, as the card does not need to physically touch the reader
blackboard.com/contactless
SPECIFICATIONS
Model Number:
DR4100
Physical Size:
2 1/2" W x 4 1/2" H x 1 1/8" D
Weight:
.30 pounds
Input Power:
5-24VDC 1.2W Maximum
OPERATING
•Temperature
-35 to +66 degrees Celsius
•Relative Humidity
0 to 85%, non-condensing
•Altitude
0 to 20,000 feet
Contactless Technology from Blackboard
Contactless technology from Blackboard enables consumers to wave their card over a smart
reader at the point of acceptance.
• High security smart card credential
• Transmission security and encryption
• Near zero vulnerability points for identity theft and fraud
• Fast data transfer rate, 212Kbps
COMPONENTS
Sony FeliCa™ contactless, ISO 18092 compliant (NFC standard)
3-Track HiCo mag stripe read head
DEVICE CONFIGURATION
Device comes pre-configured. A smart card based configuration tool is used to change the
Wiegand output.
For more information on the DR4100 Blackboard Hybrid Door Reader, contact your
Blackboard sales representative or call 800.424.9299, ext. 4.
Worldwide Headquarters
650 Massachusetts Avenue NW
6th Floor
Washington, DC 20001-3796
+800.424.9299, ext. 4
+202.463.4860, ext. 4
Phoenix Office
22601 North 19th Avenue
Suite 130
Phoenix, AZ 85027
+800.528.0465
+800.476.1400
Copyright © 2010 Blackboard Inc. Blackboard, the Blackboard logo, Bb, and Blackboard Transact are all trademarks or registered trademarks of
Blackboard Inc. in the United States and/or other countries. FeliCa is a trademark of Sony Corporation. All other trademarks/trade names are the property
of the respective owners and are used with permission. All rights reserved.

* Your assessment is very important for improving the work of artificial intelligence, which forms the content of this project