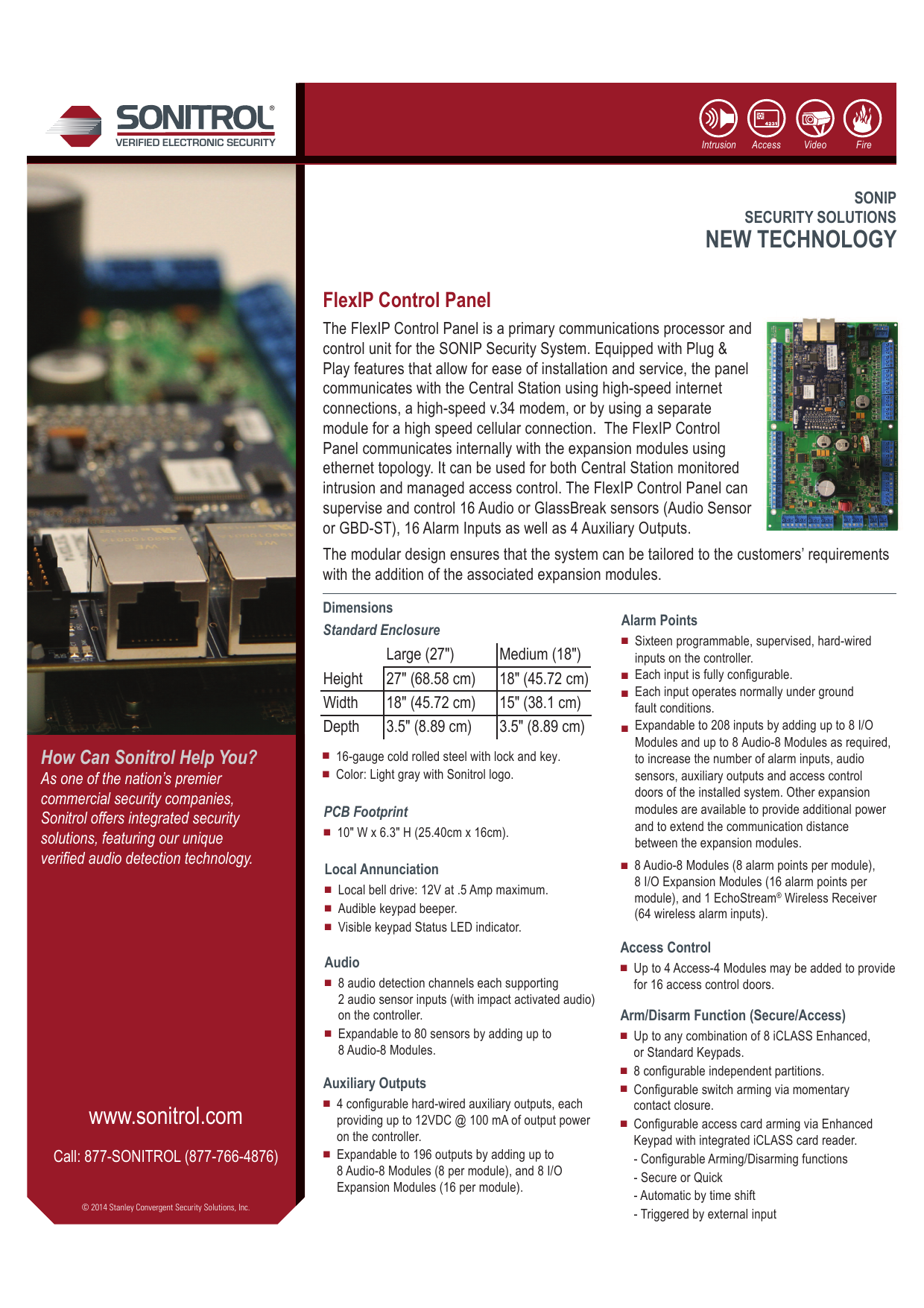 VERIFIED ELECTRONIC SECURITY
Intrusion
Access
Video
Fire
SONIP
SECURITY SOLUTIONS
NEW TECHNOLOGY
FlexIP Control Panel
The FlexIP Control Panel is a primary communications processor and
control unit for the SONIP Security System. Equipped with Plug &
Play features that allow for ease of installation and service, the panel
communicates with the Central Station using high-speed internet
connections, a high-speed v.34 modem, or by using a separate
module for a high speed cellular connection. The FlexIP Control
Panel communicates internally with the expansion modules using
ethernet topology. It can be used for both Central Station monitored
intrusion and managed access control. The FlexIP Control Panel can
supervise and control 16 Audio or GlassBreak sensors ($XGLR6HQVRU
or GBD-ST), 16 Alarm Inputs DVZHOODV 4 Auxiliary Outputs.
The modular design ensures that the system can be tailored to the customers' requirements
with the addition of the associated expansion modules.
Dimensions
Standard Enclosure
Height
Width
Depth
How Can Sonitrol Help You?
Q
As one of the nation's premier
commercial security companies,
Sonitrol offers integrated security
solutions, featuring our unique
YHUL¿HGDXGLRGHWHFWLRQWHFKQRORJ\
Q
Large (27")
27" (68.58 cm)
18" (45.72 cm)
3.5" (8.89 cm)
Alarm Points
Q
Medium (18")
18" (45.72 cm)
15" (38.1 cm)
3.5" (8.89 cm)
Q
Q
Q
16-gauge cold rolled steel with lock and key.
Color: Light JUD\ with Sonitrol logo.
PCB Footprint
Q
10" W x 6.3" H (25.40cm x 16cm).
Local Annunciation
Q
Q
Q
Q
Local bell drive: 12V at .5 Amp maximum.
Audible keypad beeper.
Visible keypad Status LED indicator.
Sixteen programmable, supervised, hard-wired
inputs on the controller.
(DFKLQSXWLVIXOO\FRQ¿JXUDEOH
Each input operates normally under ground
fault conditions.
([SDQGDEOHWRLQSXWVE\DGGLQJXSWR,2
0RGXOHVDQGXSWR$XGLR0RGXOHVDVUHTXLUHG
WRLQFUHDVHWKHQXPEHURIDODUPLQSXWVDXGLR
VHQVRUVDX[LOLDU\RXWSXWVDQGDFFHVVFRQWURO
GRRUVRIWKHLQVWDOOHGV\VWHP2WKHUH[SDQVLRQ
PRGXOHVDUHDYDLODEOHWRSURYLGHDGGLWLRQDOSRZHU
DQGWRH[WHQGWKHFRPPXQLFDWLRQGLVWDQFH
EHWZHHQWKHH[SDQVLRQPRGXOHV
8 Audio-8 Modules (8 alarm points per module),
8 I/O Expansion Modules (16 alarm points per
module), and 1 EchoStream® Wireless Receiver
(6 wireless alarm inputs).
Access Control
Audio
Q
Q
8 audio detection channels each supporting
2 audio sensor inputs (with impact activated audio)
on the controller.
Expandable to 80 sensors by adding up to
8 Audio-8 Modules.
Q
Arm/Disarm Function (Secure/Access)
Q
Q
Auxiliary Outputs
www.sonitrol.com
Call: 877-SONITROL (877-766-4876)
© 2014 Stanley Convergent Security Solutions, Inc.
Q
Q
FRQ¿JXUDEOHKDUGZLUHGDX[LOLDU\RXWSXWVHDFK
providing up to 12VDC @ 100 mA of output power
on the controller.
Expandable to 196 outputs by adding up to
8 Audio-8 Modules (8 per module), and 8 I/O
Expansion Modules (16 per module).
Up to 4 Access-4 Modules may be added to provide
for 16 access control doors.
Q
Q
Up to any combination of 8 iCLASS Enhanced,
or Standard Keypads.
FRQ¿JXUDEOHLQGHSHQGHQWSDUWLWLRQV
&RQ¿JXUDEOHVZLWFKDUPLQJYLDPRPHQWDU\
contact closure.
&RQ¿JXUDEOHDFFHVVFDUGDUPLQJYLD(QKDQFHG
Keypad with integrated iCLASS card reader.
&RQ¿JXUDEOH$UPLQJ'LVDUPLQJIXQFWLRQV
- Secure or Quick
- Automatic by time shift
- Triggered by external input
FlexIP Control Panel
Auxiliary Power
Q
.5A continuous at 12VDC (plug-in TXF).
Primary Power Options
Q
Q
100 to 120 VAC, 60 Hz, using 24 VAC, 40VA,
Class 2 plug-in transformer or 24 VAC 120 VA
Class 1 Open-Frame Transformer.
Expandable to include up to 8 Power Hub
Modules for additional power and Ethernet bus
signal strength, and 3 expansion Ethernet ports
for multiple data linkage direction.
Secondary Power
Q
Q
Q
Q
12VDC, 7 AH, sealed lead-acid rechargeable
batter\ (optional 17.2 AH max.)6RPH
FRQILJXUDWLRQVUHTXLUHPRUHWKDQRQHEDWWHU\
Internal battery charger.
Backup capabilities 12 to 24 hours typical
(depending upon installed equipment).
%attery supervision for AC power loss, low
battery and batterytrouble.
Communications
Central Station
Q
Q
Q
High-speed internet – IP interface requiring
RJ45 connector to premise network that has
access to the internet.
V.34 Modem—Dial up interface requiring RJ31X
connector to premise phone line.
3G/4G Cell – Cell interface requiring cell module
that connects to the FlexIP's LAN.
VERIFIED ELECTRONIC SECURITY
Other
Q
Q
Supports up to 2,000 users.
Stores up to 4,000 events in controller history.
Q
&RQWHQWV
Q
SONIP FlexIP SYS-1
Q
621,3)OH[,36<6
Approvals
FCC Part 15 Class A, 3art 68
UL 294, "Access Control System Units"
(with optional Access Module)
Q UL 365, "Police Connected Burglary"
Q UL 609, "Local Burglary"
Q UL 1076, "Proprietary Burglar Alarm Units and
Systems"
Q UL 1610, "Central Station Burglar Alarm Units"
Q 8/'LJLWDO$ODUP&RPPXQLFDWRU6\VWHP
8QLWVUG(GLWLRQ
Q &$18/&66LJQDO5HFHLYLQJ&HQWUH
DQG3UHPLVH%XUJODU$ODUP&RQWURO8QLWVQG
(GLWLRQ
Q &$18/&60/RFDO%XUJODU$ODUP
8QLWVDQG6\VWHPVVW(GLWLRQ8/&25'
Q &03URSULHWDU\%XUJODU$ODUP
8QLWVDQG6\VWHPVVW(GLWLRQ
Q &$18/&6(OHFWURQLF$FFHVV&RQWURO
6\VWHPVVW(GLWLRQ±/HYHO
Q
Q
Q
)OH[,3, HQFORVXUH
9$transformer,
EDFNXSbattery
)OH[,3HQFORVXUH
9$WUDQVIRUPHU
EDFNXSEDWWHU\
SONIP FlexIP$&&.LW )OH[,3$FFHVV
0RGXOHHQFORVXUH
9$WUDQVIRUPHU
[EDFNXSEDWWHU\
Module's/PCBA'S
Q
Q
Q
Q
Q
Q
Q
Q
SONIP FlexIP
SONIP )OH[IP CPU
SONIP AUDIO-8
SONIP ACCESS-4
SONIP I/O
SONIP POWER HUB
SONIP 18
ENCLOSURE
SONIP 27
ENCLOSURE
FlexIP PCBA
FlexIP CPU/Comm PCBA
Audio-8 PCBA
Access-4 PCBA
I/O Expansion PCBA
Power Hub PCBA
18" Chassis, lock, tamper
27" Chassis, lock, tamper
Associated Items
Peripheral Bus
Q
Part Numbers
Kits
Ethernet —328ft. (100m) maximum from any
other device using cat5, 5e or 6 cable.
Serial— RS232 interface for the Inovonics®
EchoStream® Wireless Receiver.
Q
SONIP KP
Standard Keypad
Q
SONIP ICLASS KP
iCLASS Enhanced.H\SDG
Q
$8',26(1625
$XGLR6HQVRU
Q
SON*%'67
Q
EN4200
Q
,%5(63
*&HOO5RXWHU
Q
,%5/(63
**&HOO5RXWHU
Q
*ODVV%UHDN'HWHFWRUZLWK
6HOI7HVW
EchoStream® Receiver,
Wireless inputs for FlexIP
TRANSFORMER KIT 9$Transformer,
2SHQ)UDPHZLWK$&&RUG
Q
24000108
9$Transformer,
Plug-In
Q
24000109
Single; 7 AH,
Battery Harness
Q
198100
FlexIP InstallDWLRQ*XLGH
Q
1981001
3DQHO3URJUDPPLQJ Guide
Q
19810016
Keypad User's Guide
VERIFIED ELECTRONIC SECURITY
www.sonitrol.com
Call: 877-SONITROL (877-766-4876)
$XJXVW
© 2014 Stanley Convergent Security Solutions, Inc.