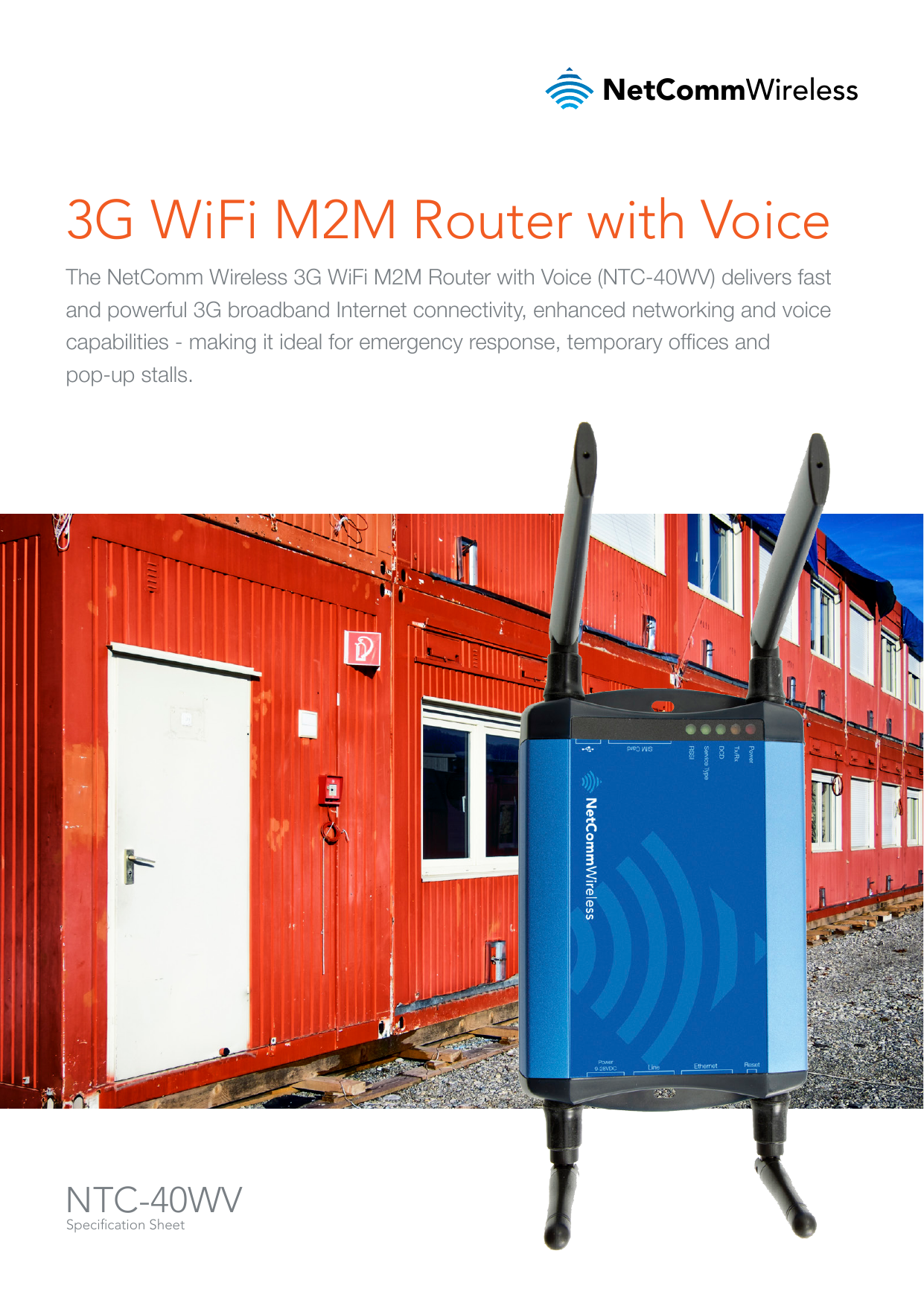 NetCommWireless
3G WiFi M2M Router with Voice
The NetComm Wireless 3G WiFi M2M Router with Voice (NTC-40WV) delivers fast
and powerful 3G broadband Internet connectivity, enhanced networking and voice
capabilities - making it ideal for emergency response, temporary offices and
pop-up stalls.
NTC-40WV
Specification Sheet
3G WiFi M2M Router with Voice
Overview
The NTC-40WV brings the power and performance of 3G to remote M2M
applications that use voice and data content; and delivers a fast and reliable Internet
and phone connection to construction site offices, market stalls and other temporary
setups in areas with limited access to fixed-line infrastructure.
QUICK FACTS
• Powerful and flexible industrial cellular
router platform supporting 3G
• Make normal voice calls using a
standard analogue telephone
• Automatic failover to 2G/GSM/GPRS/
EDGE
• Industrial features including a
rugged enclosure, wide operating
temperature range and wall mount
options
• Install custom applications using the
embedded Linux operating system
and Software Development Kit (SDK)
• Fast Ethernet (100Mbps) connection
for easy integration
• VPN support for establishing a
secure connection over public cellular
network using OpenVPN, IPsec, GRE,
PPTP
• 802.11b/g/n WiFi access point with
2x2 MIMO antenna technology
• Native support for LWM2M, TR-069,
SNMP, HTTP and Telnet
• System monitoring, remote
diagnostics and configuration over the
air, diagnostic log viewer via browser
The NTC-40WV is perfect for dynamic M2M applications that transmit data and
voice over 3G networks. The device delivers fast throughput speeds, remote control
and enhanced networking for the freedom to connect and manage virtually any
device, anywhere.
TOTAL COMMUNICATIONS SOLUTION
Offers a new level of networking - featuring an Ethernet port for a highspeed wired connection, a built-in WiFi access point to connect wireless
clients while also letting you make phone calls using a standard analogue
phone.
CUSTOM SOFTWARE APPLICATIONS
The powerful processor delivers optimal performance and its embedded
NetComm Linux OS and Software Development Kit (SDK) enables the
installation of custom firmware to the onboard flash memory via the
programming interface.
INDUSTRIAL-GRADE DURABILITY
Designed for rugged deployments, the NTC-40WV features a metal
enclosure with multiple mounting options and a wide temperature
tolerance to support remote and industrial applications. LWM2M and
TR-069 supports the remote management of unmanned assets from
any location and it provides VPN support for a secure connection over
public networks.
Application Example
Mobile broadband connectivity to pop-up shop
M2M WiFi Router connects to 3G
network and provides real-time
M2M data connectivity
Wireless M2M communication
enables secure sales tracking
from remote locations
Pop-up shop
Device Features
At a glance
Package Contents
What's in the box?
1
1
6
7
8
9
2
2
5
•1 High performance 3G antenna
connectors
•2 WiFi antenna connectors
•3 SIM card slot (for USIM/SIM
2FF format)
•4 Mini USB 2.0 port
3
1 x NetComm Wireless 3G WiFi Router
with Voice (NTC-40WV)
4
•5 SIM tray eject button
•6 Power connector
2 x 3G Antennas
2 x WiFi Antennas
1 x Ethernet cable
1 x Power supply
1 x WiFi security card
1 x Quick start guide
•7 Phone port
•8 Fast Ethernet LAN port
•9 Reset button
Technical
Specifications
MEMORY
REMOTE MANAGEMENT
•• 128MB DDR SDRAM | 256MB NAND Flash
••
••
••
••
••
••
OPERATING SYSTEM
•• Embedded Linux 2.6
PEAK DATA SPEED
•• Downlink: 21Mbps (HSDPA Cat. 14); Uplink: 5.76Mbps (HSUPA Cat. 6);
CELLULAR BANDS
•• UMTS/HSDPA/HSUPA: 850/900/2100/1900 MHz
•• GSM/GPRS/EDGE: 850/900/1800/1900 MHz
WIRELESS LAN
•• IEEE 802.11b/g/n 2T2R
•• Frequency: 2.4 ~ 2.438GHz
•• Peak Data Rate: Max 300 Mbps (MIMO, WPA2)
WIRELESS SECURITY
••
••
••
••
••
••
••
••
••
•• DHCP Server/Client/Relay
•• Static Route
WAN
•• WWAN (Cellular)
•• PPPoE
•• PPP (PAP/CHAP)
••
••
••
••
••
••
••
Static
RIP (v1/v2)
VRRP
Dynamic DNS
NAT
DMZ
Data Stream Manager providing ability to create mappings between input and output ports and
perform required translation or data processing by each virtual tunnel
TELEPHONY
1x (RJ45) Ethernet 10/100Base-TX Port with Auto MDIX
1x Mini USB 2.0 Console Port
1x DC-in Port
1x FXS (RJ11) Phone Port
ANTENNA INTERFACES
•• Circuit-Switched Voice via Standard/Cordless Analogue Telephone
FIREWALL & SECURITY
•• SPI Firewall
•• Anti-DoS
VPN
•• 2x SMA Cellular
•• 2x Reverse SMA WLAN (MIMO)
••
••
••
••
SIM CARD READER
•• Lockable Tray Reader
•• Push-Button-to-Release
•• Mini USIM/SIM Format
IPSec
PPTP
GRE
OpenVPN
ENVIRONMENT
•• Normal Operating Temperature: -20°C ~ +65°C
•• Extended Operating Temperature: -25°C ~ +75°C (with Performance Deviations)
LED INDICATORS
••
••
••
••
••
LAN
ROUTING & POSITIONING
WEP 64-bit
WEP 128-bit
WPA
WPA2
WPA-PSK
WPA2-PSK
TKIP
AES
Multiple SSIDs
CONNECTIVITY
••
••
••
••
LWM2M
TR-069
SNMP v1/v2
Web-based User Interface (HTTP)
Telnet / SSH
Event notification feature providing ability to send alerts to SMS, E-mail, TCP/UDP server when
certain system events occur
Power
Network Service Type
Tx/Rx Data Traffic
Data Carrier Connection
Signal Strength
POWER SUPPLY
•• DC In port: 9 ~ 28 V
DIMENSIONS & WEIGHT
•• 155mm (L) x 104mm (W) x 30mm (D)
•• ~300g
MAXIMUM OUTPUT POWER ALLOWED
•• WLAN Module ERP = <20 dBm
NETCOMM WIRELESS LIMITED HEAD OFFICE 18-20 Orion Road, Lane Cove, NSW 2066, Sydney, Australia ABN 85 002 490 486
AUSTRALIAN OFFICE
NORTH AMERICA OFFICE
T: +61 2 9424 2070
T: +1 320 566 0316
E: m2msales@netcommwireless.com E: NA.sales@netcommwireless.com
EUROPEAN OFFICE
JAPAN OFFICE
MENA OFFICE
E: EU.sales@netcommwireless.com
T: +81 3 5326 3153
E: JP.sales@netcommwireless.com
T: +971 4 450 8667
E: MENA.sales@netcommwireless.com
Trademarks and registered trademarks are the property of NetComm Wireless Limited or their respective owners. Specifications are subject to change without notice. Images shown may vary slightly from the actual product.

* Your assessment is very important for improving the work of artificial intelligence, which forms the content of this project