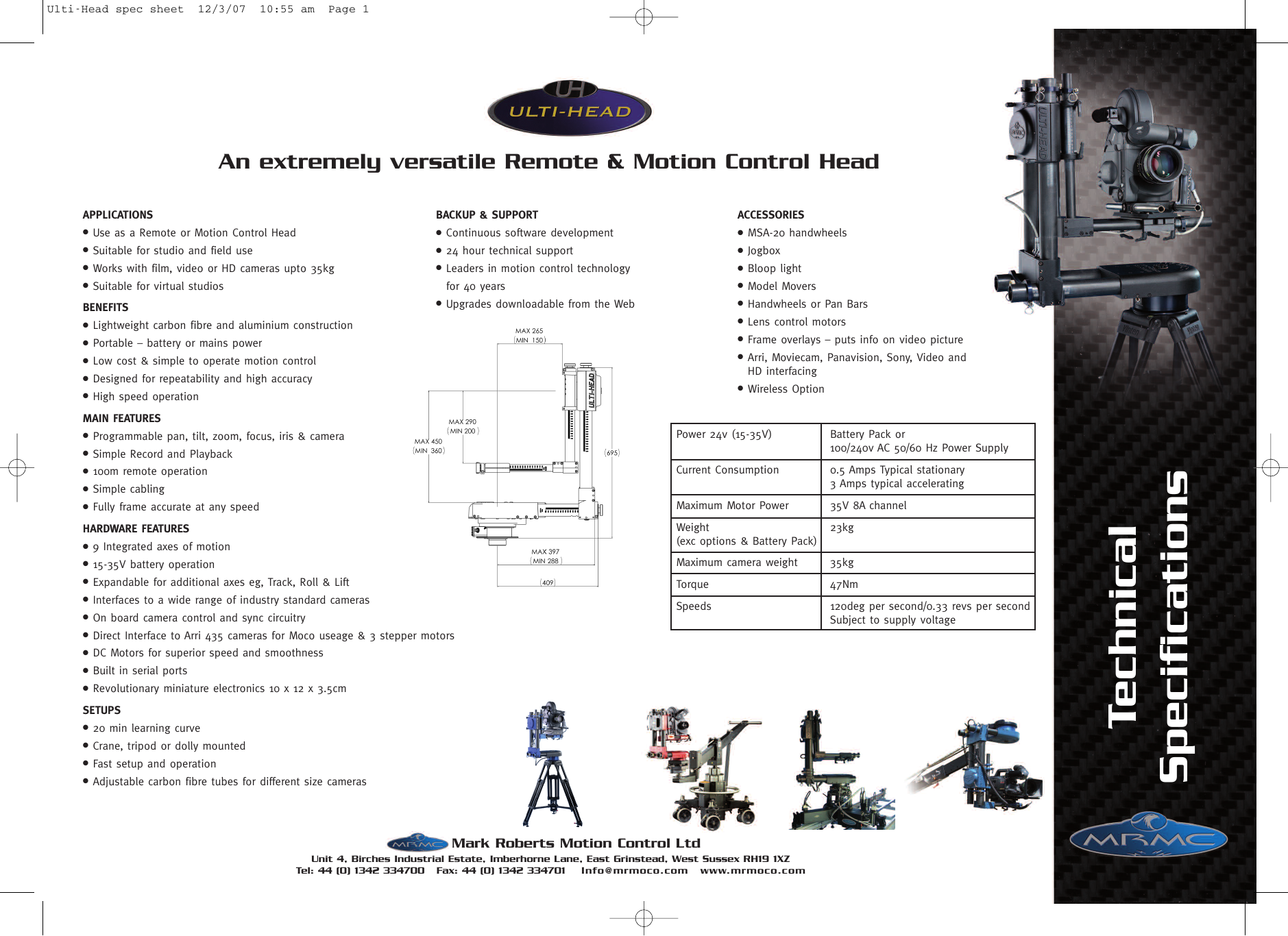 Ulti-Head spec sheet
12/3/07
10:55 am
Page 1
An extremely versatile Remote & Motion Control Head
APPLICATIONS
BACKUP & SUPPORT
ACCESSORIES
l
Use as a Remote or Motion Control Head
l
Continuous software development
l
MSA-20 handwheels
l
Suitable for studio and field use
l
24 hour technical support
l
Jogbox
l
Works with film, video or HD cameras upto 35kg
l
Leaders in motion control technology
l
Bloop light
l
Suitable for virtual studios
for 40 years
l
Model Movers
Upgrades downloadable from the Web
l
Handwheels or Pan Bars
Lens control motors
Frame overlays – puts info on video picture
l
BENEFITS
l
Lightweight carbon fibre and aluminium construction
l
l
Portable – battery or mains power
l
l
Low cost & simple to operate motion control
l
l
Designed for repeatability and high accuracy
l
High speed operation
l
Arri, Moviecam, Panavision, Sony, Video and
HD interfacing
Wireless Option
l
Programmable pan, tilt, zoom, focus, iris & camera
l
Simple Record and Playback
l
100m remote operation
l
Simple cabling
l
Fully frame accurate at any speed
HARDWARE FEATURES
l
9 Integrated axes of motion
l
15-35V battery operation
l
Expandable for additional axes eg, Track, Roll & Lift
l
Interfaces to a wide range of industry standard cameras
l
On board camera control and sync circuitry
l
Direct Interface to Arri 435 cameras for Moco useage & 3 stepper motors
l
DC Motors for superior speed and smoothness
l
Built in serial ports
l
Revolutionary miniature electronics 10 x 12 x 3.5cm
Power 24v (15-35V)
Battery Pack or
100/240v AC 50/60 Hz Power Supply
Current Consumption
0.5 Amps Typical stationary
3 Amps typical accelerating
Maximum Motor Power
35V 8A channel
Weight
(exc options & Battery Pack)
23kg
Maximum camera weight
35kg
Torque
47Nm
Speeds
120deg per second/0.33 revs per second
Subject to supply voltage
SETUPS
l
20 min learning curve
l
Crane, tripod or dolly mounted
l
Fast setup and operation
l
Adjustable carbon fibre tubes for different size cameras
Mark Roberts Motion Control Ltd
Unit 4, Birches Industrial Estate, Imberhorne Lane, East Grinstead, West Sussex RH19 1XZ
Info@mrmoco.com www.mrmoco.com
Tel: 44 (0) 1342 334700 Fax: 44 (0) 1342 334701
Technical
Specifications
MAIN FEATURES
Ulti-Head spec sheet
12/3/07
10:56 am
Page 2
The head connects directly to
the award winning Flair motion
control software, quickly turning
it into a full motion control
system with expansion for
upto 32 axes of motion and
with every conceivable motion
control feature. Flair also
integrates with numerous
popular 3D CGI packages.
Ulti-Head
A Remote & Motion Control Head
Optional Pan-bars can be
used with the Ulti-Head to
make operation completely
intuitive.
Adjustable carbon fibre tubes
allow the head to be configured
for any size and shape camera.
Built in electronics for controlling
additional axes are standard on
Ulti-Heads so adding different
types of roll axes is very simple.
A dutch roll offers 90o of travel
while 360o roll can also be
supplied.
The aluminum and carbon fibre
construction help keep the
rigidity and strength of the head
very high while maintaining a low
overall weight
Miniature electronics in the head offer
an incredibly high number of built in
functions, including 6 motor controllers,
camera control & synchronization, lens
controllers and general purpose inputs
and outputs. Extremely simple cabling
mean the head only requires a power
and a data lead to operate.
Zoom & Focus controllers can be used to control lens
functions with the built in electronics without requiring
any 3rd party lens controllers.
All lens motions are fully
recordable and can
be played back. The Ulti-Head
can be used with both MRMC
lens motors or common
industry motors such as Arri,
Preston, Scorpio & Heden.
The MSA-20 handwheels connect
directly to the head and allow it
to record & playback upto 3
hours of movement without a PC.
Ideal for high portability. Moves
and data can also be exported to
a PC to give unlimited motion
recording time.
Optional sliprings carry the
Ulti-Head power, camera power,
video signals and data signals
without any restrictions.
Mark Roberts Motion Control Ltd
Tel: 44 (0) 1342 334700 Fax: 44 (0) 1342 334701
Info@mrmoco.com www.mrmoco.com
For large or heavy
cameras, the optional
secondary tilt support
quickly connects to the
head and greatly increases
the rigidity & maximum
permissible load.
Sliprings allow unlimited pan
rotation without tangling of
cables.
Many track options exist for the Ulti-Head
including the compact Y-Pod, our latest
design base plate. The Y-Pod can take
the head directly or have a tripod mounted
and works on both industry standard rail
or the new dolly bearing rail.

* Your assessment is very important for improving the work of artificial intelligence, which forms the content of this project