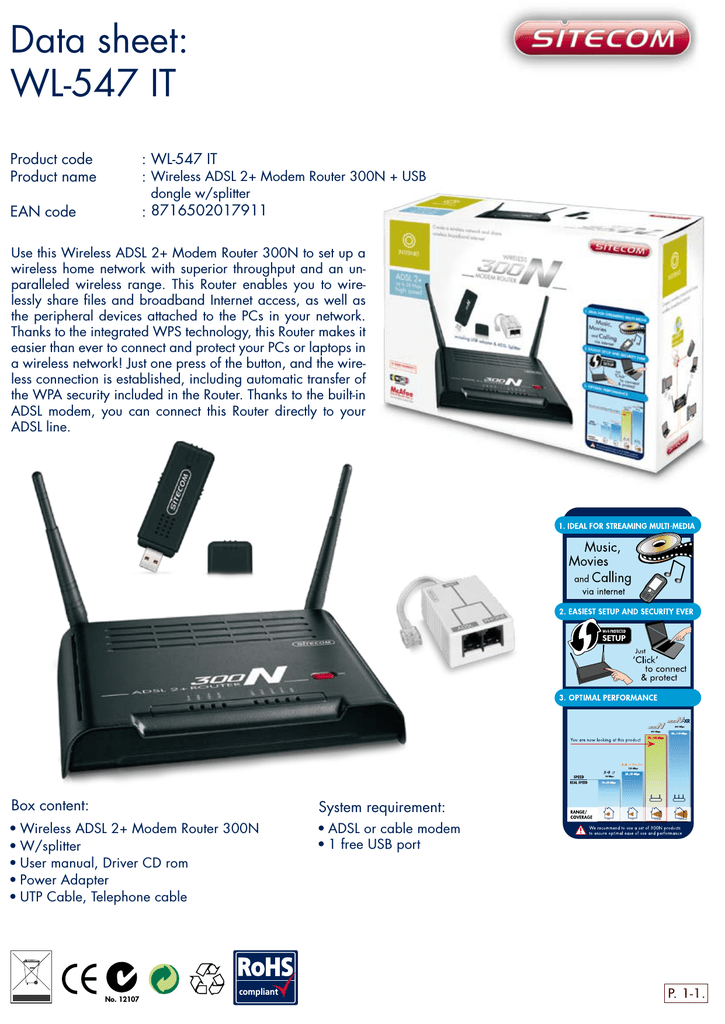 Data sheet:
WL-547 IT
Product code
Product name
: WL-547 IT
: Wireless ADSL 2+ Modem Router 300N + USB
EAN code
: 8716502017911
dongle w/splitter
Use this Wireless ADSL 2+ Modem Router 300N to set up a
wireless home network with superior throughput and an unparalleled wireless range. This Router enables you to wirelessly share files and broadband Internet access, as well as
the peripheral devices attached to the PCs in your network.
Thanks to the integrated WPS technology, this Router makes it
easier than ever to connect and protect your PCs or laptops in
a wireless network! Just one press of the button, and the wireless connection is established, including automatic transfer of
the WPA security included in the Router. Thanks to the built-in
ADSL modem, you can connect this Router directly to your
ADSL line.
80 - 115 Mbps
70 - 100 Mbps
28 - 35 Mbps
18 - 23 Mbps
Box content:
•
•
•
•
•
System requirement:
Wireless ADSL 2+ Modem Router 300N
W/splitter
User manual, Driver CD rom
Power Adapter
UTP Cable, Telephone cable
• ADSL or cable modem
• 1 free USB port
RoHS
No. 12107
compliant
P. 1-1.

* Your assessment is very important for improving the work of artificial intelligence, which forms the content of this project