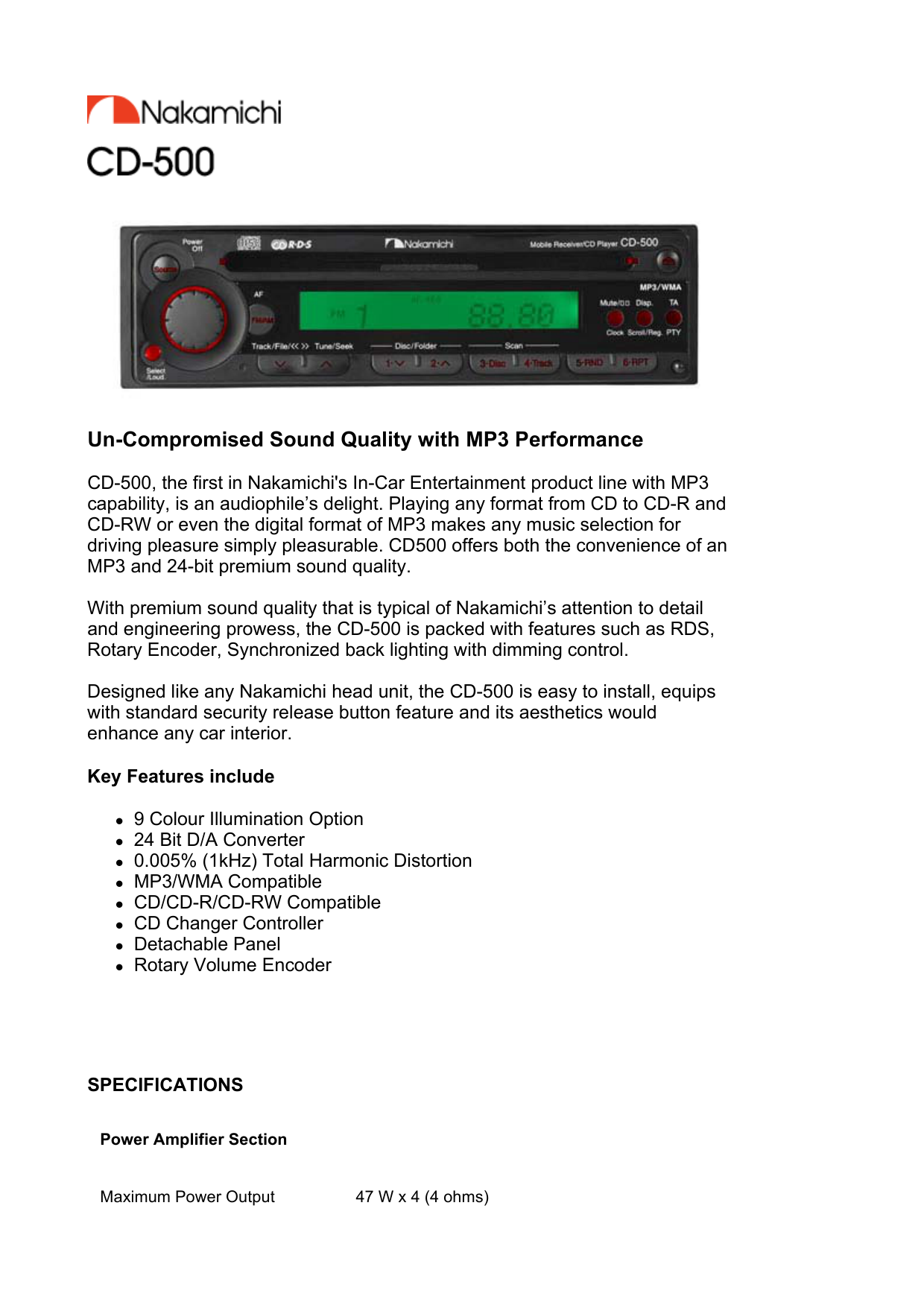 Un-Compromised Sound Quality with MP3 Performance
CD-500, the first in Nakamichi's In-Car Entertainment product line with MP3
capability, is an audiophile's delight. Playing any format from CD to CD-R and
CD-RW or even the digital format of MP3 makes any music selection for
driving pleasure simply pleasurable. CD500 offers both the convenience of an
MP3 and 24-bit premium sound quality.
With premium sound quality that is typical of Nakamichi's attention to detail
and engineering prowess, the CD-500 is packed with features such as RDS,
Rotary Encoder, Synchronized back lighting with dimming control.
Designed like any Nakamichi head unit, the CD-500 is easy to install, equips
with standard security release button feature and its aesthetics would
enhance any car interior.
Key Features include
z
z
z
z
z
z
z
z
9 Colour Illumination Option
24 Bit D/A Converter
0.005% (1kHz) Total Harmonic Distortion
MP3/WMA Compatible
CD/CD-R/CD-RW Compatible
CD Changer Controller
Detachable Panel
Rotary Volume Encoder
SPECIFICATIONS
Power Amplifier Section
Maximum Power Output
47 W x 4 (4 ohms)
Frequency Response (Pre Out)
15 - 30,000 Hz ±1 dB
Total Harmonic Distortion
0.1% (4 ohms, 1 kHz, 3W x 4)
AUX Input Level / Impedance
1 V / 50 kohms
Output Level (Pre Out)
4V
Tone Controls
Bass
100 Hz ±11 dB
Midrange
1 kHz ±11 dB
Treble
10 kHz ±11 dB
Loudness
20 Hz ±14 dB (Volume level 20)
Tuner Section
18 FM/12AM Presets
Seek & Preset Scan
AMS - Auto Memory Store
One Touch Memory
FM Tuner Section
Frequency Range
U.S.A.
87.5 - 107.9 MHz in 200 kHz steps
Other Area
87.5 - 108.0 MHz in 50 kHz steps
Sensitivity
15 dBf
Signal-to-Noise Ratio
60 dB (Mono)
Stereo Separation
35 dB (1 kHz)
Antenna Input
75 ohms (Unbalanced)
AM Tuner Section
Frequency Range
U.S.A.
530 - 1,710 kHz in 10 kHz steps
Other Area
531 - 1,602 kHz in 9 kHz steps
Sensitivity
32 dBµ
Signal-to-Noise Ratio
45 dB
CD Player Section
CD-DA
System
Compact Disc Digital Audio
Error Correction
CIRC Principle
Sampling Frequency
44.1 kHz
D/A Converter Type
24-bit D/A Converter
Frequency Response
20 - 20,000 Hz
Signal-to-Noise Ratio
Better than 100 dB
Dynamic Range
Better than 90 dB
Total Harmonic Distortion
0.005% (1 kHz)
MP3/WMA Section
Numbers of Folders
Up to 256
Number of Files
Up to 999
Number of Files Per Folder
Up to 256
Number of Folder Layers
Up to 8 Layers
Bit Rate
MPEG1 Audio Layer3
32-320 kbps
MPEG2 Audio Layer3
8-160 kbps
MPEG2.5
8-160 kbps
WMA
64-192 kbps
Sampling Frequency
MPEG 1
32/44.1/48kHz
MPEG 2
16/22.05/24 kHz
MPEG 2.5
8/11.025/12kHz
*WMA
32/44.1/48kHz
General
Power Source
14.4 V DC, negative ground
(10.8 - 15.6 V allowable)
Current Consumption
9.0 A (At rated power output)
Installation Dimension#
178 (W) x 50 (H) x 158 (D) mm
7(W) x 1-15/16(H) x 6-1/4(D) inches
Outer Dimensions#
178(W) x 50(H) x 170(D) mm
7(W) x1-15/16(H) x6-11/16(D) inches
Mass
Approx. 1.5KG / 3 lbs. 5 oz.
Remote Control Unit
Principle
Infrared pulse system
Power Supply
3 V DC (1.5 V x 2)
Dimensions*
49 (W) x 26 (H) x 110 (D) mm
1-15/16 (W) x 1 (H) x 4-5/16 (D) inches
Mass (approx.)
60 g / 2 oz (including batteries)
Specifications and features subject to change without notice.
*Thus unit does not support WMA VBR (Variable Bit Rate).
#Dimensions
do not include protruding parts.

* Your assessment is very important for improving the work of artificial intelligence, which forms the content of this project