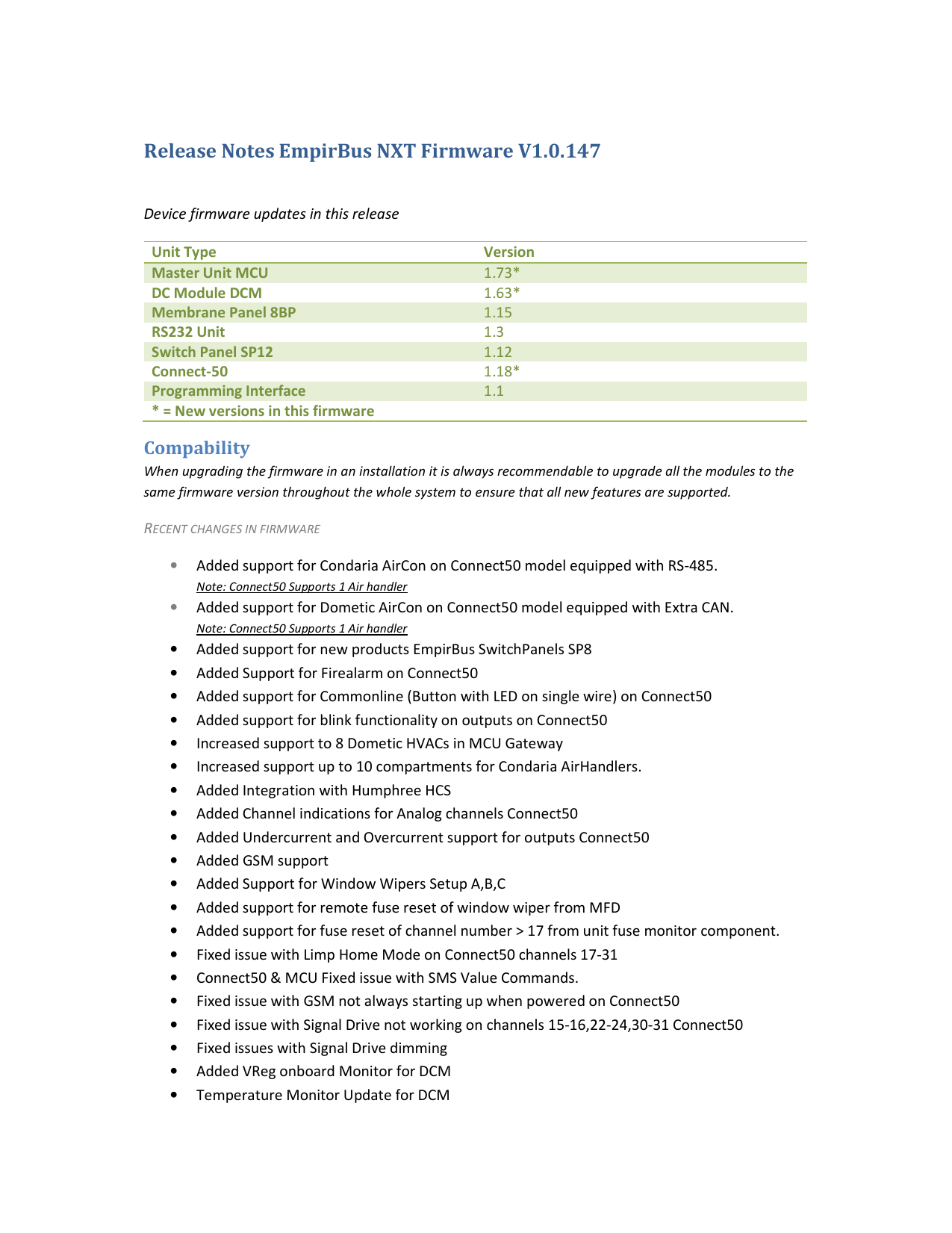 Release Notes EmpirBus NXT Firmware V1.0.147
Device firmware updates in this release
Unit Type
Master Unit MCU
DC Module DCM
Membrane Panel 8BP
RS232 Unit
Switch Panel SP12
Connect-50
Programming Interface
* = New versions in this firmware
Version
1.73*
1.63*
1.15
1.3
1.12
1.18*
1.1
Compability
When upgrading the firmware in an installation it is always recommendable to upgrade all the modules to the
same firmware version throughout the whole system to ensure that all new features are supported.
RECENT CHANGES IN FIRMWARE
•
Added support for Condaria AirCon on Connect50 model equipped with RS-485.
Note: Connect50 Supports 1 Air handler
•
Added support for Dometic AirCon on Connect50 model equipped with Extra CAN.
Note: Connect50 Supports 1 Air handler
•
•
•
•
•
•
•
•
•
•
•
•
•
•
•
•
•
•
•
•
Added support for new products EmpirBus SwitchPanels SP8
Added Support for Firealarm on Connect50
Added support for Commonline (Button with LED on single wire) on Connect50
Added support for blink functionality on outputs on Connect50
Increased support to 8 Dometic HVACs in MCU Gateway
Increased support up to 10 compartments for Condaria AirHandlers.
Added Integration with Humphree HCS
Added Channel indications for Analog channels Connect50
Added Undercurrent and Overcurrent support for outputs Connect50
Added GSM support
Added Support for Window Wipers Setup A,B,C
Added support for remote fuse reset of window wiper from MFD
Added support for fuse reset of channel number > 17 from unit fuse monitor component.
Fixed issue with Limp Home Mode on Connect50 channels 17-31
Connect50 & MCU Fixed issue with SMS Value Commands.
Fixed issue with GSM not always starting up when powered on Connect50
Fixed issue with Signal Drive not working on channels 15-16,22-24,30-31 Connect50
Fixed issues with Signal Drive dimming
Added VReg onboard Monitor for DCM
Temperature Monitor Update for DCM
•
•
•
•
•
•
•
•
•
•
•
•
•
•
•
•
•
•
•
•
•
•
•
•
•
•
•
•
•
•
•
•
•
•
•
•
Added Disable EnOcean control.
Added GSM Functionality in PowerSave.
Connect50 – Touch Panel Updated Responsiveness
Added support for EmpirBus Application Specific PGN on Secondary CAN port.
Connect-50 Added Touch Button Controller
Connect-50 Added Manual Override Functionality
Connect-50 Added Limp Home Mode Functionality
Connect50 Address Claim Lost Bug Fix
Connect50 Set ID Bug Fix
DCM Fixed Issue with premature fuse trip in PowerSave Mode.
MCU: Fixed Bug that could cause MCU to reboot while the USB cable was connected.
MCU: Added support for Connect-50 as slave
Connect50 memory management bug corrected
8BP StandAlone Operation Mode
Support of new product: Connect-50 in standalone operation
New Component added SignalType Merger / Splitter component
Added New Component Shiftregister for values, enables time filtering of values
Primary Communication Buffer Management performance at high bus load conditions
corrected. Issue could cause buffer overflow and high latencies during prolonged periods of
intensive traffic.
Condaria Manager updated with quick response time.
Fixed timeout issue with Condaria AirCon
Fixed issue with RS232 bus reader
Fixed issue with model 5 for 65280 not working for channel 2,4,6,8,10
Added support for Victron Quattro to set currentlimitation on AC2 input and indicate which
AC input is active.
Whisper Power WPCI2000 control update to support newer WPCI2000 firmware.
NMEA2000 COG & SOG, Rapid Update PGN 129026 – Support added to receive and decode
Course Over Ground and Speed Over Ground.
Digital Input LED Running indication Limit Increased.
Fixed issue with Power PGNs not being actively received after configuration download
without powercycling MCU.
Fixed issue with fuse tripping prematurely on low dimming levels.
Fixed issue with LED Running indication Limitation tripping prematurely at 24V
Increased tolerance for Dual Fixed Switches
Fixed issue with GSM Text "Alarm" not being changeable from configuration.
Fixed issue with PGN 130312 Temperature not being transmitted after powercycle of MCU.
Firealarm channel updated, fuse limiting value changed to Alarm Max instead of fixed
100mA.
Updated halfbridge and lowside manager with switchover tmin from positive to negative
drive.
NMEA2000 WaterDepth, PGN 128267 – Support added to receive and decode Water Depth,
Offset and Maximum Depth Range
NMEA2000 Rate Of Turn PGN 127251 – Support added to receive and decode Rate Of Turn.
•
•
•
•
•
•
•
•
•
•
•
•
•
•
•
•
•
•
•
NMEA2000 AC Input Status PGN 127503 and AC Output Status PGN 127504 – Support added
for MCU Units to receive and decode AC Voltage,Current,Frequency, Breaker Size and Power.
10 Component Instances (combined) are supported.
Comparator – Added support for more datatypes (signed&unsigned, byte, word, dword)
NMEA2000 components Battery Status, Trimtab, DC detailed Status, Engine Params added
data unavailable status detection when transmitting unit is lost/powered off.
Added EmpirBus NXT API component for 3rd party communication. Provides generic
programing interface for control and monitoring of Customized Application Specific data.
See Document: "Application Specific PGN" for details (available on request)
Fixed issue with delay before first measurement of analog temperature sensor inputs after
channel power on.
New Constants added, signed versions of byte,word,dword.
New Edge Filter Component – Flank detection component
NMEA2000 Attitude PGN 127257 – Support added to receive and decode Yaw. Pitch and Roll
information.
Signal Converter – Added new conversion model "Digital Conversion by table", can be used
to easily trigger digital states from analog signals such as tank level at 25%, 50%, 75%, 100%
Signal Converter – Added new high resolution conversion option for linear conversion
Pulse Button Control – Added built in edge detection option.
NMEA2000 Engine Parameters Rapid Update PGN 127488 – Added support to receive and
decode in DCM Active master mode.
PIN Code Component – New component for MCUs, used for pin-protection functions such as
burglar alarm. Example usage, activate the protection when leaving the boat locking down all
navigation equipment etc. and require the PIN code to be entered to activate equipment.
NMEA2000 Alert Service Integration. Service supports texts in up to 5 languages for each
individual alert. Example usage, with Raymarine MFD screens pop-up alerts can be presented
on the screen.
Heartbeat PGN in DCMs. Enables possibility to supervise / alarm when a unit is no longer
available on bus and execute appropriate actions. Example usage: If power is cut to one
Corrected SMS value feedback to show more than 6 digits.
Fixed issue with USB Driver for MCU. This affected that not all units where found when
searching for them in download configuration or bootloading dialog. Also corrects issues with
bootloading failing mid-process.
DCM, this can be indicated by an alarm.
Added support for Air-condition Control. Functionality to supervise and control room
compartment air handlers, set temperature, control cooling/heating, fan, chillers, heaters
and more. Up to 6 individual compartments can be controlled and monitored.
o AirMar/MarineAir Systems Elite
o CruisAir Q-Logic
o Dometic Truck Control
o Micro Air
o MarvAir OLED
o MarvAir OLED Touch
o MarvAir HydroMatic II
•
•
•
•
•
•
•
•
•
•
•
•
•
o Condaria TopClimate
Added soft start/stop ability to Signal Drive Outputs
Added support for decoding J1939 AC Power PGNs for MCU units. Up to 15 instances are
supported in combination of the following PGNs:
o 65001 – Bus Phase C Basic AC Quantities
o 65002 – Bus Phase B Basic AC Quantities
o 65003 – Bus Phase A Basic AC Quantities
o 65004 – Bus Average Basic AC Quantities
o 65008 – Utility Phase C Basic AC Quantities
o 65011 – Utility Phase B Basic AC Quantities
o 65014 – Utility Phase C Basic AC Quantities
o 65017 – Utility Average Basic AC Quantities
o 65021 – Generator Phase C Basic AC Quantities
o 65024 – Generator Phase B Basic AC Quantities
o 65027 – Generator Phase C Basic AC Quantities
o 65030 – Generator Average Basic AC Quantities
Added support for new NMEA Power PGNs for MCU Units. Up to 15 instances are supported
in combination of the following PGNs:
o 127744 – AC Power/Current Phase A
o 127745 – AC Power/Current Phase B
o 127746 -– AC Power/Current Phase C
o 127747 – AC Voltage/Frequency Phase A
o 127748 – AC Voltage/Frequency Phase B
o 127749 - AC Voltage/Frequency Phase C
Added support for control and supervision of Whisper Power Centre.
Added algorithms to Analog Signal Processor, Multiplication, Subtraction, Division.
Increased startup current tolerance for 4-20 mA channels
Added support for new Product MCU GSM with Voice Capability.
Added support for new Product MCU-11/42 with Ethernet Capability.
Enables configurable control and monitoring over Ethernet
New Component NMEA2000 Wind Data 130306.
Enables reception and data processing of wind data such as speed and direction.
Master Module GSM channels increased up to 20 channels (previously 10)
Master module Ethernet channels up to 20 channels configurable.
NMEA2000 Battery Voltage component revised with battery voltage scale to allow voltages
above 65V.
New Dual Fixed Multiswitch input type.
Supports detection of 2 fixed switches on a single channel, using resistor values 120 and 220
Ohms
New Digital Input Closing to Plus with Weak Pulldown
Enables connection of signals with limited driving capacity / current
New Component Analog Signal Processor
Supports averaging and addition of analog values
•
•
•
•
•
•
•
•
•
•
New Component NMEA2000 Engine Parameters PGN 127488
Enables processing of Engine Data such as RPM, Boost pressure and Engine Tilt/Trim
New MFD channel type Signal Values added
Added support for new product , MCU Gateway
GSM Handler updated to handle concatenated (long) SMS messages.
Commonline filtering for high noise environments
DC Module Touch Control Handler has been revised with a new User Interface for Manual
Override and Fuse Reset control.
Multiswitch indications.
Multiswitch channels now shows an indication on the channels running LED indicating which
switch is activated. Indication shows when button is pressed by flashing the LED.
DC Module - fixed issue with Output Channels configured with activated openload detection
not responding to on/off control.
USB Driver updated – Solves issues with USB Communication and issues with bootloading
devices over USB.
Appendix A – Memory Stored Value Rev 2
The memory stored values use a non-volatile linear memory matrix. The address is input as startbitindex. User must ensure to use unique addresses for all Memory Stored Values placed in schematic.
Byte, Word and DWord addresses must start at even offsets. The MSV can be either bit,byte,word or
dword, but all use the same memory, so the address ranges used must be unique throughout all
placed MSV components.
Memory Type
Memory Locations
Used (Last Bit)
Bit
Byte
Memory Location
Used (Startbit set in
properties)
STARTBIT
STARTBIT
Word
STARTBIT
STARTBIT+15
DWord
STARTBIT
STARTBIT+31
STARTBIT
STARTBIT+7
Rules
Must start at even 8
i.e. 0,8,16,24,32
Must start at even 8
i.e. 0,8,16,24,32
Must start at even 8
i.e. 0,8,16,24,32
Example, 8 Variables to be used, 1 of each kind:
Var1 = Bit, Var2=Byte,Var3=Word, Var4=DWord
The 1 Bit variable can be positioned anywhere in memory, so we set
Var 1 =
Bitadress 0
The Byte variables must be placed with memory index of even 8, so it cannot start on position 2,
hence we skip to position 8. Each BYTE uses 8 bit addresses.
Var2 =
Bitadress 8. This means Position 8-8+7 = 8-15 are now in use.
Var3 is placed on 16, uses 16-31, Var 4 is placed on 32 and uses 32-63
Memory Location (Bit Adress)
Variable
0
1
2
3
4
5
6
7
8
9
10
11
12
13
14
15
….
Used by Var 1
Unused
Unused
Unused
Unused
Unused
Unused
Unused
Used by Var2
Used by Var2
Used by Var2
Used by Var2
Used by Var2
Used by Var2
Used by Var2
Used by Var2
…
A summary of the memory used in the example
Memory Type
Memory Locations
Used (Last Bit)
Var 1 (BIT)
Var 2 (BYTE)
Memory Location
Used (Startbit set in
properties)
0
8
Var 3 (WORD)
16
31
Var 4 (DWORD)
32
63
0
15
Rules
Must start at even 8
i.e. 0,8,16,24,32. Uses
8 Bits
Must start at even 8
i.e. 0,8,16,24,32 Uses
16 Bits
Must start at even 8
i.e. 0,8,16,24,32 Uses
32 Bits
The important thing to remember, is that no memory locations used may overlap. The entire
bitrange used by one MSV is in use and no bit positions can be used by another MSV, or overwrite
will occur.