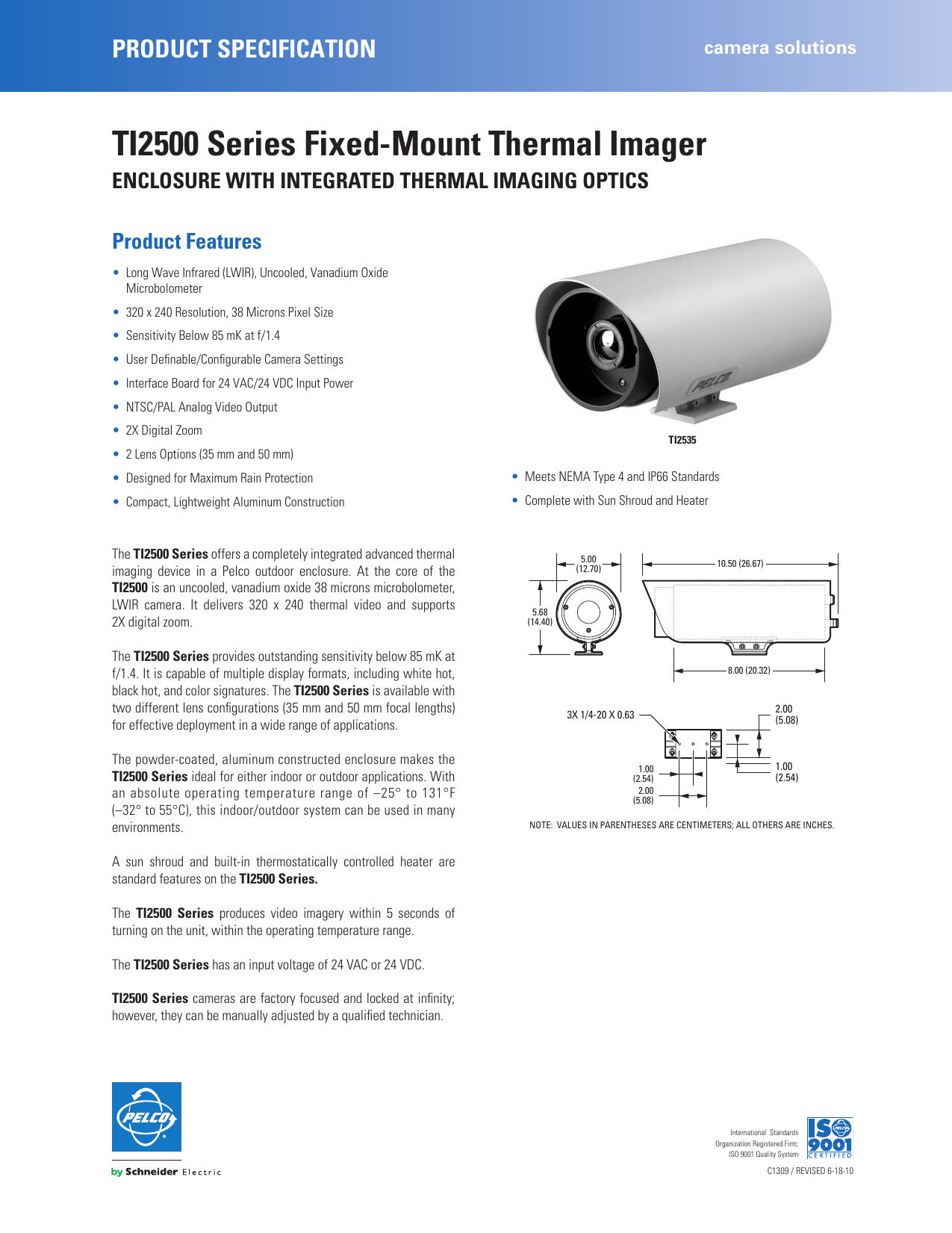 PRODUCT SPECIFICATION
camera solutions
TI2500 Series Fixed-Mount Thermal Imager
ENCLOSURE WITH INTEGRATED THERMAL IMAGING OPTICS
Product Features
• Long Wave Infrared (LWIR), Uncooled, Vanadium Oxide
Microbolometer
• 320 x 240 Resolution, 38 Microns Pixel Size
• Sensitivity Below 85 mK at f/1.4
• User Definable/Configurable Camera Settings
• Interface Board for 24 VAC/24 VDC Input Power
• NTSC/PAL Analog Video Output
• 2X Digital Zoom
TI2535
• 2 Lens Options (35 mm and 50 mm)
• Designed for Maximum Rain Protection
• Meets NEMA Type 4 and IP66 Standards
• Compact, Lightweight Aluminum Construction
• Complete with Sun Shroud and Heater
The TI2500 Series offers a completely integrated advanced thermal
imaging device in a Pelco outdoor enclosure. At the core of the
TI2500 is an uncooled, vanadium oxide 38 microns microbolometer,
LWIR camera. It delivers 320 x 240 thermal video and supports
2X digital zoom.
The TI2500 Series provides outstanding sensitivity below 85 mK at
f/1.4. It is capable of multiple display formats, including white hot,
black hot, and color signatures. The TI2500 Series is available with
two different lens configurations (35 mm and 50 mm focal lengths)
for effective deployment in a wide range of applications.
The powder-coated, aluminum constructed enclosure makes the
TI2500 Series ideal for either indoor or outdoor applications. With
an absolute operating temperature range of –25° to 131°F
(–32° to 55°C), this indoor/outdoor system can be used in many
environments.
5.00
(12.70)
10.50 (26.67)
5.68
(14.40)
8.00 (20.32)
3X 1/4-20 X 0.63
1.00
(2.54)
2.00
(5.08)
2.00
(5.08)
1.00
(2.54)
NOTE: VALUES IN PARENTHESES ARE CENTIMETERS; ALL OTHERS ARE INCHES.
A sun shroud and built-in thermostatically controlled heater are
standard features on the TI2500 Series.
The TI2500 Series produces video imagery within 5 seconds of
turning on the unit, within the operating temperature range.
The TI2500 Series has an input voltage of 24 VAC or 24 VDC.
TI2500 Series cameras are factory focused and locked at infinity;
however, they can be manually adjusted by a qualified technician.
International Standards
Organization Registered Firm;
ISO 9001 Quality System
C1309 / REVISED 6-18-10
TECHNICAL SPECIFICATIONS
MODELS
THERMAL CAMERA/OPTICS
Model Number
Format
Focal Length
TI2535
NTSC
TI2535-X
PAL
35 mm
TI2550
NTSC
50 mm
TI2550-X
PAL
50 mm
35 mm
MECHANICAL
Latching
Face Plate
Cable Entry
2 captivated hex screws
2 hex screws
2 adjustable 0.5-inch NPT liquid-tight glands
ELECTRICAL
Connections
Input Power
Input Voltage
24 VAC
24 VDC
Power Consumption
24 VAC
24 VDC
Heater
16 to 24 gauge screw-terminal jack on built-in
interface board (bipolar)
4 W, 6.2 VA nominal
18 to 27 VAC
14 to 32 VDC
260/350 mA
170/290 mA
Thermostatically controlled heater
GENERAL
Construction
Finish
Environment
Operating Temperature
Storage Temperature
Weight
Unit
Shipping
Aluminum
Gray polyester powder coat
Indoor/outdoor
–25° to 131°F (–32° to 55°C)
–58° to 185°F (–50° to 85°C)
Time to Image
Image Control
Serial Command
Temporal NEdT
Display Formats
Orientation
Field of View
TI2535
TI2550
Focus Range
TI2535
TI2550
Hyper Focal Distance
TI2535
TI2550
CE, Class A
FCC, Class A
UL/cUL Listed
C-Tick
Meets NEMA Type 4 and IP66 standards
Uncooled microbolometer, vanadium oxide
320 x 240
38 microns
7.5 to 13.5 µm, LWIR
1 Vp-p, 75 ohms
Internal shutter (offset only), 0.7 seconds
video freeze during shutter wink
Less than 2 seconds, no thermoelectric cooler
2X digital zoom
RS-232/RS-422 compatible
85 mK at f/1.4
White hot, black hot, and color signatures
Invert/revert capability in software
20° (H) x 15° (V)
14° (H) x 10° (V)
3 ft (1 m) to infinity
13 ft (4 m) to infinity
85 ft (26 m)
114 ft (35 m)
RECOMMENDED MOUNTS
Ceiling/Pedestal
EM1009U, EM1015U
Wall
EM1450
Pipe/Pole
EM1109
EM2000
EM2200
4.7 lb (2.1 kg)
11 lb (5 kg)
CERTIFICATIONS/RATINGS
•
•
•
•
•
Detector
Array Format
Pixel Size
Spectral Response
Video Output
Normalization Source
Medium duty ceiling/pedestal mount
Light duty wall mount
Medium duty pedestal mount for horizontal or
vertical pipe/pole applications
Medium duty mount for vertical applications
Medium duty mount for horizontal
applications
RECOMMENDED POWER SUPPLIES
WCS1-4
WCS4-20
Outdoor camera power supply,
100/120/240 VAC input; one 24/26/28 VAC
output; total current capacity of 4 A (100 VA)
Outdoor multiple camera power supply,
120/240 VAC input; four fused 24/28 VAC
outputs; total current capacity of
20 A (480 VA)
Note: Pelco thermal imaging products are subject to U.S. government export
control regulations. Diversion contrary to U.S. law is prohibited. Questions
about specific products can be sent to exportcontrol@pelco.com.
Pelco, Inc. Worldwide Headquarters:
3500 Pelco Way, Clovis, California 93612-5699 USA
USA & Canada Tel: (800) 289-9100 • FAX: (800) 289-9150
International Tel: +1 (559) 292-1981 • FAX: +1 (559) 348-1120
www.pelco.com
Pelco, the Pelco logo, and other trademarks associated with Pelco products
referred to in this publication are trademarks of Pelco, Inc. or its affiliates. All
other product names and services are the property of their respective companies.
Product specifications and availability are subject to change without notice.
©Copyright 2010, Pelco, Inc. All rights reserved.

* Your assessment is very important for improving the work of artificial intelligence, which forms the content of this project