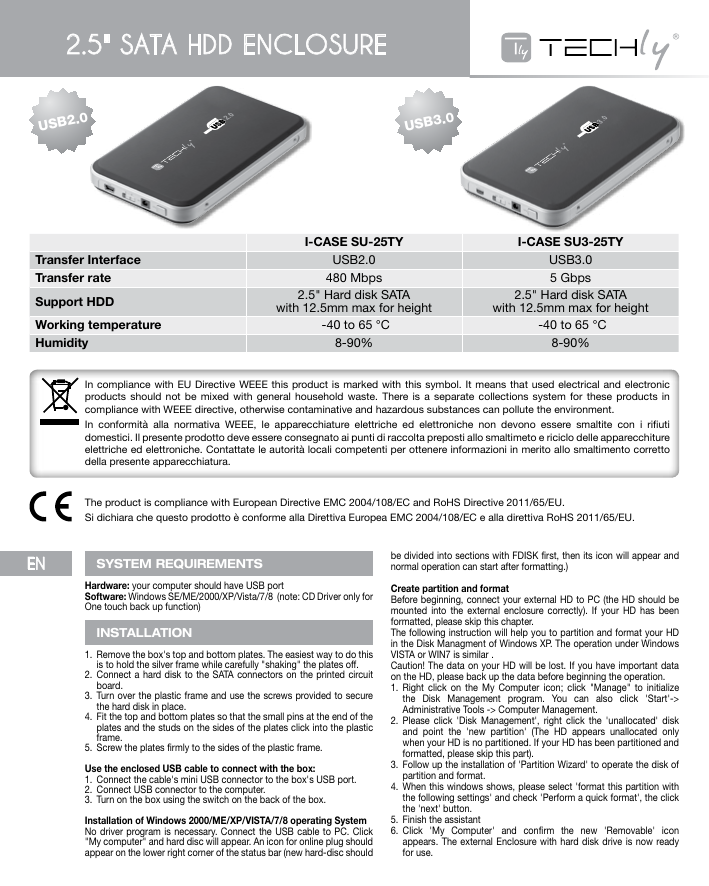 .0
USB3
Transfer Interface
Transfer rate
Support HDD
Working temperature
Humidity
.0
USB2
.0
USB3
I-CASE SU-25TY
USB2.0
480 Mbps
2.5" Hard disk SATA
with 12.5mm max for height
-40 to 65 °C
8-90%
3.
0
.0
USB2
2.
0
2.5" SATA HDD ENCLOSURE
I-CASE SU3-25TY
USB3.0
5 Gbps
2.5" Hard disk SATA
with 12.5mm max for height
-40 to 65 °C
8-90%
In compliance with EU Directive WEEE this product is marked with this symbol. It means that used electrical and electronic
products should not be mixed with general household waste. There is a separate collections system for these products in
compliance with WEEE directive, otherwise contaminative and hazardous substances can pollute the environment.
In conformità alla normativa WEEE, le apparecchiature elettriche ed elettroniche non devono essere smaltite con i rifiuti
domestici. Il presente prodotto deve essere consegnato ai punti di raccolta preposti allo smaltimeto e riciclo delle apparecchiture
elettriche ed elettroniche. Contattate le autorità locali competenti per ottenere informazioni in merito allo smaltimento corretto
della presente apparecchiatura.
The product is compliance with European Directive EMC 2004/108/EC and RoHS Directive 2011/65/EU.
Si dichiara che questo prodotto è conforme alla Direttiva Europea EMC 2004/108/EC e alla direttiva RoHS 2011/65/EU.
EN
SYSTEM REQUIREMENTS
Hardware: your computer should have USB port
Software: Windows SE/ME/2000/XP/Vista/7/8 (note: CD Driver only for
One touch back up function)
INSTALLATION
1. Remove the box's top and bottom plates. The easiest way to do this
is to hold the silver frame while carefully "shaking" the plates off.
2. Connect a hard disk to the SATA connectors on the printed circuit
board.
3. Turn over the plastic frame and use the screws provided to secure
the hard disk in place.
4. Fit the top and bottom plates so that the small pins at the end of the
plates and the studs on the sides of the plates click into the plastic
frame.
5. Screw the plates firmly to the sides of the plastic frame.
Use the enclosed USB cable to connect with the box:
1. Connect the cable's mini USB connector to the box's USB port.
2. Connect USB connector to the computer.
3. Turn on the box using the switch on the back of the box.
Installation of Windows 2000/ME/XP/VISTA/7/8 operating System
No driver program is necessary. Connect the USB cable to PC. Click
"My computer" and hard disc will appear. An icon for online plug should
appear on the lower right corner of the status bar (new hard-disc should
be divided into sections with FDISK first, then its icon will appear and
normal operation can start after formatting.)
Create partition and format
Before beginning, connect your external HD to PC (the HD should be
mounted into the external enclosure correctly). If your HD has been
formatted, please skip this chapter.
The following instruction will help you to partition and format your HD
in the Disk Managment of Windows XP. The operation under Windows
VISTA or WIN7 is similar .
Caution! The data on your HD will be lost. If you have important data
on the HD, please back up the data before beginning the operation.
1. Right click on the My Computer icon; click "Manage" to initialize
the Disk Management program. You can also click 'Start'->
Administrative Tools -> Computer Management.
2. Please click 'Disk Management', right click the 'unallocated' disk
and point the 'new partition' (The HD appears unallocated only
when your HD is no partitioned. If your HD has been partitioned and
formatted, please skip this part).
3. Follow up the installation of 'Partition Wizard' to operate the disk of
partition and format.
4. When this windows shows, please select 'format this partition with
the following settings' and check 'Perform a quick format', the click
the 'next' button.
5. Finish the assistant
6. Click 'My Computer' and confirm the new 'Removable' icon
appears. The external Enclosure with hard disk drive is now ready
for use.
2.5" SATA HDD ENCLOSURE
IT
REQUISITI DI SISTEMA
Hardware: il vostro computer deve essere provvisto di porta USB
Software: Windows SE/ME/2000/XP/Vista/7/8 (nota: utilizzare il CD
con i driver solo per la funzione di One touch back up)
INSTALLAZIONE
1. Rimuovere il coperchio superiore ed inferiore. Il modo più semplice e
quello di tenere la cornice argentata mentre si scuote delicatamente
il box per permettere il distaccamento dei coperchi.
2. Connettere il disco rigido ai connettori SATA sul circuito stampato.
3.Capovolgere la struttura in plastica e assicurare il disco rigido sul
posto utilizzando le viti in dotazione.
4. Fissare il coperchio superiore e quello inferiore in modo che i perni
presenti sui coperchi si aggancino al bordo della cornice di plastica.
5. Avvitare i coperchi lateralmente alla cornice in plastica.
Utilizzare il cavo USB incluso per collegare il box:
1. Collegare il connettore mini USB del cavo alla porta USB del box
2. Collegare il connettore USB al computer.
3. Accendere il box utilizzando l'interruttore presente sul retro.
Installazione dei sistemi operativi Windows 2000/ME/XP/Vista/7/8
Non sono richiesti driver. Connettere il cavo USB al PC. Cliccare su
"Risorse del Computer" e il disco rigido apparirà. Un'icona con la spina
dovrebbe apparire nell'angolo in basso a destra sulla barra di stato (il
nuovo disco rigido dovrebbe essere diviso in sezioni con FDISK prima,
quindi l'icona apparirà e dopo la formattazione si può procedere con il
normale funzionamento).
DE
SYSTEMVORAUSSETZUNGEN
Hardware: lhr Computer sollte über einen USB-Anschluss verfügen
Software: Windows98/SE/ME/2000/XP/VISTA/7/8 (lnstallieren Sie den
CD-Treiber im Zubehör) und Treiber für One touch Back Up.
INSTALLATION
1.Entfernen Sie die oberen und unteren Platten der Box. Am
Einfachsten geht dies, indem Sie den silberfarbenen Rahmen
festhalten, während Sie die Platten vorsichtig "abschütteln".
2. Schlieflen Sie eine Festplatte an die sich auf der Leiterplatte
befindlichen SATA-Anschlilsse an.
3.Drehen Sie den Plastikrahmen herum und verwenden Sie die dafür
vorgesehenen Schrauben, um die Festplatte festzuschrauben.
4. Stecken Sie die oberen und unteren Platten so ein, dass die kleinen
Führungsstifie am unteren und an den seitlichen Enden der Platten
im Plastikrahmen einrasten.
5. Schrauben Sie die Plafien an den Seiten des Plastikrahmens fest.
Schliefben Sie das mitgelieferte USB-Kabel an die Box an:
1.Schliefken Sie den Mini-USB-Stecker des Kabels an den USBAnschiuss der Box an.
2. Verbinden Sie die zwei USB-Anschlüsse des Kabels mit den beiden
USB-Ports an Ihrem Computers. Der schwarze Stecker liefert das
Signal, der rote Stecker versorgt Ihre Festplatte mit zusätzlicher
Energie.
3. Schalten Sie die Box an, indem Sie den Schalter auf deren Rückseite
verwenden.
Installieren von Windows2000/ME/XP/VISTA/7/8 Betriebssystem.
Es ist kein Treiberprogramm notwendig. Verbinden das USB-Kabel
mit dem PC. Klicken Sie auf "Arbeitsplatz" und die HD erscheint. Ein
Effettuare il partizionamento e la formattazione
Prima di iniziare, collegate il vostro disco esterno al PC (l'hard disk
dovrebbe essere montato nell'alloggiamento esterno correttamente).
Se il vostro HD è già stato formattato, saltate questo capitolo.
Le seguenti istruzioni vi aiuteranno ad effettuare il partizionamento e la
formattazione del vostro HD tramite la Gestione del disco di Windows
XP. Il funzionamento sotto Windows VISTA o WIN7 è simile.
Attenzione! I dati contenuti nel vostro HD potrebbero andare persi. Se
avete dei dati importanti nel vostro HD, consigliamo di effettuate il back
up dei dati prima di cominciare.
1. Cliccare con il tasto destro del mouse sull'icona "Risorse del
computer"; cliccare "Gestione" per avviare il programma di
gestione del disco. Potete anche cliccare 'Avvio' -> Strumenti di
amministrazione -> Gestione Computer.
2. Cliccare "Gestione disco", cliccare con il tasto destro sulla porzione
non allocata del disco e puntare su 'nuova partizione' (l'HD appare
non allocato solo quando non è stata effettuata la partizione. Se
il vostro disco rigido è già stato partizionato e formattato, saltate
questa sezione).
3. Seguire l'installazione di 'Creazione guidata partizione' per effettuare
la partizione e la formattazione del disco.
4. Quando compare questa finestra, scegliere 'Formatta questa
partizione con le seguenti impostazioni' e scegliere 'Eseguire una
formattazione rapida', quindi cliccare il tasto 'Successivo'.
5. Completare la procedura guidata
6.Cliccare su 'Risorse del computer' e verificare che la nuova icona
'Removibile' appare. Il box esterno con il disco rigido è ora pronto
all'uso.
Symbol für Online-Verbindung sollte in der rechten, unteren Ecke
der Statusleiste erscheinen (die neue HD sollte zuerst mit FDISK in
Partitionen eingeteilt werden, dann erscheint das dazugehörige Symbol
und nach der Formatierung kann sie normal verwendet werden).
Partitionieren und Formatieren
Bevor Sie beginnen, verbinden Sie Ihre externe Festplatte mit einem
Computer (die HD sorgfältig mit-dem Gehäuse verbinden). Wenn lhre
HD bereits formatiert wurde, können Sie dieses Kapitel überspringen.
Die folgenden Anweisungen werden lhnen bei der Partitionierung und
Formatierung lhrer HD in der Windows XP-Datenträgerverwaltung
helfen. Der Ablauf unter Windows VISTA oder WlN7 ist ähnlich.
Achtung! Die Daten auf lhrer HD gehen vollständig verloren. Wenn Sie
wichtige Daten auf lhrer HD haben, machen Sie bitte ein Back-Up bevor
Sie beginnen.
1.
Klicken Sie mit der rechten Maustaste auf das Symbol
"Arbeitsplatz", klicken Sie auf "Verwalten" um das Programm zur
Datenträgerverwaltung zu starten. Alternativ können Sie auch über
'Start' -> Systemsteuerung -> Verwaltung -> Computervenıvaltung
gehen.
2. Klicken Sie auf Datenträgerverwaltung", klicken Sie dann mit der
rechten Maustaste auf 'nicht definierter' Datenträger und dann
auf 'Neue Partitionierung'. (Die HD erscheint nur undefiniert, wenn
Ihre HD nicht partitioniert ist. Wenn lhre HD bereits partitioniert und
formatiert wurde, überspringen Sie bitte dieses Kapitel).
3. Folgen Sie den lnstallationsschritten des Partitionierungsassistenten
um zu Partitionieren und zu Formatieren.
4.Wenn dieses Fenster angezeigt wird, wählen Sie bitte 'Diese
Partition mit den folgenden Einstellungen formatieren' und dann
'SchneIIformatierung', klicken Sie dann auf 'Weiter'.
5. Beenden Sie den Assistenten
6. Klicken Sie auf 'Arbeitsplatz' und bestätigen Sie, dass das neue
'Bereit zum Entfernen'-Symbol erscheint. Die externe Festplatte
kann jetzt verwendet werden.

* Your assessment is very important for improving the work of artificial intelligence, which forms the content of this project