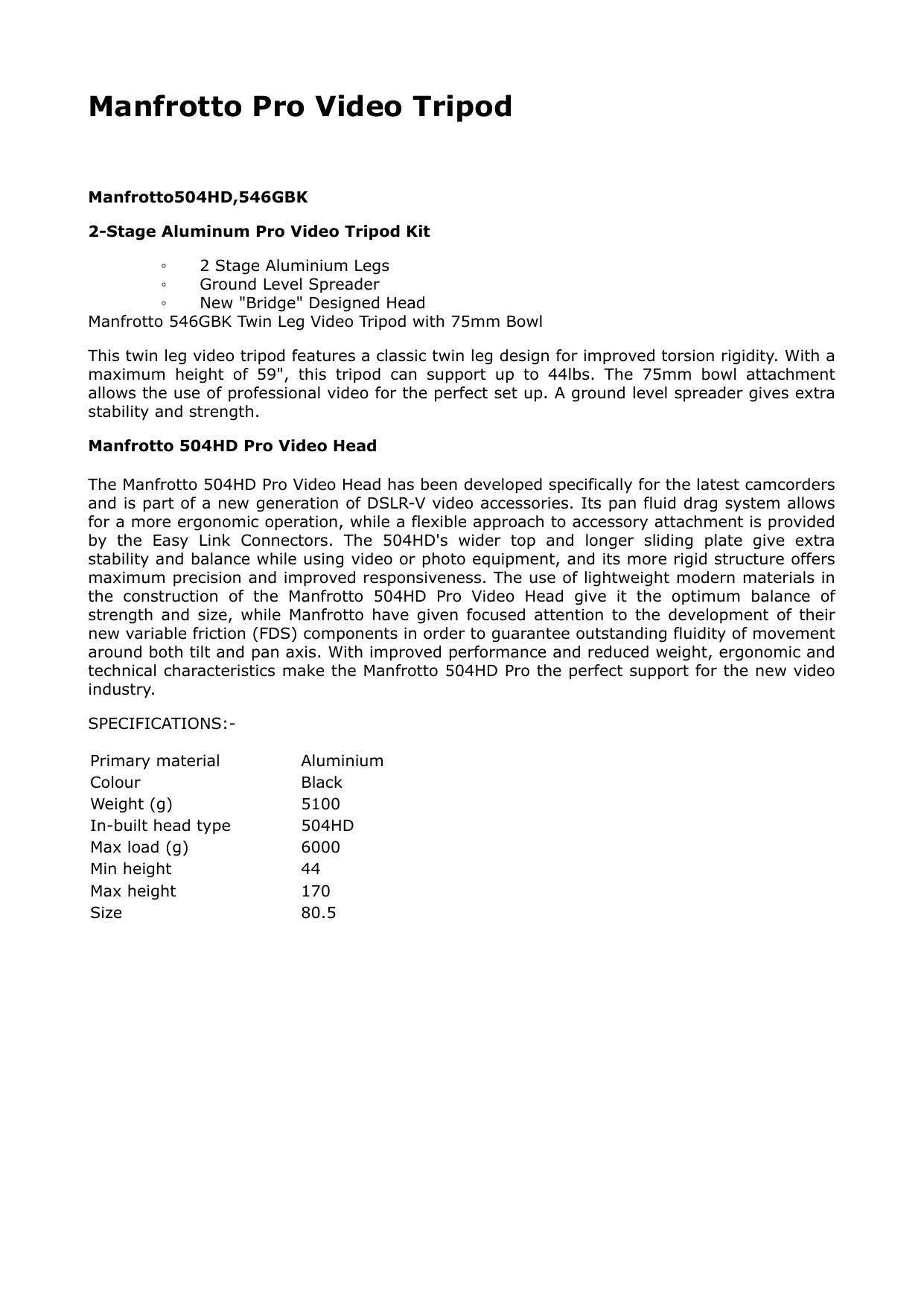 Manfrotto Pro Video Tripod
Manfrotto504HD,546GBK
2-Stage Aluminum Pro Video Tripod Kit
◦
2 Stage Aluminium Legs
◦
Ground Level Spreader
◦
New "Bridge" Designed Head
Manfrotto 546GBK Twin Leg Video Tripod with 75mm Bowl
This twin leg video tripod features a classic twin leg design for improved torsion rigidity. With a
maximum height of 59", this tripod can support up to 44lbs. The 75mm bowl attachment
allows the use of professional video for the perfect set up. A ground level spreader gives extra
stability and strength.
Manfrotto 504HD Pro Video Head
The Manfrotto 504HD Pro Video Head has been developed specifically for the latest camcorders
and is part of a new generation of DSLR-V video accessories. Its pan fluid drag system allows
for a more ergonomic operation, while a flexible approach to accessory attachment is provided
by the Easy Link Connectors. The 504HD's wider top and longer sliding plate give extra
stability and balance while using video or photo equipment, and its more rigid structure offers
maximum precision and improved responsiveness. The use of lightweight modern materials in
the construction of the Manfrotto 504HD Pro Video Head give it the optimum balance of
strength and size, while Manfrotto have given focused attention to the development of their
new variable friction (FDS) components in order to guarantee outstanding fluidity of movement
around both tilt and pan axis. With improved performance and reduced weight, ergonomic and
technical characteristics make the Manfrotto 504HD Pro the perfect support for the new video
industry.
SPECIFICATIONS:Primary material
Colour
Weight (g)
In-built head type
Max load (g)
Min height
Max height
Size
Aluminium
Black
5100
504HD
6000
44
170
80.5
Vinten Pro 6 HDV Tripod
Vinten PRO-6HDVM Protouch Lightweight Tripod System - Includes: Pro-06HDV Pan and Tilt
Head, Pozi-loc 2 Stage Tripod, Mid Level Spreader, & Soft Tripod Bag. 6KG (13.2 lb) Capacity
Ideal for the Sony HVR-Z1E, HVR-V1E or Panasonic AG-HVX200 Cameras.
The continuously variable fluid pan and tilt drag combined with the stepped counterbalance can
handle camera systems up to 6kg (13.2lbs) ensuring that this lightweight head provides
smooth movement and complete camera control.
Designed for the more discerning professional videographer, the Pro-6HDV top entry "sideload"
system allows for rapid camera attachment, adjustment and removal; three levels of
counterbalance, plus a zero position for extremely lightweight camcorders; easy to adjust pan
and tilt drag; positive pan and tilt brakes and an illuminated levelling bubble with low battery
indicator for quick and convenient set up in low light situations.
Pro-6HDV is available as an off the shelf head or incorporated into two lightweight systems
with the Vinten Pozi-loc tripod, providing unrivalled torsional rigidity and positive action
clamping; a branded black fabric Petrol system case and either the standard floor spreader
(PRO-6HDVF) or the new lightweight mid-level spreader (PRO-6HDVM) offering a wide
range of stable footprints and heights for any location or terrain.
• 6kg (13.2lb) maximum capacity
• Stepped counterbalance (3 steps plus zero)
• Top entry "sideload" rapid camera attachment
• Illuminated level bubble with "low battery" indicator
• Lightweight mid-level spreader option for extremely wide range of tripod footprints, ideal for
both tight and open locations
There is a wide range of optional accessories and spare parts available for all Vinten products.
Please refer to the current brochure or call our customer services team for full details.

* Your assessment is very important for improving the work of artificial intelligence, which forms the content of this project