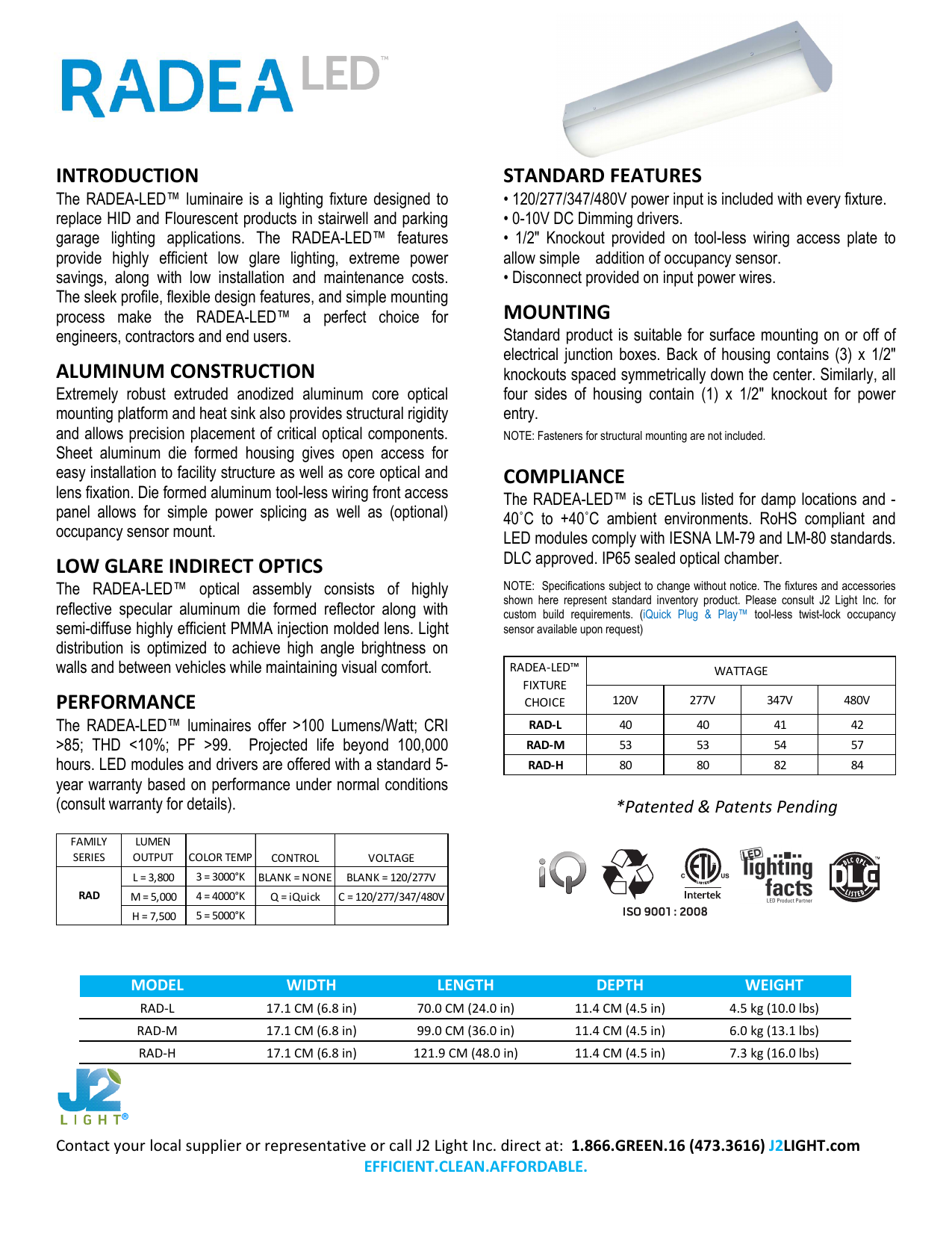 INTRODUCTION STANDARD FEATURES The RADEA-LED™ luminaire is a lighting fixture designed to
replace HID and Flourescent products in stairwell and parking
garage lighting applications. The RADEA-LED™ features
provide highly efficient low glare lighting, extreme power
savings, along with low installation and maintenance costs.
The sleek profile, flexible design features, and simple mounting
process make the RADEA-LED™ a perfect choice for
engineers, contractors and end users.
• 120/277/347/480V power input is included with every fixture.
• 0-10V DC Dimming drivers.
• 1/2" Knockout provided on tool-less wiring access plate to
allow simple addition of occupancy sensor.
• Disconnect provided on input power wires.
ALUMINUM CONSTRUCTION Extremely robust extruded anodized aluminum core optical
mounting platform and heat sink also provides structural rigidity
and allows precision placement of critical optical components.
Sheet aluminum die formed housing gives open access for
easy installation to facility structure as well as core optical and
lens fixation. Die formed aluminum tool-less wiring front access
panel allows for simple power splicing as well as (optional)
occupancy sensor mount.
LOW GLARE INDIRECT OPTICS The RADEA-LED™ optical assembly consists of highly
reflective specular aluminum die formed reflector along with
semi-diffuse highly efficient PMMA injection molded lens. Light
distribution is optimized to achieve high angle brightness on
walls and between vehicles while maintaining visual comfort.
PERFORMANCE MOUNTING Standard product is suitable for surface mounting on or off of
electrical junction boxes. Back of housing contains (3) x 1/2"
knockouts spaced symmetrically down the center. Similarly, all
four sides of housing contain (1) x 1/2" knockout for power
entry.
NOTE: Fasteners for structural mounting are not included.
COMPLIANCE The RADEA-LED™ is cETLus listed for damp locations and 40˚C to +40˚C ambient environments. RoHS compliant and
LED modules comply with IESNA LM-79 and LM-80 standards.
DLC approved. IP65 sealed optical chamber.
NOTE: Specifications subject to change without notice. The fixtures and accessories
shown here represent standard inventory product. Please consult J2 Light Inc. for
custom build requirements. (iQuick Plug & Play™ tool-less twist-lock occupancy
sensor available upon request)
RADEA‐LED™ FIXTURE CHOICE
120V
277V
347V
480V
The RADEA-LED™ luminaires offer >100 Lumens/Watt; CRI
>85; THD <10%; PF >99. Projected life beyond 100,000
hours. LED modules and drivers are offered with a standard 5year warranty based on performance under normal conditions
(consult warranty for details).
FAMILY SERIES
RAD
LUMEN OUTPUT
COLOR TEMP
CONTROL
VOLTAGE
L = 3,800
3 = 3000°K
BLANK = NONE
BLANK = 120/277V
M = 5,000
4 = 4000°K
Q = iQuick
C = 120/277/347/480V
H = 7,500
5 = 5000°K
WATTAGE
RAD‐L
40
40
41
42
RAD‐M
53
53
54
57
RAD‐H
80
80
82
84
*Patented & Patents Pending
MODEL
WIDTH
LENGTH
DEPTH
WEIGHT
RAD‐L
17.1 CM (6.8 in)
70.0 CM (24.0 in)
11.4 CM (4.5 in)
4.5 kg (10.0 lbs)
RAD‐M
17.1 CM (6.8 in)
99.0 CM (36.0 in)
11.4 CM (4.5 in)
6.0 kg (13.1 lbs)
RAD‐H
17.1 CM (6.8 in)
121.9 CM (48.0 in)
11.4 CM (4.5 in)
7.3 kg (16.0 lbs)
Contact your local supplier or representative or call J2 Light Inc. direct at: 1.866.GREEN.16 (473.3616) J2LIGHT.com EFFICIENT.CLEAN.AFFORDABLE. 
* Your assessment is very important for improving the work of artificial intelligence, which forms the content of this project