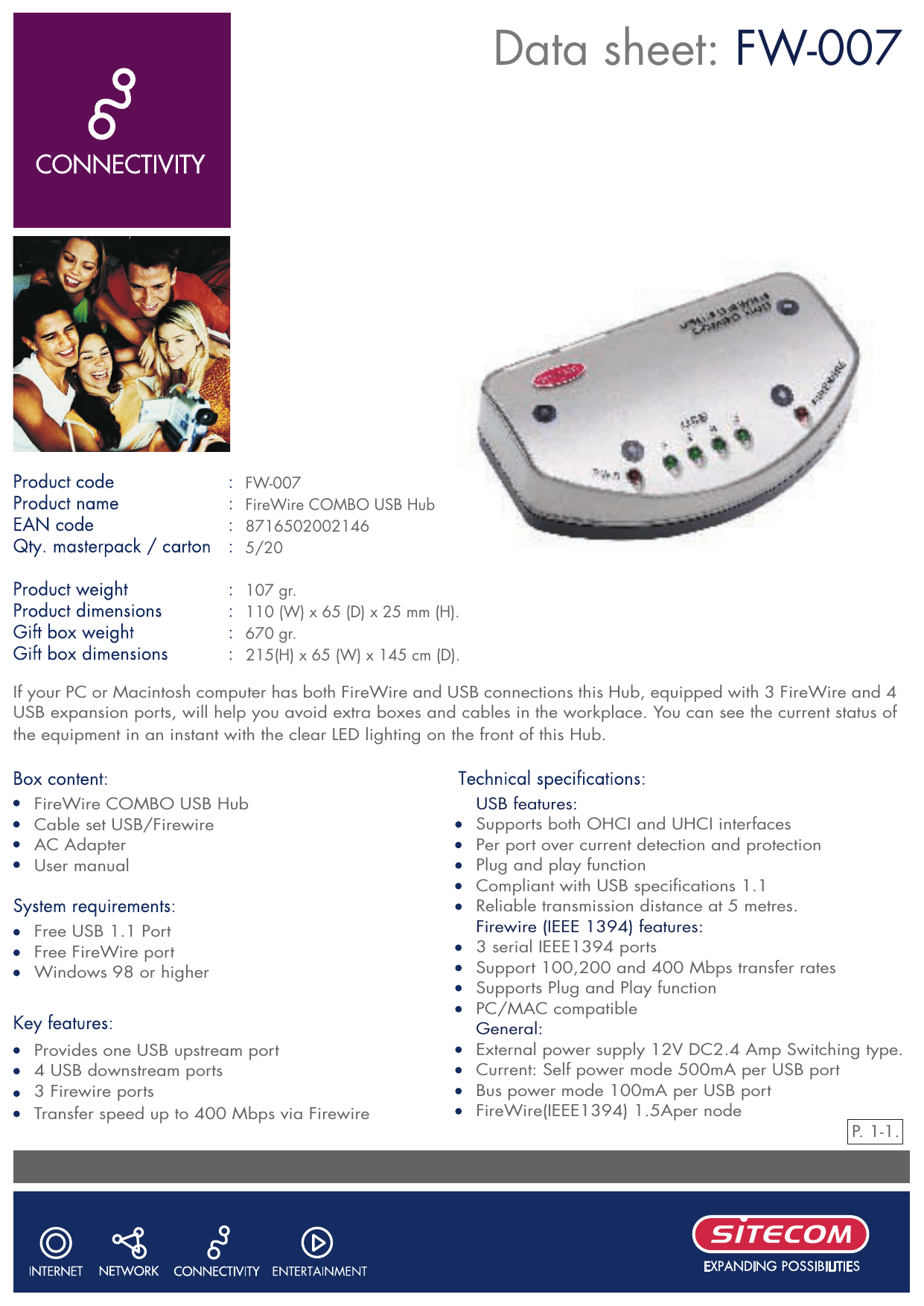 Data sheet: FW-007
FW-007
FireWire COMBO USB Hub
8716502002146
5/20
107 gr.
110 (W) x 65 (D) x 25 mm (H).
670 gr.
215(H) x 65 (W) x 145 cm (D).
If your PC or Macintosh computer has both FireWire and USB connections this Hub, equipped with 3 FireWire and 4
USB expansion ports, will help you avoid extra boxes and cables in the workplace. You can see the current status of
the equipment in an instant with the clear LED lighting on the front of this Hub.
FireWire COMBO USB Hub
Cable set USB/Firewire
AC Adapter
User manual
Free USB 1.1 Port
Free FireWire port
Windows 98 or higher
Provides one USB upstream port
4 USB downstream ports
3 Firewire ports
Transfer speed up to 400 Mbps via Firewire
USB features:
Supports both OHCI and UHCI interfaces
Per port over current detection and protection
Plug and play function
Compliant with USB specifications 1.1
Reliable transmission distance at 5 metres.
Firewire (IEEE 1394) features:
3 serial IEEE1394 ports
Support 100,200 and 400 Mbps transfer rates
Supports Plug and Play function
PC/MAC compatible
General:
External power supply 12V DC2.4 Amp Switching type.
Current: Self power mode 500mA per USB port
Bus power mode 100mA per USB port
FireWire(IEEE1394) 1.5Aper node
P. 1-1.

* Your assessment is very important for improving the work of artificial intelligence, which forms the content of this project