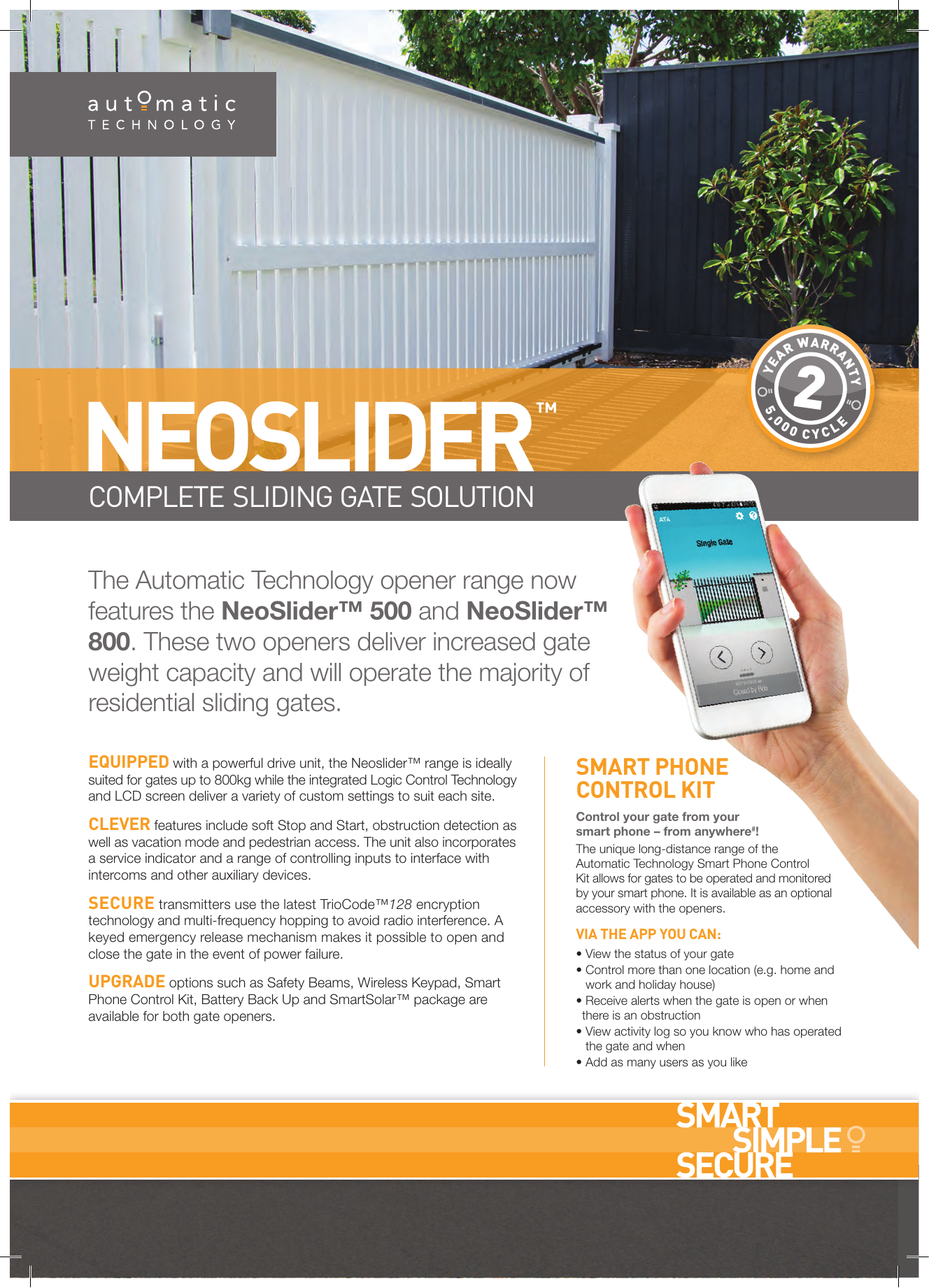 YE
2
00
A
CYCL
COMPLETE SLIDING GATE SOLUTION
The Automatic Technology opener range now
features the NeoSlider™ 500 and NeoSlider™
800. These two openers deliver increased gate
weight capacity and will operate the majority of
residential sliding gates.
EQUIPPED with a powerful drive unit, the Neoslider™ range is ideally
SMART PHONE
CONTROL KIT
CLEVER features include soft Stop and Start, obstruction detection as
Control your gate from your
smart phone – from anywhere#!
The unique long-distance range of the
Automatic Technology Smart Phone Control
Kit allows for gates to be operated and monitored
by your smart phone. It is available as an optional
accessory with the openers.
suited for gates up to 800kg while the integrated Logic Control Technology
and LCD screen deliver a variety of custom settings to suit each site.
well as vacation mode and pedestrian access. The unit also incorporates
a service indicator and a range of controlling inputs to interface with
intercoms and other auxiliary devices.
SECURE transmitters use the latest TrioCode™128 encryption
technology and multi-frequency hopping to avoid radio interference. A
keyed emergency release mechanism makes it possible to open and
close the gate in the event of power failure.
UPGRADE options such as Safety Beams, Wireless Keypad, Smart
Phone Control Kit, Battery Back Up and SmartSolar™ package are
available for both gate openers.
VIA THE APP YOU CAN:
• View the status of your gate
•C
ontrol more than one location (e.g. home and
work and holiday house)
•Receive alerts when the gate is open or when
there is an obstruction
•V
iew activity log so you know who has operated
the gate and when
• Add as many users as you like
Y
5,
0
WA R R
NT
NEOSLIDER
™
AR
E
NEOSLIDER
™
OPTIONAL ACCESSORIES
NEW SMART PHONE CONTROL
Monitor and operate your gate on your smart phone from anywhere#. Control more than one location
from the one app, such as home and holiday house. Receive push notifications about the status of
your gate and garage door, view past activities, set various opening modes, customise user settings
and more in the Automatic Technology App.
We strongly recommend the installation and use of PE Beams when using smart phone control.
Smart Hub # 14879, Gate Transceiver # 14826
NEW BATTERY BACK UP
In the event of power failure, the Battery Back Up system takes over, even if the door or gate is moving
at the time. This clever design also features a self-protection system to prevent damaging discharge
of the battery. The battery backup is compact and fits neatly under the weather resistant housing of
the gate opener.
We recommend the installation of Battery Back Up in areas with less reliable power supply and
bush fire prone areas.
Battery Back Up # 61936
SAFETY BEAMS
Provide added protection for your family and car. Safety beams detect movement or obstruction of
the gate and reverse the gate to avert serious damage being done.
Safety Beams also enable the Auto-Close function, that automatically closes the gate after a
predetermined time. This means if you forget to press your transmitter button when leaving, your
property will not be left unsecured.
3-wire # 61903, 2-wire # 61904, Wireless Safety Beam # 61957
WIRELESS KEYPAD
Great for families and active home owners, the wireless keypad allows secure access without a remote
control or keys. To enter all you need is your PIN. You can program unique codes, set temporary users
and change the code as frequently as you need to.
The wireless Keypad features the TrioCode128™ coding format that provides unparalleled security and
uninterrupted operation as well as a back-lit display making it suitable for use at night and in dark areas.
Wireless Keypad # 61283
SOLAR POWER SYSTEM
Automate gates on unpowered sites, save money and reduce your carbon footprint.
Your gate opener can be powered continually using the sun's energy through our SmartSolar™ kit.
The system's efficient design requires only a single solar panel per opener, and incorporates a battery
system so your opener works at night or during bad weather.
NES-500 SmartSolar™ Kit # 90756, NES-800 SmartSolar™ Kit # 90757
www.automatictechnology.com.au
Phone: 1300 133 944
#Subject to cellular and WiFi connection and availability. Phone not included.
*Please see full warranty terms and conditions on our website. This brochure is not evidence of our warranty. Our warranty is in addition to any consumer
guarantees that may apply under the Australian Consumer Law.
NEOSLIDER 500
™
RESIDENTIAL GATE OPENER
NeoSlider™ 500 is perfect for residential gates up to a weight of 500kg and a width of 6m. This
powerful unit will operate the majority of residential gates in Australia.
NEOSLIDER 800
™
HEAVY DUTY SLIDING GATE OPENER
NeoSlider™ 800 is the heavy duty sliding gate opener for residential gates up to 800kg and a width
of 8m.Typically used for gates with cladding or made of heavy material, it allows homeowners to
have the contemporary look that best suit their design preference.
NEOSLIDER
™
TECHNICAL SPECIFICATIONS
NeoSlider™ 500
NeoSlider™ 800
ATA Part # Single Gate Kit
60196
60198
ATA Part # SmartSolar™ Kit
including single gate opener and
SmartSolar™ accessories
90756
90757
Residential
Residential
Maximum gate weight
Up to 500 kg
Up to 800 kg
Maximum gate width
6m
8m
280 N
700 N
230 – 240 Vac 50Hz
230 – 240 Vac 50Hz
2.8W
2.8W
Travel speed
0.2m / second
0.15m / second
Operating ambient temperature
-20° to +50°C
-20° to +50°C
275mm H x 250mm W x 170mm D
275mm H x 250mm W x 170mm D
IP44
IP44
24 DC Permanent Magnet
24 DC Permanent Magnet
Mechanical
Mechanical
M4-T14
M4-T14
2
2
30 x 4 button Transmitter
30 x 4 button Transmitter
Yes
Yes
2 years / 5,000 cycles
2 years / 5,000 cycles
Kit Type
Driving force
Power Supply Voltage
Standby power
Dimensions (w x h x d)
Weather resistance rating
Motor type
Limit switch type
Type of pinion
No. of Safety Beam Inputs
Transmitter storage capacity
Smart Phone Control Enabled
Warranty*
Alternative Power Solutions
NeoSlider™ control unit
Two transmitters
DIMENSIONS:
For full installation requirements and
instructions, please see the product
manual.
Accessories (Optional)
Safety Beams
KIT CONTENTS:
All types (3-wire, 2-wire, wireless Safety Beams)
Battery Back Up, SmartSolar™
1~
Access Control Options
2m
m
Output available sith Light Relay Module
Sliding Gate Rack
>25
Components
50
>100
Courtesy Light
4 button Transmitters, Keypads, Smart Phone Control Kit
25
©2017 Automatic Technology (Australia) Pty Ltd. All rights reserved. The Automatic Technology logos, "smart simple secure" wordage, feature icons, NeoSlider™ & TrioCode™ are trademarks and registered
trademarks of Automatic Technology (Australia) Pty Ltd. No part of this brochure may be reproduced without prior permission. In an ongoing commitment to product quality we reserve the right to change
specification without notice. E&OE. 6-8 Fiveways Boulevard, Keysborough, Victoria 3173. Ph: +61 (0) 3 9791 0200. Fx: +61 (0) 3 9791 0250. Printed February 2017. 208854 ATA NeoSlider™.
For more information about our product range, please visit us online.

* Your assessment is very important for improving the work of artificial intelligence, which forms the content of this project