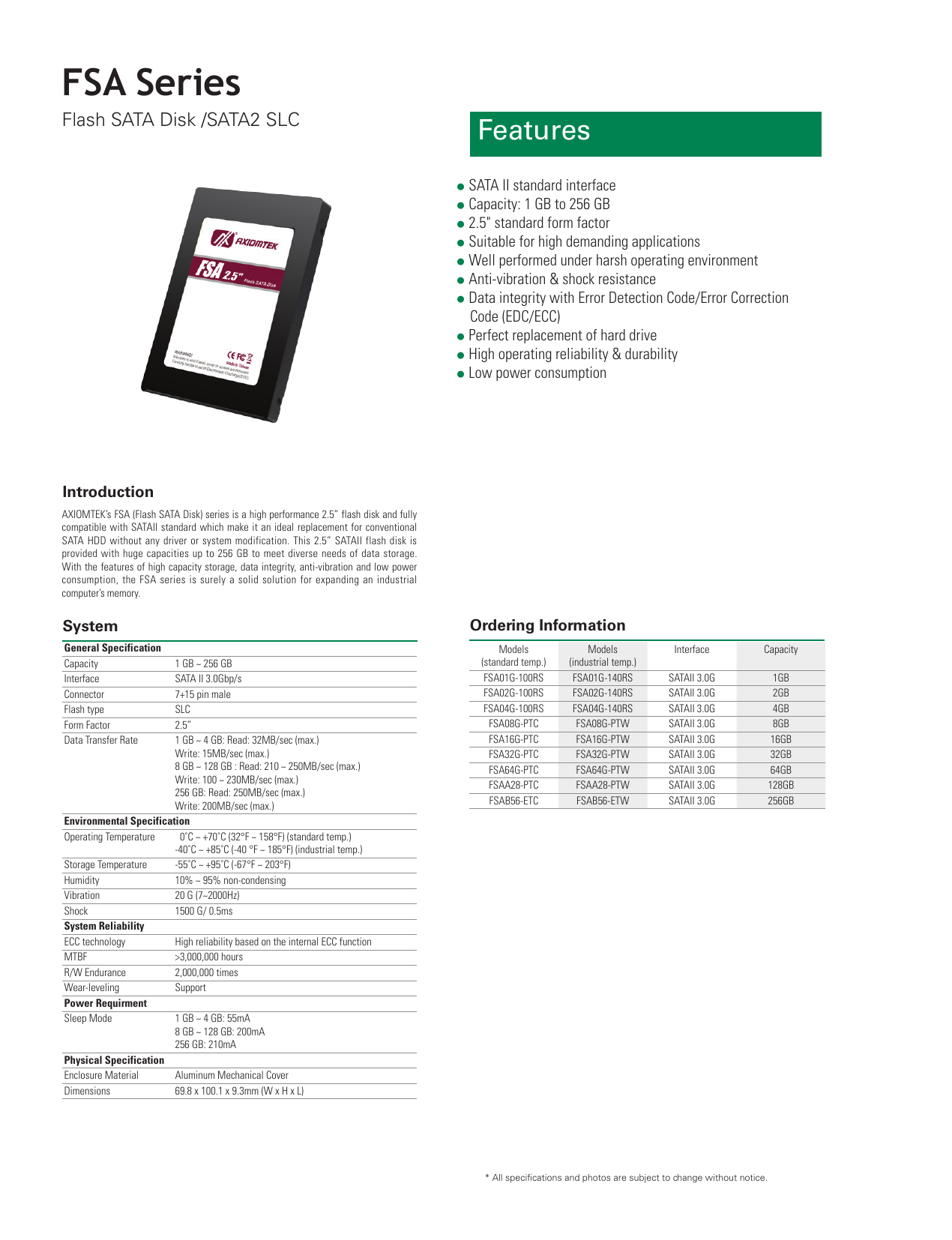 FSA Series
Flash SATA Disk /SATA2 SLC
Features
● SATA II standard interface
● Capacity: 1 GB to 256 GB
● 2.5" standard form factor
● Suitable for high demanding applications
● Well performed under harsh operating environment
● Anti-vibration & shock resistance
● Data integrity with Error Detection Code/Error Correction
Code (EDC/ECC)
● Perfect replacement of hard drive
● High operating reliability & durability
● Low power consumption
Introduction
AXIOMTEK's FSA (Flash SATA Disk) series is a high performance 2.5" flash disk and fully
compatible with SATAII standard which make it an ideal replacement for conventional
SATA HDD without any driver or system modification. This 2.5" SATAII flash disk is
provided with huge capacities up to 256 GB to meet diverse needs of data storage.
With the features of high capacity storage, data integrity, anti-vibration and low power
consumption, the FSA series is surely a solid solution for expanding an industrial
computer's memory.
System
General Specification
Capacity
Interface
Connector
Flash type
Form Factor
Data Transfer Rate
1 GB ~ 256 GB
SATA II 3.0Gbp/s
7+15 pin male
SLC
2.5"
1 GB ~ 4 GB: Read: 32MB/sec (max.)
Write: 15MB/sec (max.)
8 GB ~ 128 GB : Read: 210 ~ 250MB/sec (max.)
Write: 100 ~ 230MB/sec (max.)
256 GB: Read: 250MB/sec (max.)
Write: 200MB/sec (max.)
Environmental Specification
Operating Temperature
0˚C ~ +70˚C (32°F ~ 158°F) (standard temp.)
-40˚C ~ +85˚C (-40 °F ~ 185°F) (industrial temp.)
Storage Temperature
-55˚C ~ +95˚C (-67°F ~ 203°F)
Humidity
10% ~ 95% non-condensing
Vibration
20 G (7~2000Hz)
Shock
1500 G/ 0.5ms
System Reliability
ECC technology
High reliability based on the internal ECC function
MTBF
>3,000,000 hours
R/W Endurance
2,000,000 times
Wear-leveling
Support
Power Requirment
Sleep Mode
1 GB ~ 4 GB: 55mA
8 GB ~ 128 GB: 200mA
256 GB: 210mA
Physical Specification
Enclosure Material
Aluminum Mechanical Cover
Dimensions
69.8 x 100.1 x 9.3mm (W x H x L)
Ordering Information
Models
(standard temp.)
FSA01G-100RS
FSA02G-100RS
FSA04G-100RS
FSA08G-PTC
FSA16G-PTC
FSA32G-PTC
FSA64G-PTC
FSAA28-PTC
FSAB56-ETC
Models
(industrial temp.)
FSA01G-140RS
FSA02G-140RS
FSA04G-140RS
FSA08G-PTW
FSA16G-PTW
FSA32G-PTW
FSA64G-PTW
FSAA28-PTW
FSAB56-ETW
Interface
Capacity
SATAII 3.0G
SATAII 3.0G
SATAII 3.0G
SATAII 3.0G
SATAII 3.0G
SATAII 3.0G
SATAII 3.0G
SATAII 3.0G
SATAII 3.0G
1GB
2GB
4GB
8GB
16GB
32GB
64GB
128GB
256GB
* All specifications and photos are subject to change without notice.

* Your assessment is very important for improving the work of artificial intelligence, which forms the content of this project