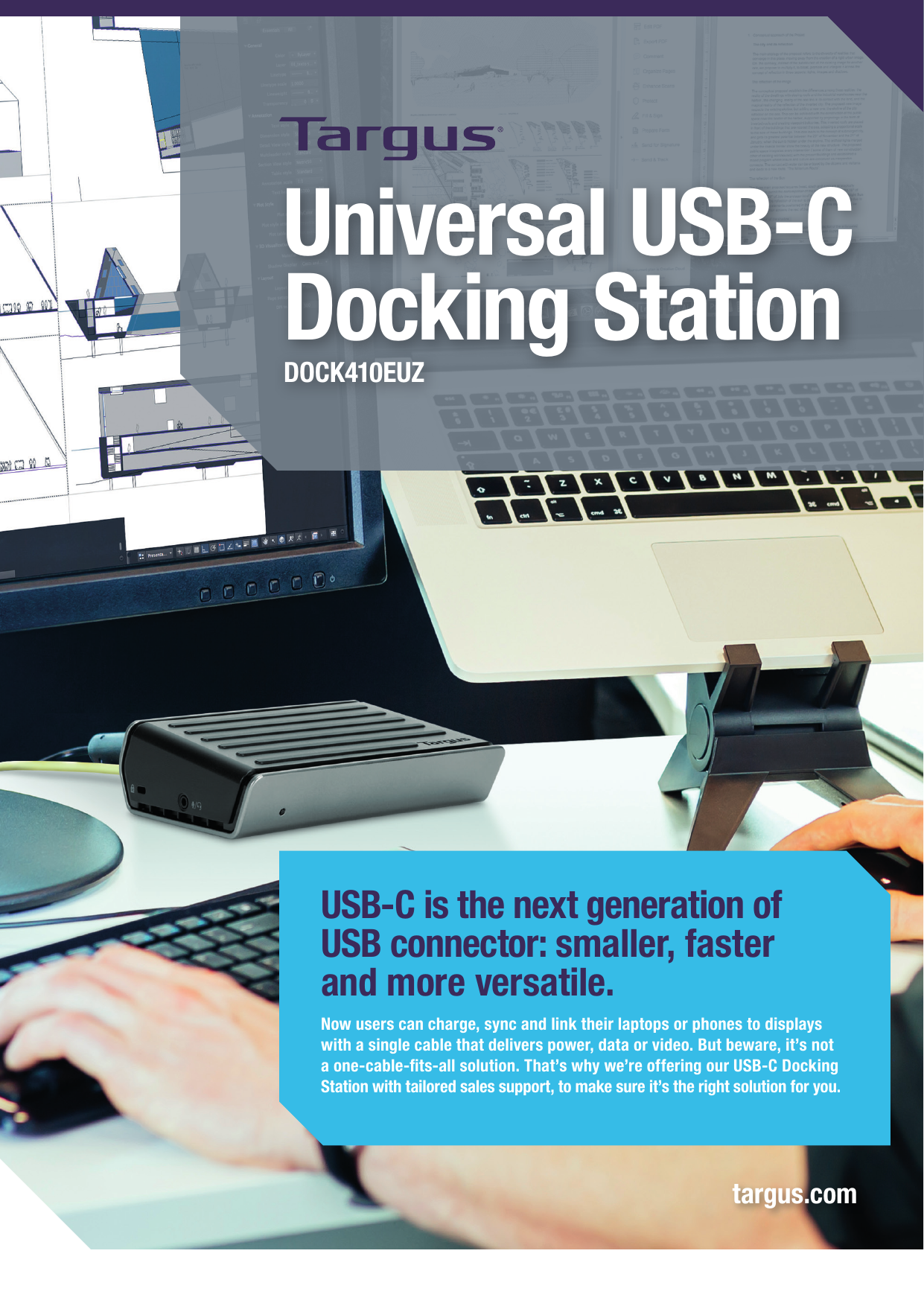 Universal USB-C
Docking Station
DOCK410EUZ
USB-C is the next generation of
USB connector: smaller, faster
and more versatile.
Now users can charge, sync and link their laptops or phones to displays
with a single cable that delivers power, data or video. But beware, it's not
a one-cable-fits-all solution. That's why we're offering our USB-C Docking
Station with tailored sales support, to make sure it's the right solution for you.
targus.com
LET'S TALK
TARGUS
USB-C: NOT JUST ANOTHER USB PORT
It's small and reversible
No more frustrating second attempts at
plugging in your USB memory stick. This
smaller, reversible connector also allows
manufacturers to make smaller devices.
It's powerful
Because it delivers up to 100W at 20V it can
power a huge range of devices, from phones
and tablets to 4K monitors and printers.
POWER & CONNECT
Connect to peripherals and stay charged up
simultaneously over a simple USB connection
using the Targus USB-C Docking Station.
It's backwards compatible
Using the right adapters, USB-C is compatible
with all previous USB data speeds and ports.
It's super speedy
Enjoy data transfer rates of 5Gbps (USB 3.1
Gen 1 protocol) or 10Gbps (USB 3.1 Gen 2).
HIGH DEFINITION
It's 4K video friendly
It can already replace HDMI or DisplayPort
cables (adapters may be required). And it
will charge your laptop at the same time, all
through one cable.
BRAND AGNOSTIC
FEATURES
• Universal Dock for USB-C devices, with laptop charging
• Supports single screen at 4K resolution 3840 x 2160
• Provided with outstanding sales support to ensure it's
the right solution for you
• Choice of video display ports: DisplayPort, HDMI, VGA,
Thunderbolt, DVI-D
• 3x USB 3.0 SuperSpeed ports for peripherals including
a powered port for fast device charging
• 1x Gigabit Ethernet port for wired internet access at
ultra-fast speeds
• Audio in/out for headphones and mics plus integrated
security lock slot
•Industry leading 3-year warranty
Support crisp, clear images at 4K ultra-high
definition over a choice of video ports.
This USB-C Docking Station
supports multiple device
platforms and peripherals
to turn your desk into a
powerful workstation.
Whilst this Dock supports dual
screen displays, some laptop
hardware may not be configured
with Multi Streaming Transport (MST), which supports
dual screen displays. Due to the complexities and
variability of USB-C configuration on devices such as
laptops, this USB-C Dock is provided on a Project Only
basis, meaning that our pre-sales technical team will
ensure device compatibility prior to any sale.
targus.com
Talk to Targus to find out more.

* Your assessment is very important for improving the work of artificial intelligence, which forms the content of this project