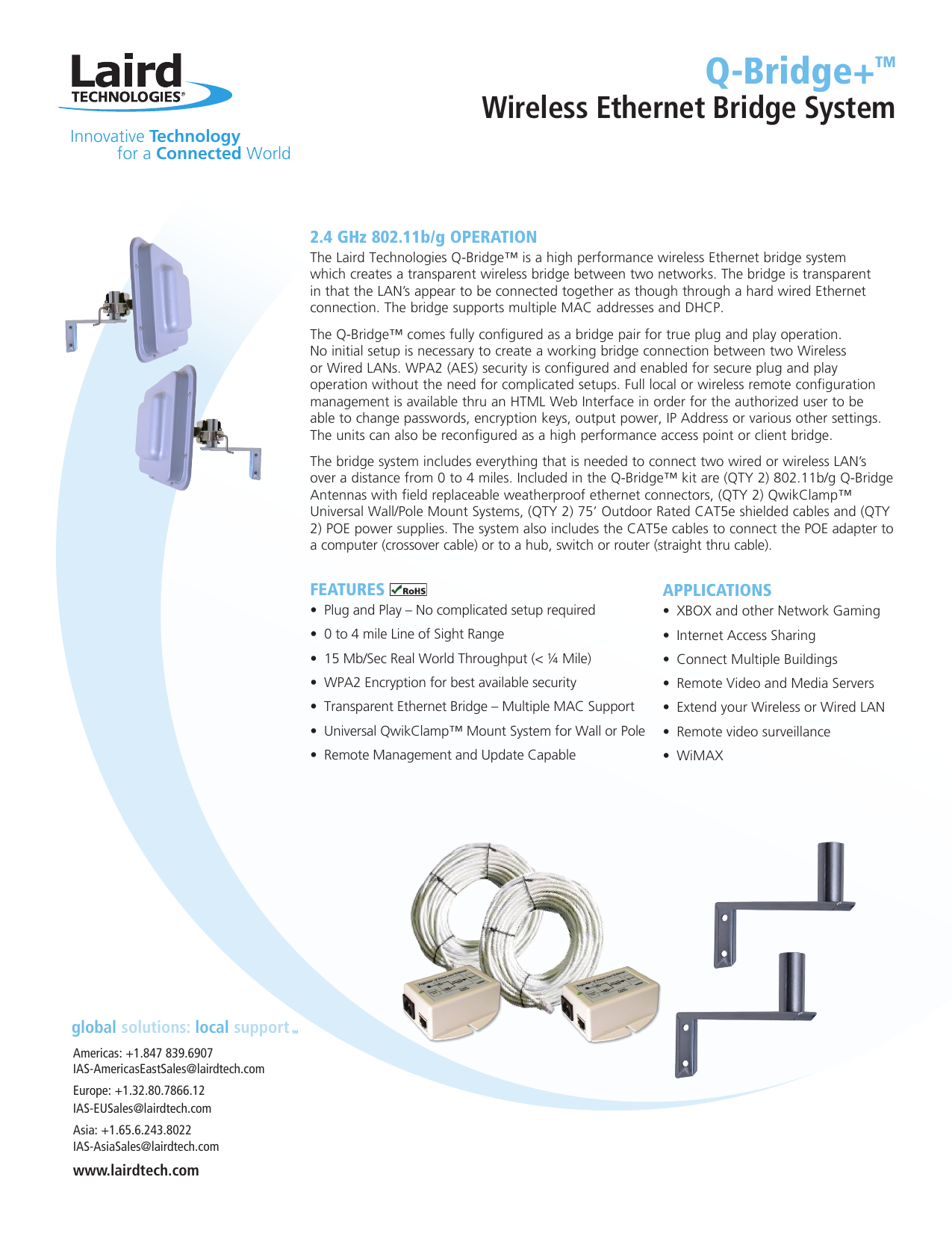 Q-Bridge+TM
Wireless Ethernet Bridge System
Innovative Technology
for a Connected World
2.4 GHz 802.11b/g OPERATION
The Laird Technologies Q-Bridge™ is a high performance wireless Ethernet bridge system
which creates a transparent wireless bridge between two networks. The bridge is transparent
in that the LAN's appear to be connected together as though through a hard wired Ethernet
connection. The bridge supports multiple MAC addresses and DHCP.
The Q-Bridge™ comes fully configured as a bridge pair for true plug and play operation.
No initial setup is necessary to create a working bridge connection between two Wireless
or Wired LANs. WPA2 (AES) security is configured and enabled for secure plug and play
operation without the need for complicated setups. Full local or wireless remote configuration
management is available thru an HTML Web Interface in order for the authorized user to be
able to change passwords, encryption keys, output power, IP Address or various other settings.
The units can also be reconfigured as a high performance access point or client bridge.
The bridge system includes everything that is needed to connect two wired or wireless LAN's
over a distance from 0 to 4 miles. Included in the Q-Bridge™ kit are (QTY 2) 802.11b/g Q-Bridge
Antennas with field replaceable weatherproof ethernet connectors, (QTY 2) QwikClamp™
Universal Wall/Pole Mount Systems, (QTY 2) 75' Outdoor Rated CAT5e shielded cables and (QTY
2) POE power supplies. The system also includes the CAT5e cables to connect the POE adapter to
a computer (crossover cable) or to a hub, switch or router (straight thru cable).
global solutions: local support
Americas: +1.847 839.6907
IAS-AmericasEastSales@lairdtech.com
Europe: +1.32.80.7866.12
IAS-EUSales@lairdtech.com
Asia: +1.65.6.243.8022
IAS-AsiaSales@lairdtech.com
www.lairdtech.com
TM
FEATURES
APPLICATIONS
• Plug and Play – No complicated setup required
• XBOX and other Network Gaming
• 0 to 4 mile Line of Sight Range
• Internet Access Sharing
• 15 Mb/Sec Real World Throughput (< ¼ Mile)
• Connect Multiple Buildings
• WPA2 Encryption for best available security
• Remote Video and Media Servers
• Transparent Ethernet Bridge – Multiple MAC Support
• Extend your Wireless or Wired LAN
• Universal QwikClamp™ Mount System for Wall or Pole
• Remote video surveillance
• Remote Management and Update Capable
• WiMAX
Q-Bridge+TM
Wireless Ethernet Bridge System
Innovative Technology
for a Connected World
0
-15
General Specifications
15
-30
30
-1
-45
45
-3
-60
802.11b/g (Wlan), 802.3(LAN)
Modulation
802.11b DSSS (DPBSK, DQPSK, CCK,)
802.11g OFDM (64QAM,16QAM,QPSK,BPSK)
Certifications
FCC / CE
60
-6
-10
-75
75
-25
-90
90
105
120
h
v
135
2400.0 MHz
-150
150
-165
Standards
165
180
Antenna
Pattern
Antenna Pattern
Radio Specifications
Operating Frequency
2400 to 2497 MHz
Channels
USA/Canada 11, Japan 14, Europe 13
RF Output Power
(software selectable)
250 mW Max 802.11b 100 mW Max 802.11g
Maximum EIRP
+38 dBm
Receive Sensitivity @ 11Mbps
-84 dBm
Security
64/128bit WEP, WPA (TKIP/AES), WPA2
Remote Config (Web Based)
By IP Address; thru Wireless or Ethernet
Operating Power
60 mA
Antenna Specifications
Q-Bridge+ Typical Thruput vs Distance
Line of Site = No Obstructions Between Antennas
Antenna Gain
15 dBi
Antenna Beamwidth (V & H)
30 deg
Antenna Front to Back
>21 dB
Polarization
Horizontal or Vertical
Mb/sec Thruput
POE Specification
Power Over Ethernet Injector
(CE Approved)
INPUT: 90 – 264 VAC @ 47 – 63 Hz
OUTPUT: 48 VDC @ .35 A
Mechanical Specifications
Miles
Color
White
Dimensions (L x W x H)
10.75 x 10.75 x 2.6 in (267 x 267 x 67 mm)
Weight
15 lb (6.8 kg) Shipping Weight
Ethernet Connector
Field Replaceable Waterproof RJ45
Cable (75' long)
CAT5E Outdoor Rated Shielded Cable
Mount
Wall or Pole Mount
Environmental Specifications
Operating Temperature
-30 to 158°F (-34 to 70°C)
Humidity
0 to 100% RH
Wind Loading (125 MPH survivability)
100 MPH / 28 lbs; 125 MPH / 43 lbs
SYSTEM ORDERING
Q-Bridge+ 2.4 GHz 0-4 Mile 15 Mb/sec Wireless Ethernet Bridge System
NOTES
• All shipments F.O.B. Schaumburg, IL 60173
ANT-DS-Q-BRIDGE 0611
Any information furnished by Laird Technologies, Inc. and its agents is believed to be accurate and reliable. All specifications are subject to change without notice. Responsibility for
the use and application of Laird Technologies materials rests with the end user, since Laird Technologies and its agents cannot be aware of all potential uses. Laird Technologies
makes no warranties as to the fitness, merchantability or suitability of any Laird Technologies materials or products for any specific or general uses. Laird Technologies shall not be
liable for incidental or consequential damages of any kind. All Laird Technologies products are sold pursuant to the Laird Technologies' Terms and Conditions of sale in effect from
time to time, a copy of which will be furnished upon request. © Copyright 2011 Laird Technologies, Inc. All Rights Reserved. Laird, Laird Technologies, the Laird Technologies Logo,
and other marks are trade marks or registered trade marks of Laird Technologies, Inc. or an affiliate company thereof. Other product or service names may be the property of third
parties. Nothing herein provides a license under any Laird Technologies or any third party intellectual property rights.

* Your assessment is very important for improving the work of artificial intelligence, which forms the content of this project