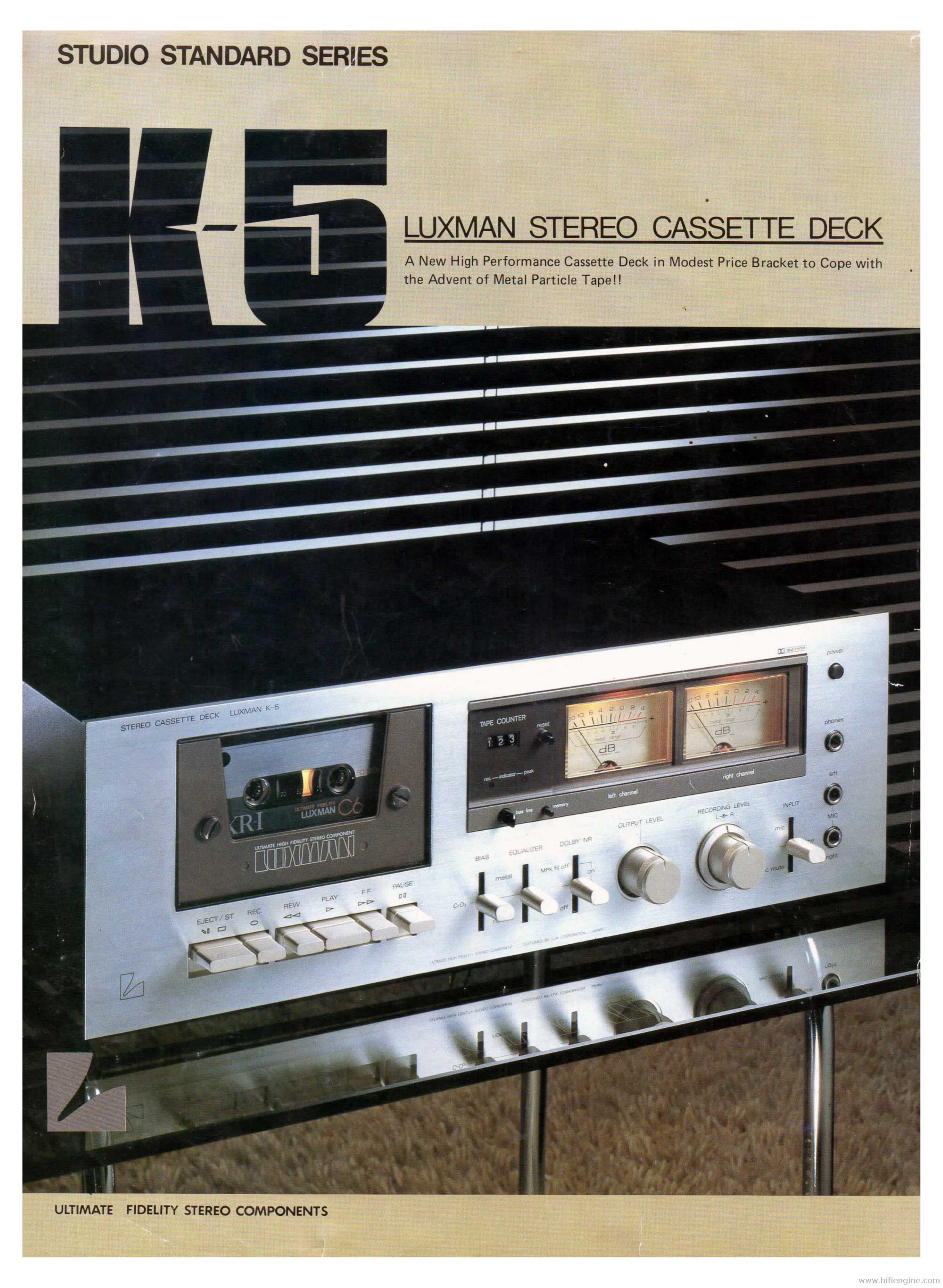 STUDIO STANDARD SERIES
LUXMAN STEREO CASSETTE DECK
A New High Performance Cassette Deck in Modest Price Bracket to Cope with
the Advent of Metal Particle Tape!!
ULTIMATE FIDELITY STEREO COMPONENTS
[FEATURES]
Use of Metal Particle Tape
A total revolution is being brought about in
magnetic tapes with the advent of metal particle
tapes which provide unprecedented high
recording level exceeding 4dB as compared
with existing CrO2 tapes. Now, true high
fidelity reproduction is possible with extended
dynamic range and superb S/N ratio. To handle
this epoch-making tape, exclusive positions
are provided for corresponding bias and
equalization, and a bias fine-tune adjustment
is effective in obtaining the optimum bias
for this new type of tape.
High Quality Sendust Heads
Excellent frequency response and wear
characteristics are ensured through the use of
a pure Sendust alloy record/playback head
capable of handling even the latest fine
metal tape. Also, we use an exclusive large
erase head of Sendust alloy for perfect
erasure of metal particle tape.
Rugged Tape Transport System
A highly dependable mechanical system
ensures stable tape transport, and a high
quality bridge motor drives the reel and
capstan smoothly. All the control knobs and
buttons are logically placed for the easiest
and most convenient operation.
Other Features
Dolby* noise reduction system is incorporated
to remove unpleasant tape hiss without
impairing recording signals, and the Rec.
mute position is useful in cutting off
unwanted signals such as FM commercials, etc.
from your precious recordings. The memory-
rewind system is convenient when you want
to start playback at a desired portion or when
playback is to be repeated. An automatic
stop system is employed for all modes to
remove tension applied to tape at the end of
operation. Easy-to-read peak meters make it
possible to set up an appropriate recording
level even for metal particle tape. The recording
input selector is effective in improving S/N
ratio when line input is used for recording.
Bias fine control makes it possible to obtain
the optimum bias amount for the cassette tape
you use.
Counter Reset Button VU Meter Headphone Jack
LED Peak Indicator AC Power Switch
Tape Counter
Recording Indicator
Cassette Lid
SETTLE Ист [LAA E.
Recording Input
Level Control
Eject & Stop Button
Record Button Output Level Control
Dolby * NR Switch
Rewind Button Mic Input Jack
Counter Memory Button
Flay Button Recording Selector
Equalizer Selector Switch
Fast Forward Button Bias Fine Adjuster
Pause Button Bias Selector Switch
Included Accessories
Mic Input Jacks, Headphone Jacks, 3-Position-
Bias/Eq. Selectors, bias Fine-Tune Adjuster,
Memory Counter, Rec. & Peak Indicators, Dolby-
MPX Filter, VU Meter, REC. MUTE function etc.
Luxman Cassette Tape
Gisde for Recording
"Side "8° Proset Playback SKEW Adusiment Screw
[Never tough)
LUX s Exclusive Cassette Tape has the following features:
(1) SKEW adjustment facility to obtain the optimum azimuth and tilt position.
(2) Wide pad and new holding mechanism to provide constant pressure for stable frequency
response.
(3) 4-guideroller system to prevent torque loss, offering constant backtension.
(4) High precision roller with reflection plate to enable to read realtime with our decks Models
5K50 and K-12.
For complete information, ask your nearest LUX dealer.
SPECIFICATIONS
I Heads:
Drive Motor:
- Tape Drive:
2 heads (sendust) Record/Playback Head x 1, Erase Head x 1
Bridge motor -
Single capstan
no more than 0.06% (W.R.M.S.)
better than 58dB (metal tape, Dolby * off)
better than 65dB (metal tape, Dolby on)
better than 56dB (CrO2 tape, DOLBY off)
better than 63dB (CrO2 tape, DOLBY on)
better than 50dB (LH tape, Dolby off)
better than 60dB (LH tape, Dolby on)
Wow and Flutter:
Signal-to-Noise Ratio:
30 — 20k Hz Metal tape
30 — 18kHz CrO» tape
30 — 16kHz LH tape
Frequency Response:
Overall Distortion: no more than 1.5% (LH tape, 1kHz, OdB)
Real Analyzed Distortion: no more than 0.7% (LH tape, 1kHz, OdB)
Input Sensitivity: line in; 100 mV
mic; 0.45 mV (recommended microphone impedance;
600 ~10K ohms)
DIN; 2 mV/1K ohms )
Output Level: 580 mV a
_Headphone Output: 1 mW (8 ohms) _
Power Consumption: 20W
Dimensions: 438(W) x 264(D) x 150(H)mm
(17-1/4" x 10-3/8" x 5-29/32"")
_ (including Rear Protrusions, Legs & Knobs)
Weight: Net 5.8 kgs (15.4 165.) a
" Gross 6.8 kgs (18.7 Ibs.)
Specifications and appearance design subject to change without notice.
* Dolby is the trade mark of Dolby Laboratories, Inc.

* Your assessment is very important for improving the work of artificial intelligence, which forms the content of this project