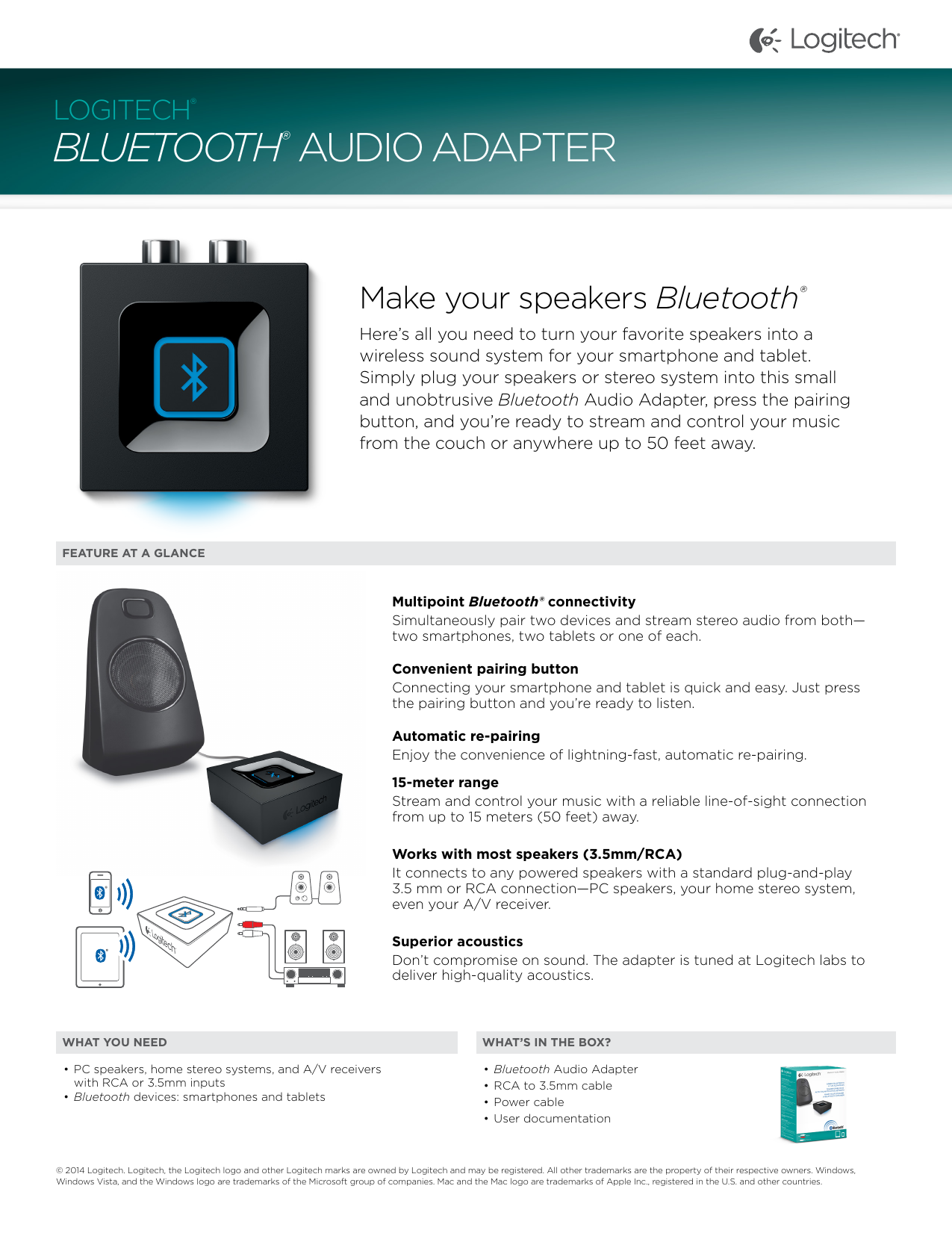 LOGITECH®
BLUETOOTH® AUDIO ADAPTER
Make your speakers Bluetooth®
Here's all you need to turn your favorite speakers into a
wireless sound system for your smartphone and tablet.
Simply plug your speakers or stereo system into this small
and unobtrusive Bluetooth Audio Adapter, press the pairing
button, and you're ready to stream and control your music
from the couch or anywhere up to 50 feet away.
FEATURE AT A GLANCE
Multipoint Bluetooth® connectivity
Simultaneously pair two devices and stream stereo audio from both—
two smartphones, two tablets or one of each.
Convenient pairing button
Connecting your smartphone and tablet is quick and easy. Just press
the pairing button and you're ready to listen.
Automatic re-pairing
Enjoy the convenience of lightning-fast, automatic re-pairing.
15-meter range
Stream and control your music with a reliable line-of-sight connection
from up to 15 meters (50 feet) away.
Works with most speakers (3.5mm/RCA)
It connects to any powered speakers with a standard plug-and-play
3.5 mm or RCA connection—PC speakers, your home stereo system,
even your A/V receiver.
Superior acoustics
Don't compromise on sound. The adapter is tuned at Logitech labs to
deliver high-quality acoustics.
WHAT YOU NEED
WHAT'S IN THE BOX?
• PC speakers, home stereo systems, and A/V receivers
with RCA or 3.5mm inputs
• Bluetooth devices: smartphones and tablets
• Bluetooth Audio Adapter
• RCA to 3.5mm cable
• Power cable
• User documentation
© 2014 Logitech. Logitech, the Logitech logo and other Logitech marks are owned by Logitech and may be registered. All other trademarks are the property of their respective owners. Windows,
Windows Vista, and the Windows logo are trademarks of the Microsoft group of companies. Mac and the Mac logo are trademarks of Apple Inc., registered in the U.S. and other countries.

* Your assessment is very important for improving the work of artificial intelligence, which forms the content of this project