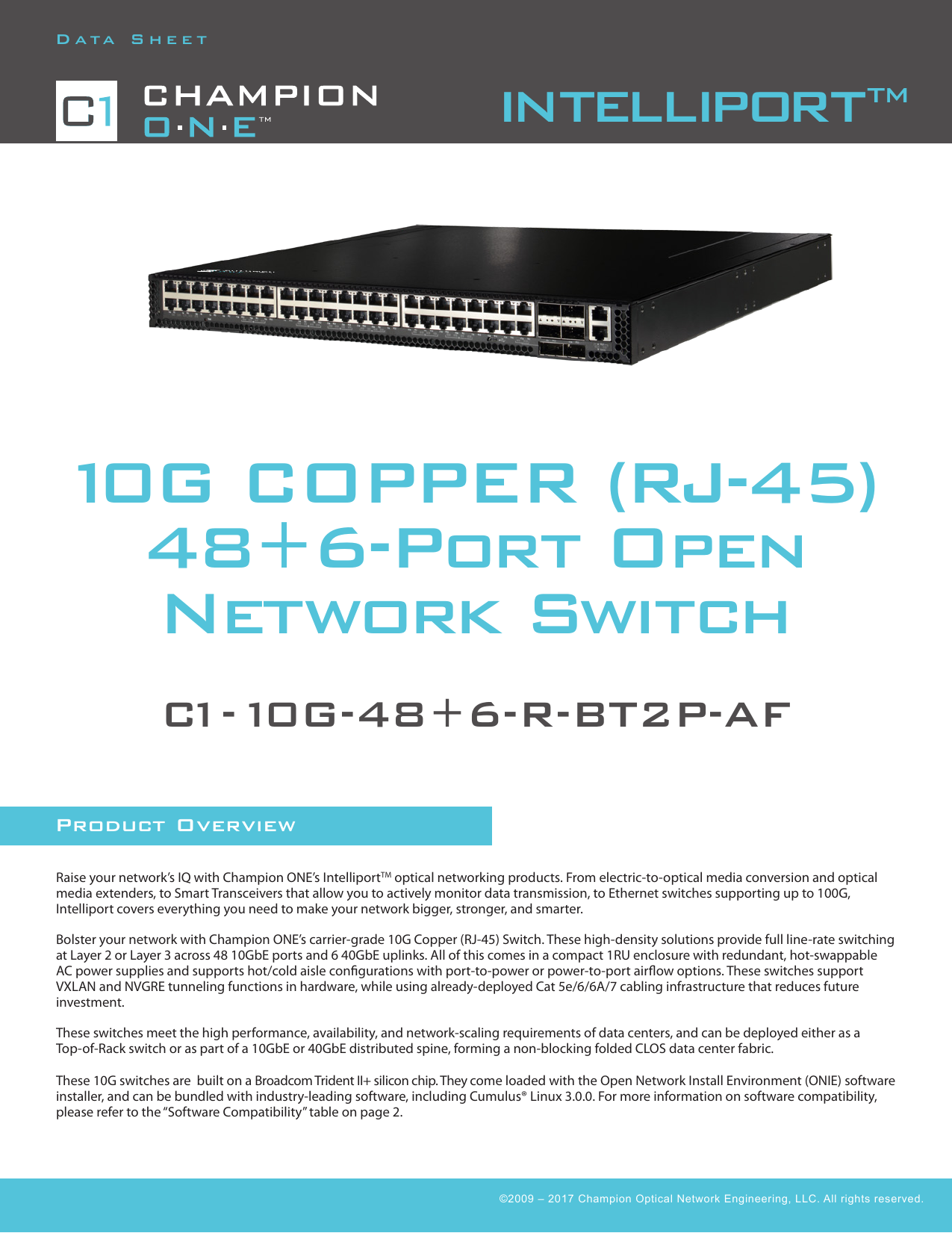 D a ta S h e e t
INTELLIPORTtm
10G COPPER (RJ-45)
48+6-Port Open
Network Switch
C1-10G-48+6-R-BT2P-AF
Product Overview
Raise your network's IQ with Champion ONE's IntelliportTM optical networking products. From electric-to-optical media conversion and optical
media extenders, to Smart Transceivers that allow you to actively monitor data transmission, to Ethernet switches supporting up to 100G,
Intelliport covers everything you need to make your network bigger, stronger, and smarter.
Bolster your network with Champion ONE's carrier-grade 10G Copper (RJ-45) Switch. These high-density solutions provide full line-rate switching
at Layer 2 or Layer 3 across 48 10GbE ports and 6 40GbE uplinks. All of this comes in a compact 1RU enclosure with redundant, hot-swappable
AC power supplies and supports hot/cold aisle configurations with port-to-power or power-to-port airflow options. These switches support
VXLAN and NVGRE tunneling functions in hardware, while using already-deployed Cat 5e/6/6A/7 cabling infrastructure that reduces future
investment.
These switches meet the high performance, availability, and network-scaling requirements of data centers, and can be deployed either as a
Top-of-Rack switch or as part of a 10GbE or 40GbE distributed spine, forming a non-blocking folded CLOS data center fabric.
These 10G switches are built on a Broadcom Trident II+ silicon chip. They come loaded with the Open Network Install Environment (ONIE) software
installer, and can be bundled with industry-leading software, including Cumulus® Linux 3.0.0. For more information on software compatibility,
please refer to the "Software Compatibility" table on page 2.
©2009 – 2017 Champion Optical Network Engineering, LLC. All rights reserved.
D a ta S h e e t
Key Features Summary
◊ Cost-effective, bare-metal switch infrastructure for data center fabric.
◊ All ports on front; PSUs, hot swappable 4+1 fan tray on rear.
◊ (48) RJ-45 Copper switch ports, supporting 10GBASE-T, 1000BASE-T, and
100BASE-TX Ethernet on Cat 6, Cat 6A, and Cat 7 twisted-pair cables
(Cat 5e UTP cables support 1000BASE-T and 100BASE-TX only)
◊ Hot-swappable, load-sharing, redundant AC PSUs
◊ (6) 40 QSFP switch ports, supporting 40 GbE (DAC, 40GBASE-SR4/LR4) or
4x10 GbE (DAC or fiber breakout cable).
◊ Hardware switch pre-loaded with Open Network Install
Environment (ONIE) for automated loading of compatible
independent SwitchOS software
◊ Management: Ethernet and console RJ-45 ports; USB storage port.
◊ Full line-rate Layer 2 or Layer 3 forwarding of 720 Gbps
◊ For compatible software options and versions, please refer to the
"Software Compatibility" table below.
◊ VXLAN and NVGRE tunneling support in hardware for network
◊ Supports hot/cold aisle with port-to-power and power-to-port airflow SKUs.
Technical Overview
Port Configuration
(Front of Switch)
Switch Silicon and
Memory
(48) RJ-45 copper ports supporting
100Mbps, 1GbE, or 10GbE
(6) 4x10GbE/40GbE QSFP ports
Management ports on front panel:
(1) RJ-45 serial console
(1) RJ-45 100/1000BASE-T
management
(1) USB type A storage port
Silicon: Broadcom Trident II+ 720
Gbps
CPU: Intel Atom C2538 quad-core
2.4 GHz x86 processor
Memory: 8 GB SO-DIMM DDR3
SDRAM with EEC
16 MB SPI
8 GB NAND Flash
Power Supplies and
Fan Tray (Rear)
Redundant, load-sharing power
supplies, AC or -48VDC
AC: 90 to 264 VAC at 50-60Hz, max
6.0A at 100/120 VAC
Up to 93% PSU efficiency
Hot-swappable fan tray with 4+1
redundant fans
Max Power Consumption: 348 W
Environmental
Operating Temp. Range: 0 to 40° C
Storage Temp. Range: -40 to 70° C
Humidity Range: 5% to 95%
Dimensions
Standard 19" Rack (WxDxH:
44.25cm x 47.3cm x 4.39cm); 8.5kg
Warranty
All feature a limited 3-year warranty
Performance Specifications
C1 PN
1
C1-10G-48+6-R-BT2P-AF
Switching
Capacity
(Gbps)
Forwarding
Rate (Bpps)
VLAN
IDs
MAC
Address
Table Size
Jumbo
Frames
(bytes)
720
1.0
4K
320 K
9216
L3 Routes
Packet Buffer Size
(MB)
Latency
(RFC2544)
(L2/L3,
cut thru, full
line rate)
ECMP
Group
(Bytes)
VRF
(bytes)
MPLS
Tunneling
MPLS
Label
Lookup
IPv4 64K
IPv6 20K
12.0
(shared buffer pool)
720 ns
4096
4096
16 K
32 K
Software Compatibility
C1-10G-48+6-R-BT2P-AF
Cumulus
Pica8
Big Switch
Linux® 3.0.0
Beta (available 08/2017)
Developing
Additional Options
Part Number Scheme:
2
C1-10G-48+6-R-BT2P-Az
Z
Airflow Option
F
Port-to-Power Airflow
B
Power-to-Port Airflow
©2009 – 2017 Champion Optical Network Engineering, LLC. All rights reserved.
D a ta S h e e t
Supported Optics
Champion ONE's 10G switch supports the following standards for transceivers, which include Champion ONE's own PassportTM line of universal
transceivers.
SFP+/SFP Transceivers
QSFP+ Transceivers
Standard
Max. Rated
Distances
Passport Part #*
10GBASE-T
30m
10GSFP+E-T
100m
1000SFPT
1000SFPTR2
MR-SFPGT(-H)
1000BASE-T
100BASE-TX
Max. Rated
Distances
Passport Part #*
0.5m to 7m
(Passive and active)
40GQSFP+E-DA01
40GQSFP+E-DA03
40GQSFP+E-DA05
40GQSFP+E-DA07
0.5m to 7m
40GQ-4X10S-BO01
40GQ-4X10S-BO03
40GQ-4X10S-BO05
40GBASE-SR4
100m (OM3 MMF)
150 (OM4 MMF)
40GQSFP+E-SR4
40GBASE-LR4
10km
40GQSFP+E-LR4
Standard
40GBASE-CR4 DAC
40GBASE-CR4 / 4x10GBASE-CU DAC
*For more information on compatible Champion ONE PassportTM transceivers (including full data sheets), visit www.championone.com.
Service and Support
Running a network or selling network services and products can be a highly competitive endeavor. To help differentiate your business and enable you to provide more cost effective infrastructure, you require a partner that provides competitive pricing and vertical market expertise. At
Champion ONE we understand your needs. We leverage our skills and relationships to:
•
•
•
•
•
•
Provide network design services and help you explore alternative network designs
Provide technical and sales support when you need it
Accept orders for same day shipment up to 3:00 PM EST
Offer one of the longest warranties in the industry on all products
Offer a 30-day return policy
Build a long-term supplier partnership with you
You can rely on Champion ONE, not only for the highest levels of availability for the products you need, but the technical support, customer
service and cost consideration you deserve. Our goal is your complete satisfaction.
The Champion ONE Commitment
For over twenty years, we at Champion ONE have been delivering great value to our customers through high-quality
products at competitive prices. As one of the leading suppliers of compatible optical transceivers and a major supplier of
optical networking solutions, we take great pride in building long-term relationships as a trusted partner. In this spirit,
everything we bring to market bears the Champion ONE ShieldTM, which strengthens this trust through five core promises:
Performance, Availability, Compatibility, Protection, and Value.
Product photos are representative samples only.
Global Headquarters
Champion ONE
23645 Mercantile Road
Beachwood, OH 44122
Phone: 800-860-7466
Fax: 216-831-2541
e-mail: sales@championone.com
www.championone.com
3
Champion ONE and the Champion ONE logo, are registered trademarks of
Champion Optical Network Engineering, LLC. All other trademarks, service marks,
registered marks, or registered service marks are the property of their respective
owners. Champion ONE assumes no responsibility for any inaccuracies in this
document. Champion ONE reserves the right to change, alter, or otherwise revise
this document without notice.
4.19.2017 – REV 3.0
©2009 – 2017 Champion Optical Network Engineering, LLC. All rights reserved.