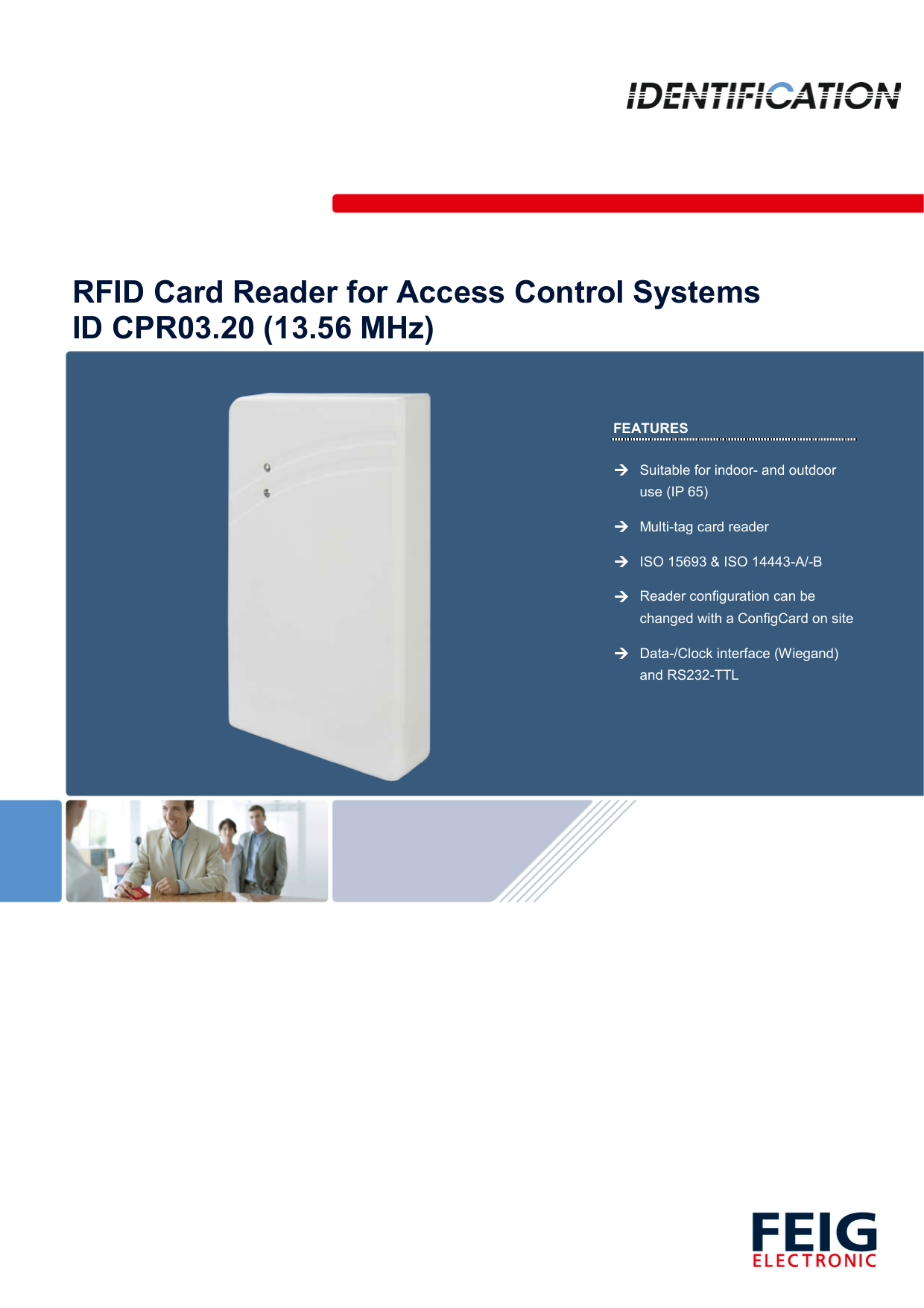 
RFID Card Reader for Access Control Systems
ID CPR03.20 (13.56 MHz)
FEATURES
 Suitable for indoor- and outdoor
use (IP 65)
 Multi-tag card reader
 ISO 15693 & ISO 14443-A/-B
 Reader configuration can be
changed with a ConfigCard on site
 Data-/Clock interface (Wiegand)
and RS232-TTL

TECHNICAL DATA
Dimensions (W x H x D)
Housing
Color
Weigth
Protection class
Operating frequency
Transmitting power
Supply voltage
Current consumption
Supported transponders
(Reading UID)
Supported transponders
(Reading data blocks)
Antenna
Connection cable
Interfaces
Signal transmitter
Digital inputs
Temperature range
Operation
Storage
Relative air humidity
120 mm x 75 mm x 17 mm
Plastic (sealed-in electronics)
grey-beige
approx. 170 g
IP 65
13.56 MHz
200 mW +/- 2 dB
9-15 V DC
max. 2,6 W
ISO14443-A*
ISO14443-B**
ISO 15693***
ISO 14443-A****
ISO 15693***
integrated
2
50 cm (LiYY 12*0,23 mm /AWG24)
RS232-TTL and Data/Clock
(Magnetic card- and Wiegand
emulation)
2 LED (red / green)
1 buzzer
4 (2x LED, buzzer, Hold function)
–25 °C up to 60 °C
–25 °C up to 85 °C
95 % (non-condensing)
For example mifare® Standard, mifare® UltraLight, mifare® DESfire, Smart
MX, my-d® proximity, SLE44R35S, SLE55R etc.
** For example SLE66CL, ST19XR34 etc.
*** For example my-d® vicinity, I-CODE SLI, Tag IT HFI, STM LRI512 etc.
**** mifare® Standard 1k und 4k, mifare® UltraLight, my-d® proximity,
SLE44R35S, SLE55R etc.
*
STANDARD CONFORMITY
ORDER DESCRIPTION
ID CPR.03.20-CD
RFID card reader RS232 /
Data/Clock (Wiegand)
Accessories:
Radio approval
Europe
USA
EMC
Safety
Low voltage
EN 300 330
FCC 47 CFR Part 15
EN 301 489
EN 60950
ID CPR.03 Configuration Kit
ID CPR.03 Configuration Cards
FEIG ELECTRONIC reserves the right to change specification
without notice at any time.
Stand of information: August 2016.

* Your assessment is very important for improving the work of artificial intelligence, which forms the content of this project