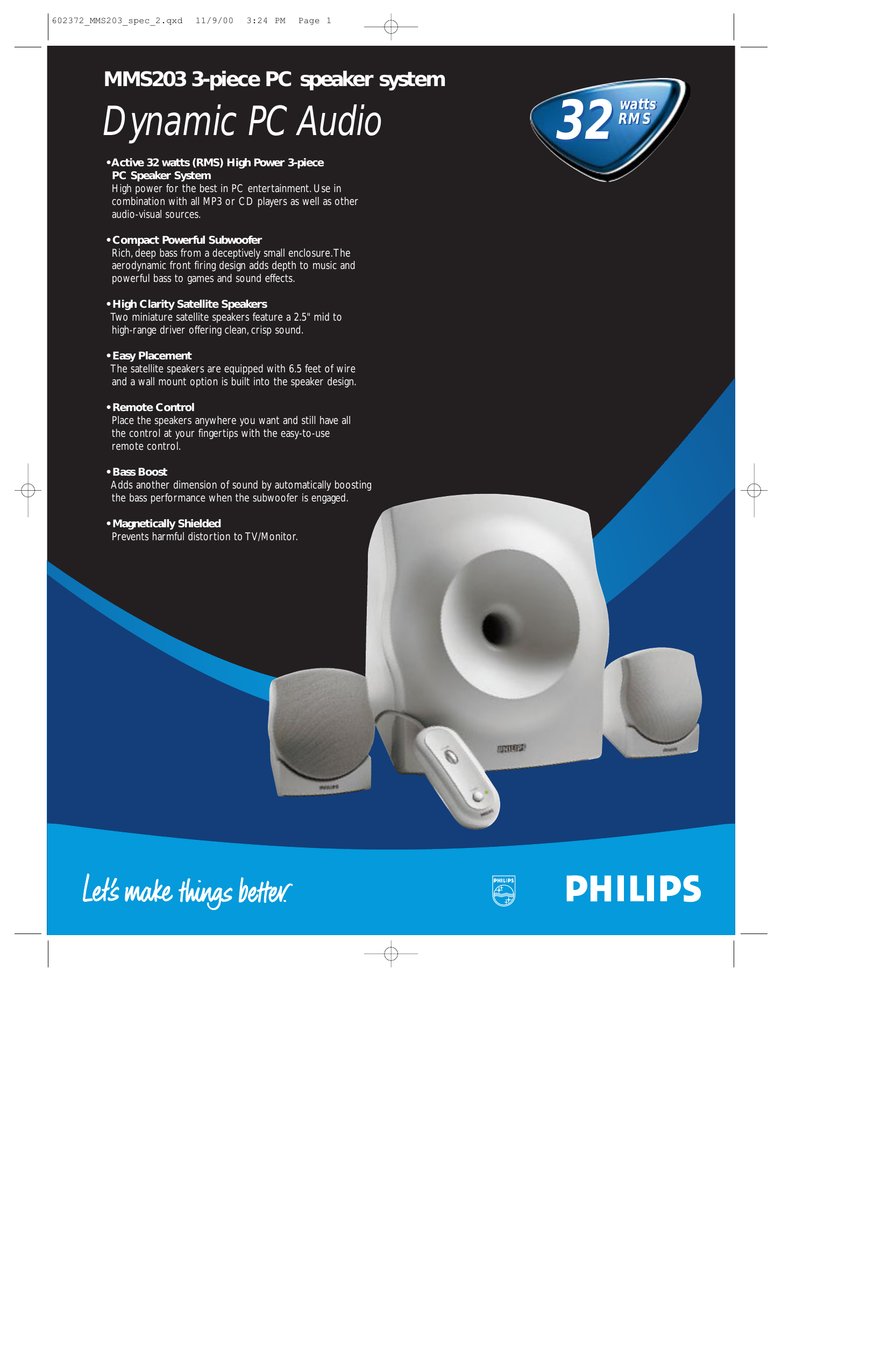 602372_MMS203_spec_2.qxd
11/9/00
3:24 PM
Page 1
MMS203 3-piece PC speaker system
Dynamic PC Audio
• Active 32 watts (RMS) High Power 3-piece
PC Speaker System
High power for the best in PC entertainment. Use in
combination with all MP3 or CD players as well as other
audio-visual sources.
• Compact Powerful Subwoofer
Rich, deep bass from a deceptively small enclosure.The
aerodynamic front firing design adds depth to music and
powerful bass to games and sound effects.
• High Clarity Satellite Speakers
Two miniature satellite speakers feature a 2.5" mid to
high-range driver offering clean, crisp sound.
• Easy Placement
The satellite speakers are equipped with 6.5 feet of wire
and a wall mount option is built into the speaker design.
• Remote Control
Place the speakers anywhere you want and still have all
the control at your fingertips with the easy-to-use
remote control.
• Bass Boost
Adds another dimension of sound by automatically boosting
the bass performance when the subwoofer is engaged.
• Magnetically Shielded
Prevents harmful distortion to TV/Monitor.
32
watts
RMS
602372_MMS203_spec_2.qxd
11/9/00
3:25 PM
Page 2
MMS203 3-piece PC speaker system
32
Stylish, compact, innovative sound!
The new MMS203 from Philips reflect our successful
efforts to create multimedia speakers that are eye catching, miniature and highly innovative without compromising
our high standards towards sound quality.
The MMS203 is Philips' compact 3-piece multimedia audio
solution is designed for your home or office personal
computer. It can also be connected to your (portable)
CD/Cassette/MP3 player or other audio-visual sources as
well.The MMS203 gives you high power and superior bass
performance from a deceptively small enclosure for a
tremendous value.
watts
RMS
Technical Specifications
System
• Power Supply
• Amplifier
• Driver
Satellites
Subwoofer
• Frequency Range
• Crossover Frequency
• Magnetically Shielded
• Bass Reflex System
AC/AC adapter, 1.8A / 12V
2 x 6 watts + 20 watts RMS
2.5" mid - high
4" woofer
40–20,000 Hz
200Hz
Yes
Yes
Remote Controls
• Volume
• Power On/Off
• Power On/Off LED
Rotary + and Push button
Yes
In/Outputs
• Power
• Analogue/Line In
• Satellite Out
• Headphone Out
• Remote Control
AC/AC, adapter included
Yes (3.5 mm jack)
Yes (3.5 mm jack)
On subwoofer (3.5 mm jack)
Yes (fixed on Subwoofer)
Cables
• AC/AC
• Audio Cable
• Satellite Cable
• Remote Control Cable
11ft
6.5 ft (2x3.5 mm jack)
6.5 ft (fixed on satellites)
6.5 ft
Dimensions
• Satellites
• Subwoofer
• Packaging
3.7" (H) x 3.3" (W) x 3.4" (D)
9.0" (H) x 8.2" (W) x 8.4" (D)
9.0" (H) x 10.9" (W) x 11.1" (D)
Weight
• Satellites
• Subwoofer
• Packaging
2 x 0.8 lbs
3.4 lbs
8.4 lbs
MMS203
System Requirements
• Preferred
Use with Philips Rhythmic Edge
3D PCI sound card (PSC702)
• Other Possibilities
MP3, CD, Cassette player,
game consoles
Remote Control
www.philipsusa.com
Recommended Sound Card Rhythmic Edge 3D PCI Sound Card
Printed in USA
Date printed: November 2000
Specifications subject to change without notice.
© 2000 Philips Consumer Electronics Co.
A Division of Philips Electronics North America Corp.

* Your assessment is very important for improving the work of artificial intelligence, which forms the content of this project