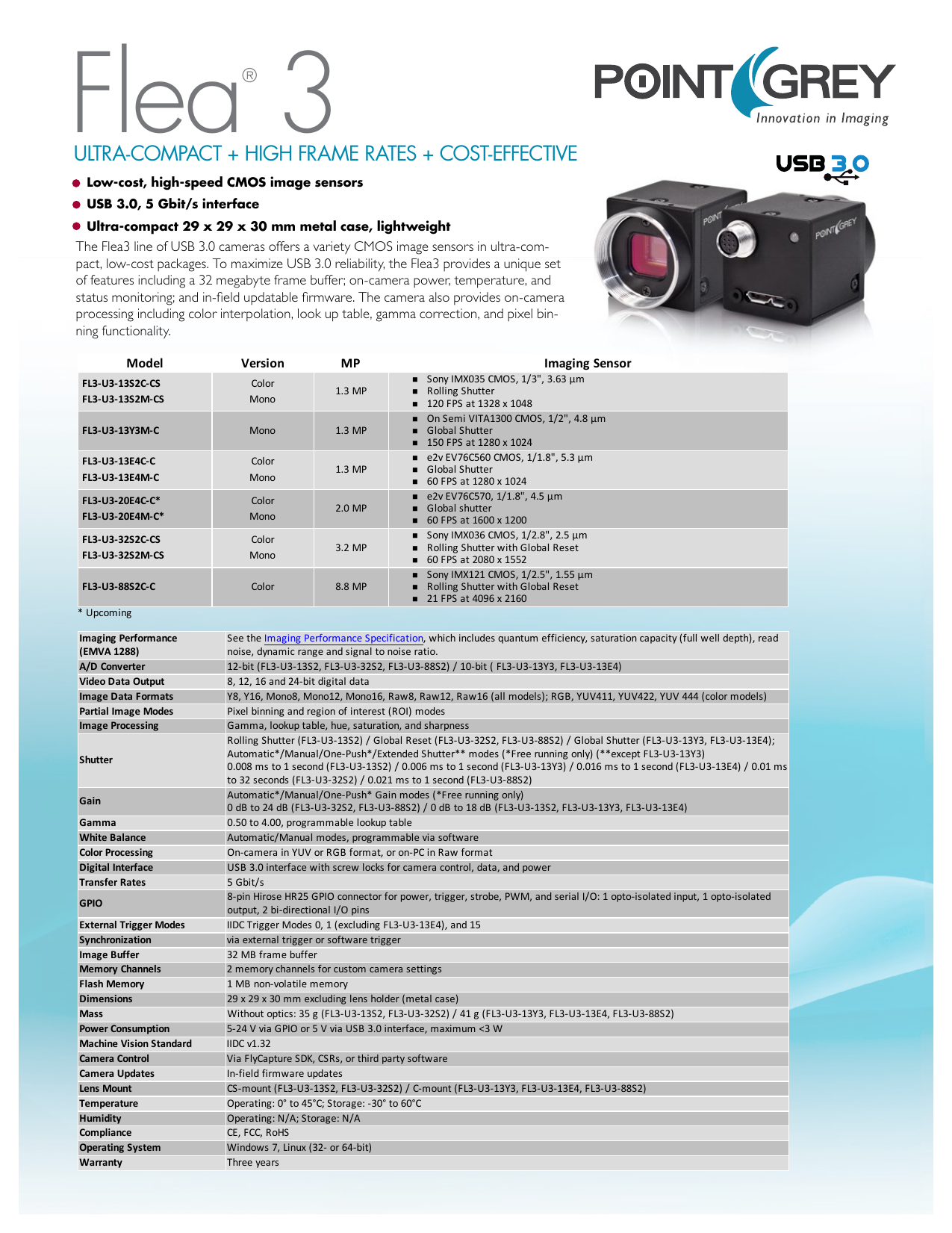 Flea 3
®
ULTRA-COMPACT + HIGH FRAME RATES + COST-EFFECTIVE
Low-cost, high-speed CMOS image sensors
USB 3.0, 5 Gbit/s interface
Ultra-compact 29 x 29 x 30 mm metal case, lightweight
The Flea3 line of USB 3.0 cameras offers a variety CMOS image sensors in ultra-compact, low-cost packages. To maximize USB 3.0 reliability, the Flea3 provides a unique set
of features including a 32 megabyte frame buffer; on-camera power, temperature, and
status monitoring; and in-field updatable firmware. The camera also provides on-camera
processing including color interpolation, look up table, gamma correction, and pixel binning functionality.
Model
Version
MP
FL3-U3-13S2C-CS
FL3-U3-13S2M-CS
Color
Mono
1.3 MP
FL3-U3-13Y3M-C
Mono
1.3 MP
FL3-U3-13E4C-C
FL3-U3-13E4M-C
Color
Mono
1.3 MP
FL3-U3-20E4C-C*
FL3-U3-20E4M-C*
Color
Mono
2.0 MP
FL3-U3-32S2C-CS
FL3-U3-32S2M-CS
Color
Mono
3.2 MP
FL3-U3-88S2C-C
Color
8.8 MP
Imaging Sensor
n
n
n
n
n
n
n
n
n
n
n
n
n
n
n
n
n
n
* Upcoming Imaging Performance
(EMVA 1288)
A/D Converter
Video Data Output
Image Data Formats
Partial Image Modes
Image Processing
Shutter
Gain
Gamma
White Balance
Color Processing
Digital Interface
Transfer Rates
GPIO
External Trigger Modes
Synchronization
Image Buffer
Memory Channels
Flash Memory
Dimensions
Mass
Power Consumption
Machine Vision Standard
Camera Control
Camera Updates
Lens Mount
Temperature
Humidity
Compliance
Operating System
Warranty
Sony IMX035 CMOS, 1/3", 3.63 μm
Rolling Shutter
120 FPS at 1328 x 1048
On Semi VITA1300 CMOS, 1/2", 4.8 μm
Global Shutter
150 FPS at 1280 x 1024
e2v EV76C560 CMOS, 1/1.8", 5.3 µm
Global Shutter
60 FPS at 1280 x 1024
e2v EV76C570, 1/1.8", 4.5 µm
Global shutter
60 FPS at 1600 x 1200
Sony IMX036 CMOS, 1/2.8", 2.5 μm
Rolling Shutter with Global Reset
60 FPS at 2080 x 1552
Sony IMX121 CMOS, 1/2.5", 1.55 μm
Rolling Shutter with Global Reset
21 FPS at 4096 x 2160
See the Imaging Performance Specification, which includes quantum efficiency, saturation capacity (full well depth), read
noise, dynamic range and signal to noise ratio.
12-bit (FL3-U3-13S2, FL3-U3-32S2, FL3-U3-88S2) / 10-bit ( FL3-U3-13Y3, FL3-U3-13E4)
8, 12, 16 and 24-bit digital data
Y8, Y16, Mono8, Mono12, Mono16, Raw8, Raw12, Raw16 (all models); RGB, YUV411, YUV422, YUV 444 (color models)
Pixel binning and region of interest (ROI) modes
Gamma, lookup table, hue, saturation, and sharpness
Rolling Shutter (FL3-U3-13S2) / Global Reset (FL3-U3-32S2, FL3-U3-88S2) / Global Shutter (FL3-U3-13Y3, FL3-U3-13E4);
Automatic*/Manual/One-Push*/Extended Shutter** modes (*Free running only) (**except FL3-U3-13Y3)
0.008 ms to 1 second (FL3-U3-13S2) / 0.006 ms to 1 second (FL3-U3-13Y3) / 0.016 ms to 1 second (FL3-U3-13E4) / 0.01 ms
to 32 seconds (FL3-U3-32S2) / 0.021 ms to 1 second (FL3-U3-88S2)
Automatic*/Manual/One-Push* Gain modes (*Free running only)
0 dB to 24 dB (FL3-U3-32S2, FL3-U3-88S2) / 0 dB to 18 dB (FL3-U3-13S2, FL3-U3-13Y3, FL3-U3-13E4)
0.50 to 4.00, programmable lookup table
Automatic/Manual modes, programmable via software
On-camera in YUV or RGB format, or on-PC in Raw format
USB 3.0 interface with screw locks for camera control, data, and power
5 Gbit/s
8-pin Hirose HR25 GPIO connector for power, trigger, strobe, PWM, and serial I/O: 1 opto-isolated input, 1 opto-isolated
output, 2 bi-directional I/O pins
IIDC Trigger Modes 0, 1 (excluding FL3-U3-13E4), and 15
via external trigger or software trigger
32 MB frame buffer
2 memory channels for custom camera settings
1 MB non-volatile memory
29 x 29 x 30 mm excluding lens holder (metal case)
Without optics: 35 g (FL3-U3-13S2, FL3-U3-32S2) / 41 g (FL3-U3-13Y3, FL3-U3-13E4, FL3-U3-88S2)
5-24 V via GPIO or 5 V via USB 3.0 interface, maximum <3 W
IIDC v1.32
Via FlyCapture SDK, CSRs, or third party software
In-field firmware updates
CS-mount (FL3-U3-13S2, FL3-U3-32S2) / C-mount (FL3-U3-13Y3, FL3-U3-13E4, FL3-U3-88S2)
Operating: 0° to 45°C; Storage: -30° to 60°C
Operating: N/A; Storage: N/A
CE, FCC, RoHS
Windows 7, Linux (32- or 64-bit)
Three years
Flea 3 Specifications
®
USB 3.0 Benefits
Color Processing
The USB 3.0 interface used by the Flea3 camera provides guaranteed
delivery of critical image data using USB 3.0 (5 Gbit/s) bulk transfers.
The color Flea3 features on-camera color processing and auto white
balance. Available outputs include YUV411, YUV422, RGB, Y8 and Y16.
If a reduction in the bus bandwidth is required, users can access the raw
Bayer pattern.
Ultra-compact USB 3.0 Camera
The FlyCapture® SDK is included with all imaging products. The SDK is
compatible with Microsoft Windows (32bit and 64bit). It includes device drivers, software Application Programming Interface (API), demo
programs and C/C++ example source code.
Accessories
Triggering and GPIO
Tripod adapter with every camera. All the accessories you need to get up
and running, such as interface cards, cables, and power adapters are available
from Point Grey.
The Flea3 camera has an 8-pin GPIO connector located on the
back. The opto-isolated pins allows the user to coordinate the
camera with external devices such as light sources and GPS units.
It can be programmed to accept external trigger signals that initiate the start of exposure, output variable strobe patterns, or send
and receive serial data.
Industry Standard Mechanics
Every mechanical component of the Flea3 is designed to maximize
usability, including the compact cast metal case, CS-mount lens
holder and ASA/ISO-compliant tripod mounting bracket, status
LED and removable glass/IR filter system.
Dimensional Drawings (in mm)
2x M2x0.4 x
2.5
12.0
2.0
GPIO CONNECTOR
29.0
USB3 CONNECTOR
30.0
STATUS LED
29.0
A
23.7
JACKSCREW POSTS
2x M3x0.5 x
2.8
2x M2x0.4 x
2.0
1x M3x0.5 x
2.5
2x M2x0.4 x
2.5
27.0
4.5
22.0
4X
6.0
2.1
12.0
2.5
18.0
12.0
20.0
3.0
22.0
1/4-20 UNC NUT
1/4-20 UNC NUT
May 2014
Voltrium Systems Pte Ltd T: +65.6694.6278 F: +65.6694.6276 E: voltrium@voltrium.com.sg W: www.voltrium.com.sg
The Point Grey Research, Inc. Logo, Grasshopper and FlyCapture are trademarks or registered trademarks of Point Grey Research, Inc. in Canada and other countries.
Software
At 29x29x30mm, the Flea3 fits into the small, tight spaces that are
common in industrial imaging, making it an ideal camera for OEM
applications. The USB 3.0 connector with locking screw holes not only
guarantee a reliable connection, but also reduce stress on
internal electronics that can be caused by cable movement. The
cable also carries both data and power, minimizing the need for
additional cables or external power sources.