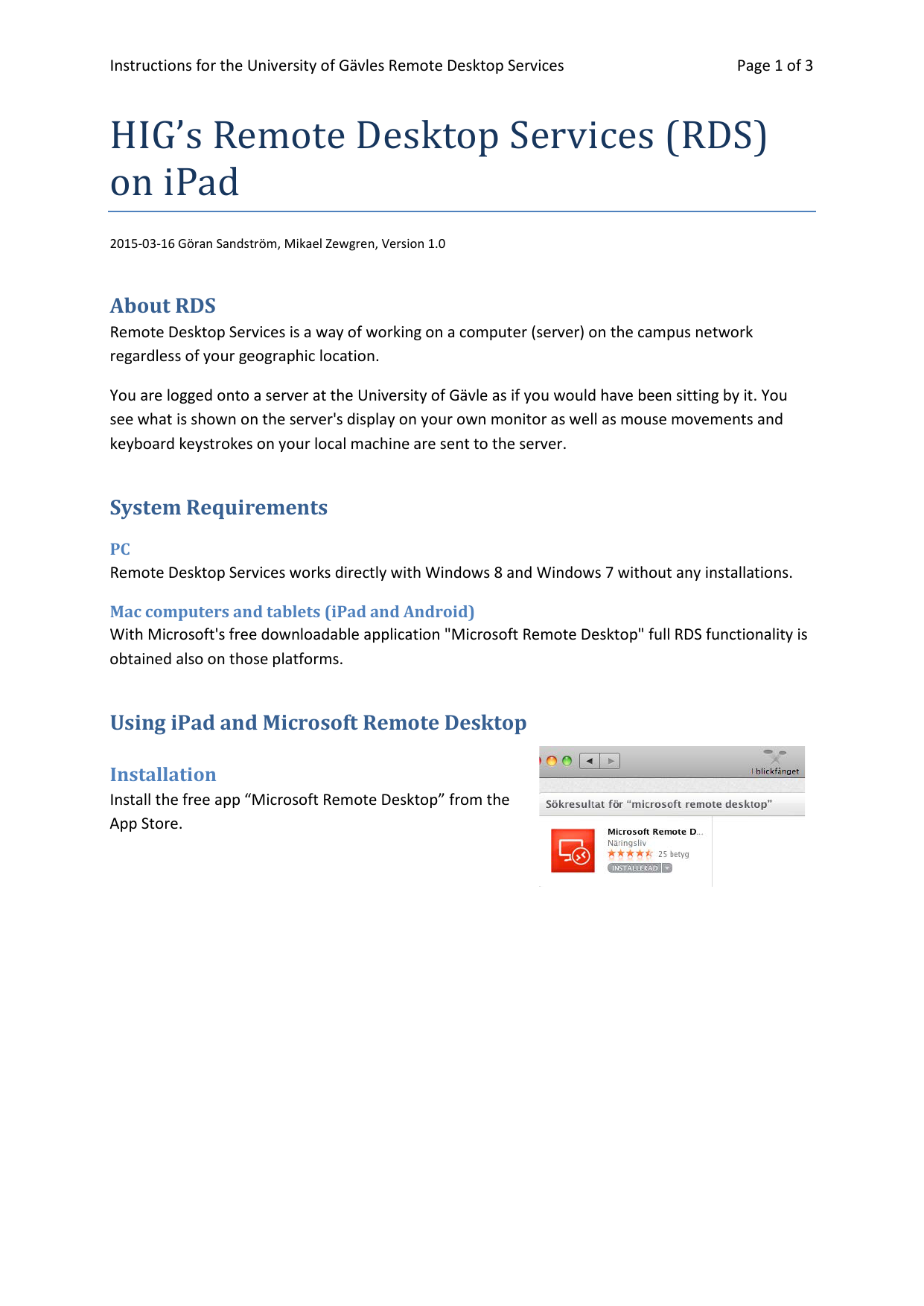 Instructions for the University of Gävles Remote Desktop Services
Page 1 of 3
HIG's Remote Desktop Services (RDS)
on iPad
2015-03-16 Göran Sandström, Mikael Zewgren, Version 1.0
About RDS
Remote Desktop Services is a way of working on a computer (server) on the campus network
regardless of your geographic location.
You are logged onto a server at the University of Gävle as if you would have been sitting by it. You
see what is shown on the server's display on your own monitor as well as mouse movements and
keyboard keystrokes on your local machine are sent to the server.
System Requirements
PC
Remote Desktop Services works directly with Windows 8 and Windows 7 without any installations.
Mac computers and tablets (iPad and Android)
With Microsoft's free downloadable application "Microsoft Remote Desktop" full RDS functionality is
obtained also on those platforms.
Using iPad and Microsoft Remote Desktop
Installation
Install the free app "Microsoft Remote Desktop" from the
App Store.
Instructions for the University of Gävles Remote Desktop Services
Page 2 of 3
Connecting to RDS
Open Safari and go to the website http://remote.hig.se. Log in with your username and password
that you have at the University of Gävle.
Select the "Desktop (Mac, iPad, Android)" tab, click the link for Full Desktop. Choose to open it in the
"RD Client". The app Microsoft Remote Desktop is now activated with the right configuration. Enter
your username and password to log in to the remote desktop server.
Touch, pointer, gestures and keyboard
There are two user modes for RDS with tablets - Touch and Pointer.
Instructions for the University of Gävles Remote Desktop Services
Page 3 of 3
In Touch mode you click on the icons and applications on the RDS server in much the same way that
you do otherwise on a tablet, ie, without a mouse. It has, for example, single click, double click, rightclick by long press, drag and drop and two-finger scrolling.
The Pointer mode the screen emulates a touchpad that controls the mouse pointer. In this mode
however, you have pinch-zoom.
We recommend that users complement their tablets with an external keyboard for the best
experience. Otherwise you have to actively click up the software keyboard every time it is needed.
Network storage and access from the remote computer to your local disks
With the iPad you will not have access to any local disk because of the data storage model iOS uses
(sandbox). This however works with PC, Mac, and Android.
Make sure that your documents are available on any of your network storage at the University of
Gävle, such as your home directory H. Copy your documents from another platform or use webmail
to transfer the work material.
Failed Connection
<insert picture here>
NOTE. The current version of the iPad client (8.1.6) fails randomly when trying to connect from a
network outside the university. There seems to be some trouble when the client connects through
our Remote Desktop Gateway and is redirected to one of our three servers. If this occurs, wait then
20-30 seconds and try again. Sooner or later the connection is successful.
You can also make use of the three lowermost links called "Legacy RDP NN". One of the three will
work, two of them will fail. Accept the certificates.
If you connect from a network on campus there will always be functional connectivity.

* Your assessment is very important for improving the work of artificial intelligence, which forms the content of this project