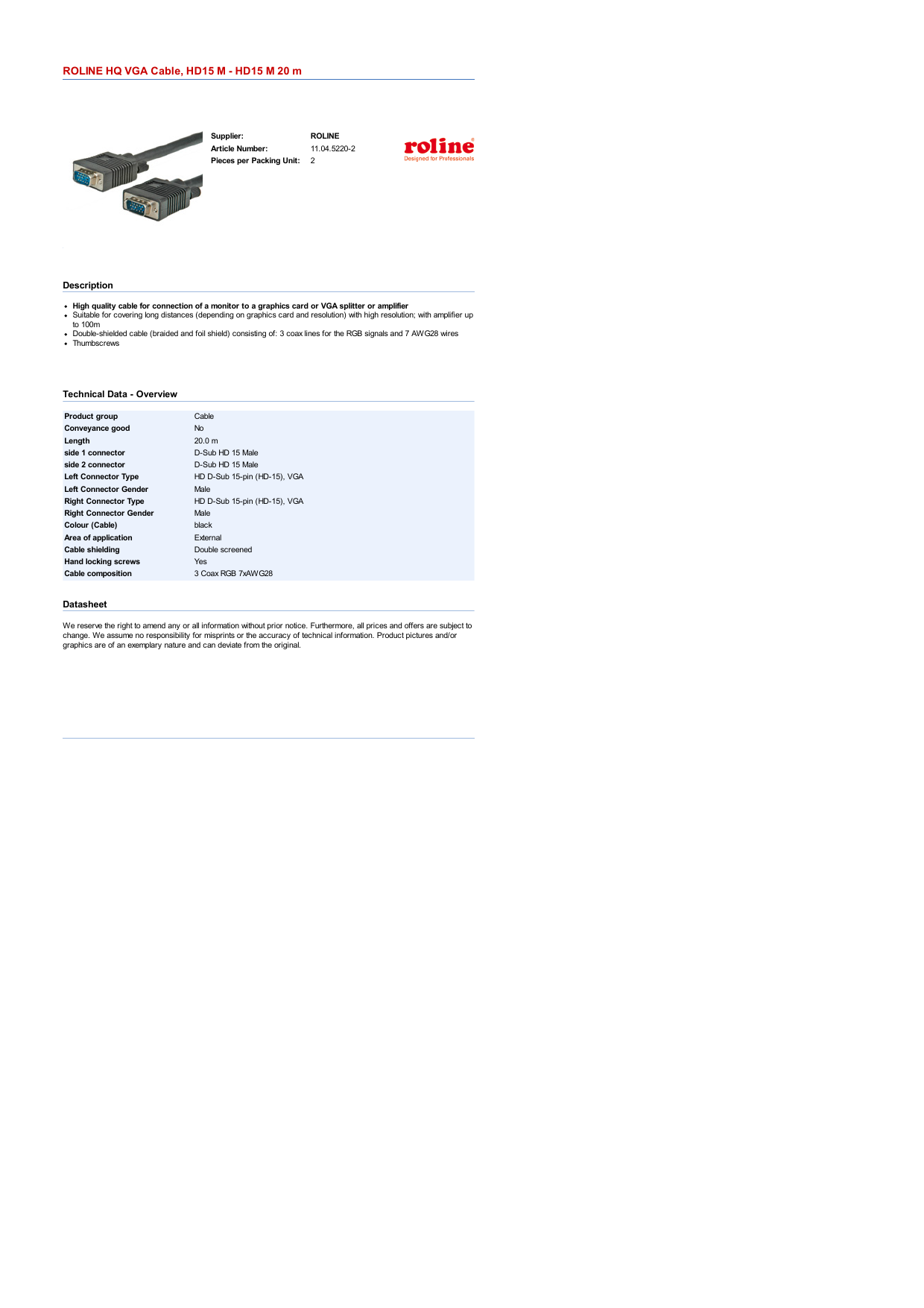 ROLINE HQ VGA Cable, HD15 M - HD15 M 20 m
Supplier:
ROLINE
Article Number:
11.04.5220-2
Pieces per Packing Unit:
2
Description
High quality cable for connection of a monitor to a graphics card or VGA splitter or amplifier
Suitable for covering long distances (depending on graphics card and resolution) with high resolution; with amplifier up
to 100m
Double-shielded cable (braided and foil shield) consisting of: 3 coax lines for the RGB signals and 7 AWG28 wires
Thumbscrews
Technical Data - Overview
Product group
Cable
Conveyance good
No
Length
20.0 m
side 1 connector
D-Sub HD 15 Male
side 2 connector
D-Sub HD 15 Male
Left Connector Type
HD D-Sub 15-pin (HD-15), VGA
Left Connector Gender
Male
Right Connector Type
HD D-Sub 15-pin (HD-15), VGA
Right Connector Gender
Male
Colour (Cable)
black
Area of application
External
Cable shielding
Double screened
Hand locking screws
Yes
Cable composition
3 Coax RGB 7xAWG28
Datasheet
We reserve the right to amend any or all information without prior notice. Furthermore, all prices and offers are subject to
change. We assume no responsibility for misprints or the accuracy of technical information. Product pictures and/or
graphics are of an exemplary nature and can deviate from the original.

* Your assessment is very important for improving the work of artificial intelligence, which forms the content of this project