Philips HES2800/12 Datasheet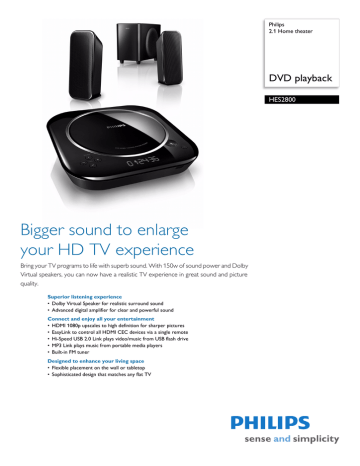 Philips
2.1 Home theater
DVD playback
HES2800
Bigger sound to enlarge
your HD TV experience
Bring your TV programs to life with superb sound. With 150w of sound power and Dolby
Virtual speakers, you can now have a realistic TV experience in great sound and picture
quality.
Superior listening experience
• Dolby Virtual Speaker for realistic surround sound
• Advanced digital amplifier for clear and powerful sound
Connect and enjoy all your entertainment
• HDMI 1080p upscales to high definition for sharper pictures
• EasyLink to control all HDMI CEC devices via a single remote
• Hi-Speed USB 2.0 Link plays video/music from USB flash drive
• MP3 Link plays music from portable media players
• Built-in FM tuner
Designed to enhance your living space
• Flexible placement on the wall or tabletop
• Sophisticated design that matches any flat TV
HES2800/12
2.1 Home theater
DVD playback
Specifications
Picture/Display
• Picture enhancement: High Def (720p, 1080i,
1080p), Video upscaling
Sound
• Output power (RMS): 150
• Sound System: Dolby Digital, Dolby Prologic II,
DTS, Stereo
• Equalizer settings: Action, Classic, Drama, Gaming,
News, Rock, Sports
Video Playback
• Compression formats: DivX 3.11, DivX 4.x, DivX
5.x, DivX 6.0, DivX Ultra, MPEG1, MPEG2
• Playback Media: CD-R/CD-RW, DVD+R/+RW,
DVD-R/-RW, DVD-Video, Video CD/SVCD
• Video disc playback system: NTSC, PAL
Audio Playback
• Compression format: MP3, WMA
• MP3 bit rates: 32-256 kbps and VBR
• Playback Media: Audio CD, CD-R/RW, USB flash
drive
Still Picture Playback
• Picture Compression Format: JPEG
• Picture Enhancement: Rotate, Slideshow with
music playback, Zoom
• Playback Media: CD-R/RW, DVD+R/+RW, USB
flash drive
Tuner/Reception/Transmission
• Tuner Bands: FM
• RDS: Station Name
Connectivity
• Front / Side connections: MP3 Line-in, USB
• Rear Connections: Component Video output,
Easy-Fit Speaker Connectors, HDMI output, TV in
(audio, cinch)
Power
• Power supply: 220-240V, 50Hz
Highlights
• Standby power consumption: <1W
• Receiver power consumption: 25W
Loudspeakers
•
•
•
•
•
Subwoofer driver: 1 x 6.5" Long Throw woofer
Subwoofer type: Passive
Speaker impedance: 6 ohm
Subwoofer freq range: 35-200 Hz
Subwoofer impedance: 4 ohm
Accessories
• Included accessories: Batteries for remote control,
FM antenna, Power cord, Quick start guide,
Remote Control, User Manual, World Wide
Warranty leaflet
Dimensions
•
•
•
•
Front Speaker Depth: 89 mm
Front Speaker Height: 235 mm
Front Speaker Width: 100 mm
Set dimensions (W x H x D):
202 x 51.5 x 199 mm
• Subwoofer dimensions (W x H x D):
170 x 270 x 340 mm
• Weight incl. Packaging: 9.7 kg
Packaging dimensions
• Packaging type: Carton
• Number of products included: 1
• Packaging dimensions (W x H x D):
39.5 x 37.5 x 35 cm
• Gross weight: 9.7 kg
• Nett weight: 7.5 kg
• Tare weight: 2.2 kg
• EAN: 87 12581 45801 0
Outer Carton
•
•
•
•
•
•
Number of consumer packagings: 1
Outer carton (L x W x H): 39.5 x 37.5 x 35 cm
Gross weight: 9.7 kg
Nett weight: 7.5 kg
Tare weight: 2.2 kg
EAN: 87 12581 45801 0
•
Issue date 2012-09-18
© 2012 Koninklijke Philips Electronics N.V.
All Rights reserved.
Version: 3.1.7
Specifications are subject to change without notice.
Trademarks are the property of Koninklijke Philips
Electronics N.V. or their respective owners.
12 NC: 8670 000 48587
EAN: 87 12581 45801 0
www.philips.com
Dolby Virtual Speaker
Dolby Virtual Speaker is a sophisticated audio
virtualization technology that produces rich and
immersive surround sound from a two-speaker
system. Highly advanced spatial algorithms faithfully
replicate the sonic characteristics that occur in an
ideal 5.1-channel environment. DVD playback is
enhanced by expanding the 2-channel environment.
When combined with Dolby Pro Logic II processing,
any high quality stereo source is transformed into
true-to-life, multi-channel surround sound. No need
to purchase extra speakers, wires or speaker stands
to appreciate room-filling sound.
EasyLink
EasyLink lets you control multiple devices like DVD
players, Blu-ray players, TV's etc. with one remote.
It uses HDMI CEC industry-standard protocol to
share functionality between devices through the
HDMI cable. With one touch of a button, you can
operate all your connected HDMI CEC enabled
equipment simultaneously. Functions like standby
and play can now be carried out with absolute ease.
HDMI 1080p
HDMI 1080p upscaling delivers images that are
crystal clear. Movies in standard definition can now
be enjoyed in true high definition resolution ensuring more details and more true-to-life pictures.
Progressive Scan (represented by "p" in "1080p')
eliminates the line structure prevalent on TV
screens, again ensuring relentlessly sharp images. To
top it off, HDMI makes a direct digital connection
that can carry uncompressed digital HD video as well
as digital multichannel audio, without conversions to
analog - delivering perfect picture and sound quality,
completely free from noise.
Hi-Speed USB 2.0 Link
The Universal Serial Bus or USB is a protocol
standard that is conveniently used to link PCs,
peripherals and consumer electronic equuipment.
Hi-Speed USB devices have a data transfer rate of up
to 480 Mbps - up from the 12 Mbps in original USB
ones. With Hi-Speed USB 2.0 Link, all you have to do
is plug in your USB device, select the movie, music or
photo and play away.

* Your assessment is very important for improving the work of artificial intelligence, which forms the content of this project