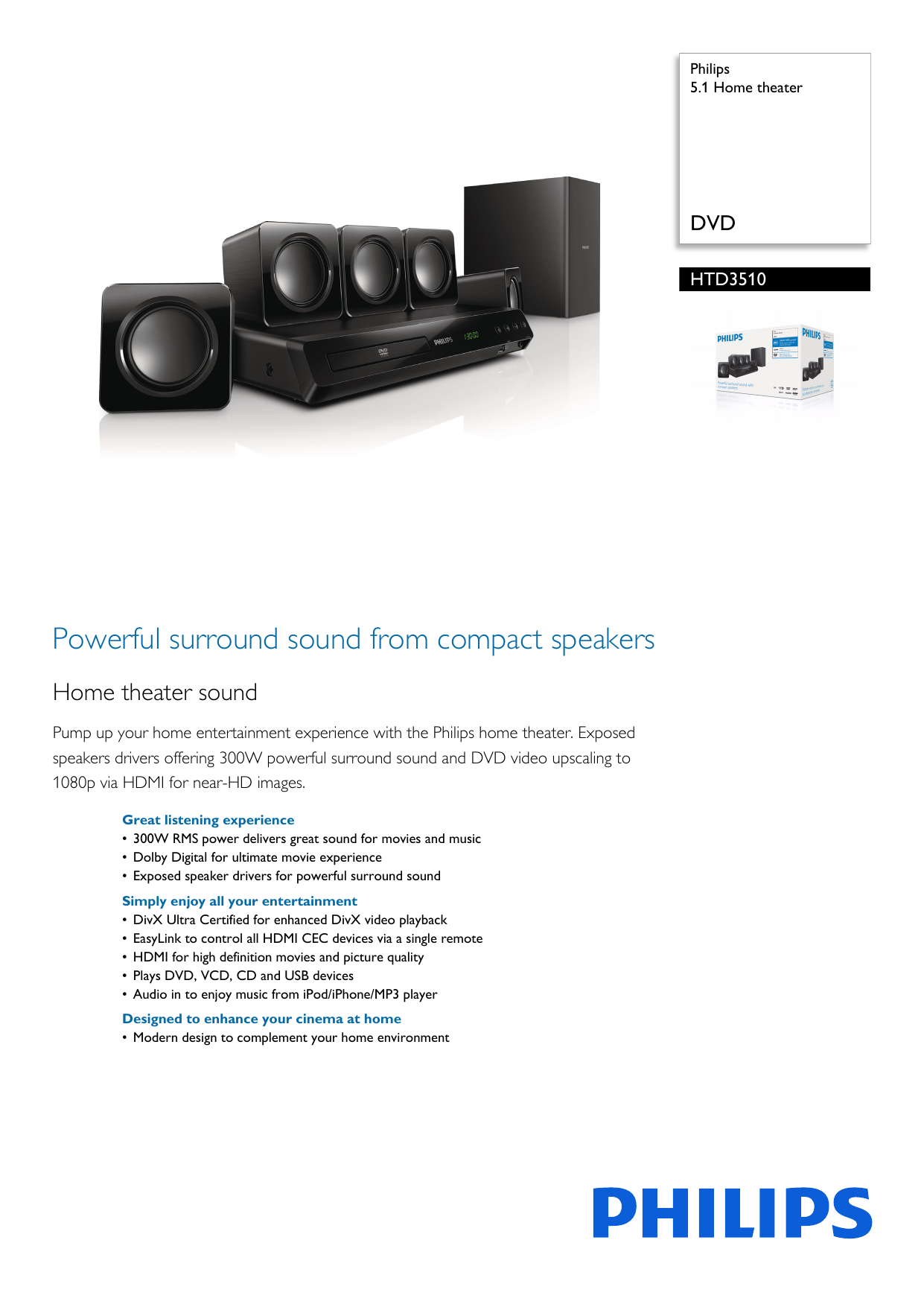 Philips
5.1 Home theater
DVD
HTD3510
Powerful surround sound from compact speakers
Home theater sound
Pump up your home entertainment experience with the Philips home theater. Exposed
speakers drivers offering 300W powerful surround sound and DVD video upscaling to
1080p via HDMI for near-HD images.
Great listening experience
• 300W RMS power delivers great sound for movies and music
• Dolby Digital for ultimate movie experience
• Exposed speaker drivers for powerful surround sound
Simply enjoy all your entertainment
• DivX Ultra Certified for enhanced DivX video playback
• EasyLink to control all HDMI CEC devices via a single remote
• HDMI for high definition movies and picture quality
• Plays DVD, VCD, CD and USB devices
• Audio in to enjoy music from iPod/iPhone/MP3 player
Designed to enhance your cinema at home
• Modern design to complement your home environment
HTD3510/12
5.1 Home theater
DVD
Highlights
300W RMS power
EasyLink
CDs or USB devices. Experience the
unbeatable convenience of great playability,
and the luxury of sharing media files on your
TV or home theater system.
Exposed speaker drivers
300W RMS power delivers great sound for
movies and music
Dolby Digital
EasyLink lets you control multiple devices like
DVD players, Blu-ray players, TV's etc. with
one remote. It uses HDMI CEC industrystandard protocol to share functionality
between devices through the HDMI cable.
With one touch of a button, you can operate
all your connected HDMI CEC enabled
equipment simultaneously. Functions like
standby and play can now be carried out with
absolute ease.
Exposed speaker drivers for powerful
surround sound
DivX Ultra Certified
HDMI for HD movies
Because Dolby Digital, the world's leading
digital multi-channel audio standards, make use
of the way the human ear naturally processes
sound, you experience superb quality
surround sound audio with realistic spatial
cues.
Audio in
Audio in allows you to easily play your music
directly from your iPod/iPhone/iPad, MP3
player, or laptop via a simple connection to
your home cinema. Simply connect your audio
device to the Audio in jack to enjoy your music
with the superior sound quality of the Philips
home cinema system.
HDMI is a direct digital connection that can
carry digital HD video as well as digital
multichannel audio. By eliminating the
conversion to analog signals it delivers perfect
picture and sound quality, completely free
from noise. Movies in standard definition can
now be enjoyed in true high definition
resolution - ensuring more details and more
true-to-life pictures.
Plays it all
Play virtually any disc and any media devices
you want - whether they be DVDs, VCDs,
With DivX support, you are able to enjoy
DivX encoded videos and movies from the
Internet, including purchased Hollywood films,
in the comfort of your living room. The DivX
media format is an MPEG-4 based video
compression technology that enables you to
save large files like movies, trailers and music
videos on media like CD-R/RW and DVD
recordable disc for playback on your DivX
Ultra Certified Philips Blu-ray or DVD player.
DivX Ultra combines DivX playback with great
features like integrated subtitles, multiple
audio languages, multiple tracks and menus
into one convenient file format.
HTD3510/12
5.1 Home theater
DVD
Specifications
Sound
•
•
•
•
•
Sound System: Dolby Digital 5.1
Cube speaker output power: 5 x 50 W
Subwoofer output power: 50 W
Total Power RMS @ 30% THD: 300 W
Equalizer settings: Gaming, Movie, Music, News,
Original
• Sound Enhancement: Night Mode
Loudspeakers
•
•
•
•
•
•
•
•
Loudspeaker types: 5 x Cube speakers
Drivers per Cube speaker: 1 x 2.5" woofer
Cube speaker freq range: 150 - 20k Hz
Cube speaker impedance: 4 ohm
Subwoofer type: Passive
Subwoofer driver: 1 x 5.25" woofer
Subwoofer freq range: 20 - 150 Hz
Subwoofer impedance: 4 ohm
Optical Playback Media
• Playable Discs: CD, CDDA, CD-R/CD-RW, DVD,
DVD +R/+RW, DVD -R/-RW, SVCD, VCD
Video Playback
• Compression formats: DivX Ultra, MPEG1,
MPEG2, MPEG4
Picture/Display
• Picture enhancement: Video upscaling
Audio Playback
• Compression format: MP3, WMA
• MP3 bit rates: 32 - 320kbps
Still Picture Playback
• Picture Enhancement: Rotate, Zoom
• Picture Compression Format: BMP, GIF, JPEG,
TIFF
File Format
• Audio: mp3, wma
• Picture: JPEG, BMP, GIF
• Video: avi, divx, mpeg, mpg
Connectivity
• Front Connections: Hi-Speed USB, Audio in
• Rear Connections: AUX in, Composite video
(CVBS) output, Digital optical in, Fixed FM
Antenna, HDMI 1.4 output (ARC), Mini Easy-Fit
Speaker Jacks
Tuner/Reception/Transmission
• Tuner Bands: FM
• Number of Preset Channels: 40
Convenience
• EasyLink (HDMI-CEC): Audio Return Channel,
Automatic audio input mapping, One touch play,
One touch standby, Remote Control-Passthrough,
System standby
• HDMI Features: Audio Return Channel (ARC)
Power
• Power consumption: 50 W
• Power supply: 220-240V, 50Hz
• Standby power consumption: < 0.5 W
Accessories
• Included accessories: Remote Control, 1 x AAA
Battery, Safety & Legal Leaflet, Trademarks Sheet,
World Wide Warranty leaflet, Quick start guide,
User manual on CD-ROM
• Compatible accessories: STS3001 Speaker stand
Dimensions
•
•
•
•
•
•
•
•
•
•
•
•
•
•
Main Unit (W x H x D): 360 x 58 x 325 mm
Main Unit Weight: 2.40 kg
Center Speaker (W x H x D): 85 x 88 x 83 mm
Center Speaker Weight: 0.28 kg
Centre Speaker cable length: 2 m
Front Speaker (W x H x D): 85 x 88 x 83 mm
Front Speaker Weight: 0.26 kg
Front Speaker cable length: 3 m
Rear Speaker (W x H x D): 85 x 88 x 83 mm
Rear Speaker Weight: 0.26 kg
Rear Speaker cable length: 7 m
Subwoofer (W x H x D): 160 x 267.5 x 265 mm
Subwoofer cable length: 2 m
Subwoofer Weight: 2.5 kg
Outer Carton
•
•
•
•
•
•
EAN: 87 12581 67784 8
Gross weight: 7,15 kg
Outer carton (L x W x H): 52 x 37,7 x 31 cm
Nett weight: 6,07 kg
Number of consumer packagings: 1
Tare weight: 1,08 kg
Packaging dimensions
• Packaging dimensions (W x H x D):
52 x 31 x 37,7 cm
• EAN: 87 12581 67784 8
• Gross weight: 7,15 kg
• Nett weight: 6,07 kg
• Number of products included: 1
• Packaging type: Dummy
• Tare weight: 1,08 kg
• Type of shelf placement: Dummy
Product dimensions
• Product dimensions (W x H x D):
36 x 5,8 x 33,5 cm
• Weight: 2,2 kg
•
Issue date 2013-11-20
© 2013 Koninklijke Philips N.V.
All Rights reserved.
Version: 5.1.4
Specifications are subject to change without notice.
Trademarks are the property of Koninklijke Philips N.V.
or their respective owners.
12 NC: 8670 001 00289
EAN: 87 12581 67784 8
www.philips.com
* DivX, DivX Certified, and associated logos are trademarks of
DivXNetworks, Inc. and are used under license.
* Dolby and the double-D symbol are registered trademarks of Dolby
Laboratories Inc.