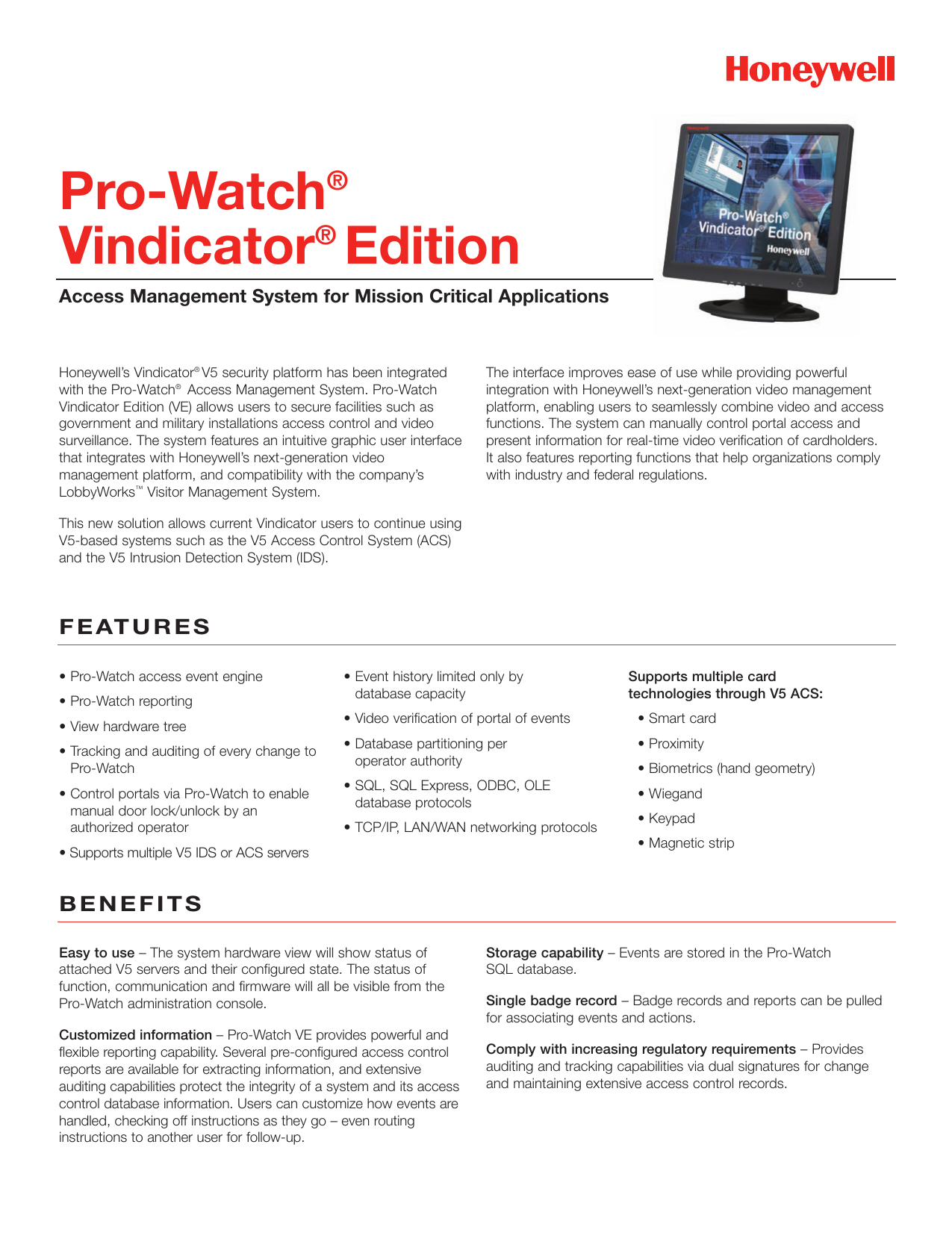 Pro-Watch®
Vindicator® Edition
Access Management System for Mission Critical Applications
Honeywell's Vindicator® V5 security platform has been integrated
with the Pro-Watch® Access Management System. Pro-Watch
Vindicator Edition (VE) allows users to secure facilities such as
government and military installations access control and video
surveillance. The system features an intuitive graphic user interface
that integrates with Honeywell's next-generation video
management platform, and compatibility with the company's
LobbyWorks™ Visitor Management System.
The interface improves ease of use while providing powerful
integration with Honeywell's next-generation video management
platform, enabling users to seamlessly combine video and access
functions. The system can manually control portal access and
present information for real-time video verification of cardholders.
It also features reporting functions that help organizations comply
with industry and federal regulations.
This new solution allows current Vindicator users to continue using
V5-based systems such as the V5 Access Control System (ACS)
and the V5 Intrusion Detection System (IDS).
F E AT U R E S
• Pro-Watch access event engine
• Pro-Watch reporting
• View hardware tree
• Tracking and auditing of every change to
Pro-Watch
• Control portals via Pro-Watch to enable
manual door lock/unlock by an
authorized operator
• Event history limited only by
database capacity
Supports multiple card
technologies through V5 ACS:
• Video verification of portal of events
• Smart card
• Database partitioning per
operator authority
• Proximity
• SQL, SQL Express, ODBC, OLE
database protocols
• TCP/IP, LAN/WAN networking protocols
• Supports multiple V5 IDS or ACS servers
• Biometrics (hand geometry)
• Wiegand
• Keypad
• Magnetic strip
BENEFITS
Easy to use – The system hardware view will show status of
attached V5 servers and their configured state. The status of
function, communication and firmware will all be visible from the
Pro-Watch administration console.
Customized information – Pro-Watch VE provides powerful and
flexible reporting capability. Several pre-configured access control
reports are available for extracting information, and extensive
auditing capabilities protect the integrity of a system and its access
control database information. Users can customize how events are
handled, checking off instructions as they go – even routing
instructions to another user for follow-up.
Storage capability – Events are stored in the Pro-Watch
SQL database.
Single badge record – Badge records and reports can be pulled
for associating events and actions.
Comply with increasing regulatory requirements – Provides
auditing and tracking capabilities via dual signatures for change
and maintaining extensive access control records.
Pro-Watch® Vindicator® Edition
Access Management System for Mission Critical Applications
A C C E S S S Y S T E M I N T E G R AT I O N
Pro-Watch Integration with MAXPRO™ VMS
The next generation user interface of MAXPRO VMS offers a single
command and control interface and enables users to operate video
devices in an efficient manner. MAXPRO HVMS intelligently
determines the capabilities of each subsystem across various sites,
allowing video management of any analog or digital video device
through a unified configuration and viewer. The subsystems can be
analog switchers such as MAXPRO-Net and VideoBloX, and can
be connected to analog monitors and cameras as well as digital
recorders such as IP Engine, Enterprise, Rapid Eye™, and Fusion
connected to digital and IP cameras.
Pro-Watch Integration with LobbyWorks™
Database integration between LobbyWorks™ and Pro-Watch.
Badges issued and assigned through LobbyWorks™ can easily be
tracked using the Pro-Watch database.
Pro-Watch Integration with DVM R200 Integration
Pro-Watch integration with DVM Release 200 provides seamless
alarm and event activated recording. With the power of digital
recording, all images are stored in a quickly searchable database,
which means you will never have to spend valuable time searching
through old videotapes.
DVM intelligently captures video, utilizing video motion detection for
activation of recordings and initiating alarms. Incidents that take
place immediately prior to an alarm are also recorded, ensuring you
never miss vital events. For enhanced security, all video is digitally
signed, with a complete audit trail of all operator actions and
system events. Additionally, Pro-Watch supports DVM R200
motion event video analytics to utilize advance algorithms to trigger
events and alarms.
S Y S T E M C O N F I G U R AT I O N
Pro-Watch VE Client
Pro-Watch VE Client
VCC
LAN/WAN TCP/P
V5 ACS
V5 ACS
Pro-Watch VE Database Server
V5 ACS
ORDERING
548-33958-02
548-33958-03
548-33962-01
548-33962-02
548-33961-01
548-33963-01
600-33970-01
600-33970-02
PWVE Server Station, with SQL, RAID 1 Storage, 2GB Ram
PWVE Server Station, with SQL, RAID 5 Storage, 4GB Ram
Combined VCC/PWVE Work Station, SQL, RAID 1 Storage, 2GB Ram
Combined VCC/PWVE Work Station, SQL, RAID 5 Storage, 4GB Ram
PWVE Client Work Station
Combined Remote VCC and PWVE Client Work Station
Vindicator Badge Manager 2.0, Stand Alone Bundle, MS Off Pro, MS XP, 160GB HD, 2GB Ram
Vindicator Badge Manager 2.0, Server Bundle, MS Server OS, 160GB HD, 2GB Ram
For more information: www.honeywellvindicator.com
Honeywell Security & Data Collection
Honeywell
5307 Industrial Oaks Blvd., Suite 130
Austin, TX 78735
1.512.301.8400 (sales)
1.800.367.1662 (support)
www.honeywell.com
L/VINPWVED/D
March 2009
© 2009 Honeywell International Inc.